Synthesis Report: Gender in ECCD in 6 countries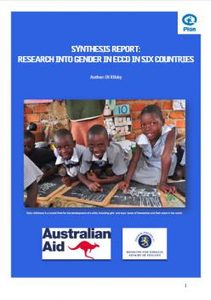 Early childhood is a crucial time for the development of a child, including girls' and boys' sense of themselves. This is the period when girls and boys are 'socialised' into and learn gendered norms, roles and attitudes. By the time girls and boys reach primary school, they already have a clear idea of how they are expected to behave, how they are valued and what their future role will be.
This report summaries the results of studies undertaken by Plan International into the gender dimensions of early childhood development and our Early Childhood Care and Development (ECCD) programmes in 6 countries: Bolivia, Ethiopia, Kenya, Mozambique, Pakistan and Uganda. While different countries adopted different research tools and analytical frameworks, all focused on a qualitative approach with use of case studies, focus groups and key informants.
The studies sought to analyse and understand the beliefs and attitudes of mothers, fathers, early childhood educators, and primary teachers around the roles of men and women in childcare; their gendered expectations and norms for boys and girls; and whether they treated girls and boys differently – and how. The studies also reviewed how young children understand gender and gender difference and the extent to which early childhood development play spaces and centres and their educators are gender responsive or reinforce gender stereotypes.
Early childhood development, Early learning