Equality cannot wait
2 November 2021
A thought piece on gender inequality from Alda Soraya, member of the Youth Sounding Board for the Directorate-General for International Partnership of the European Commission and Girls Leadership Academy Officer at Plan International Indonesia.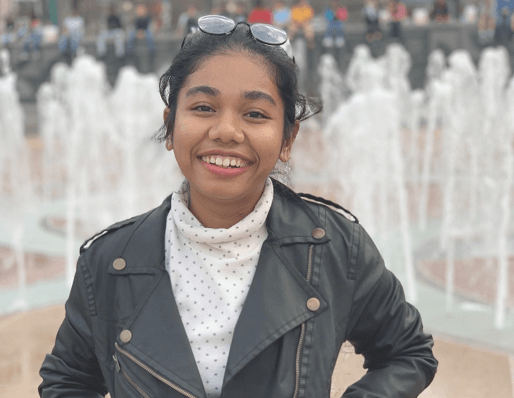 Even when the victims are girls, they are still the ones to blame.
Three stories of violence and discrimination against women
When I was in eighth grade, there was a girl in my school who got pregnant. As soon as the news spread, she dropped out of school. I never heard from her again, but her story was used to warn us that as girls we need to look after ourselves, cover up, and don't fall for boys' temptation. This had me confused because it took two people to make a baby but, apparently, the girl is the only one to blame.
Three years later, one of my friends got married. She was only sixteen. She was pregnant, and her whole family agreed that the only solution was for her to get married. They say that your wedding day is supposed to be your happiest day but my friend didn't crack a single smile that day.
Fast forward to early 2016. While I was driving a motorcycle on my way home, suddenly from my right this man came by my side, grabbed my thighs, spared a few seconds to smirk at me, then drove away. I was shocked and confused. I told one of my friends about this and she asked: "Were you wearing shorts?". Again, the girl is always the one to blame.
All these stories happened to different people but one thing they have in common is that even when the victims are girls, they are still the ones to blame. As you read these stories, they might not seem too shocking to you. They might feel oddly ordinary because discrimination and violence against women is something that we still see far too often. The chances are that you might have even witnessed or experienced it yourself.
Numbers are screaming for us to fight harder than ever
The National Commission on Violence Against Women in Indonesia stated that in 2020 alone there were 299.911 cases of violence against women. This is only the reported number since often women are less likely to report or reach out for help. To make the matter even worse, as I'm writing this, the Indonesia People's Representative Council (DPR) has reduced and changed The Elimination of Sexual Violence Bill, giving less protection and rights to the victims of sexual violence.
Girls and young women are also denied control over decision-making – with women holding only about 21% of the ministerial positions globally. Data from the World Economic Forum even stated that with the current rates, it would take the world another 135,6 years to cover the gender gap worldwide. I refuse to wait much longer. All these data and stories are screaming for us to fight harder than ever.
The problem has a name: patriarchal culture
One of the biggest obstacles to gender equality is patriarchal culture. In many societies, from a young age, girls are being pressured to step aside, make room for other people, and stay silent. As a result, girls have lost their voices and society has lost its future leaders.
Culture is created by people. This means that as a product of people, it can be re-created and re-constructed by people as well. Investing in girls' leadership today means investing in sustainable development and in creating powerful leaders of the future. Empowering girls to be able to lead would not only bring change to themselves but would also bring change to their community and create global improvement.
Girls and young women should not wait for another 135 years just to have their basic human rights guaranteed. They shouldn't have to wait, not even just for a second longer. We are already too late, so there is no better time to start than now. It is time to believe in the power of girls, to give girls the opportunity to lead, to allow them to make decisions, and to let them show us that girls can run the world, because again EQUALITY CANNOT WAIT.
Youth empowerment, Safer Cities