25 JUNE 2020
It has been over two months since the first COVID-19 case was reported in Ethiopia. Despite all the measures the government has put in place, the number of cases is still increasing. To support the children and communities where we work, Plan International has launched a response with various awareness-raising and prevention activities, as well as food and hygiene kit distributions with funding from the Danish International Development Agency.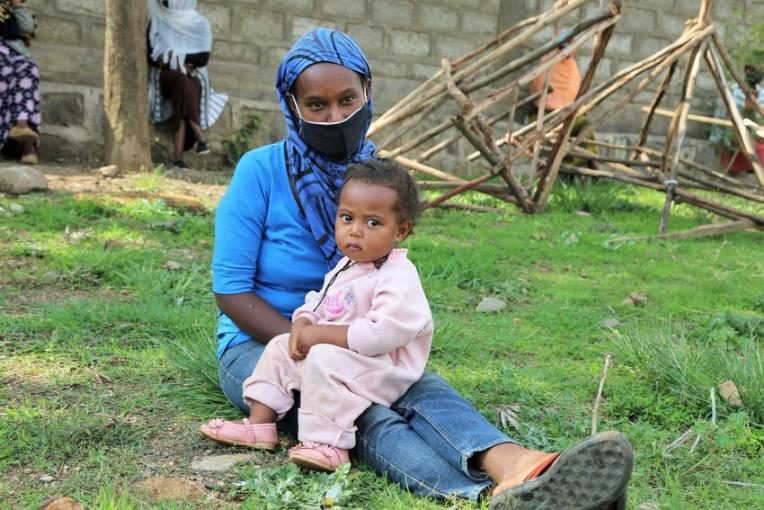 14 year old Eyerusalem is in grade 8 at school. She lives with her family often in a small house and they survive on a low income. "Me and my family are living with such uncertainty and great worry as my father is suffering from a heart condition. He is a security guard and my mother doesn't have a job, which makes our lives difficult."
"Currently, my friends and I can't go to school or the library as they are closed due to the coronavirus outbreak in the country. I even can't play with my friends. I stay at home all the time with my family and watch TV. It's a difficult situation for me to stay at home without doing anything and sometimes I feel sad," Eyerusalem explains.
"As advised by the government and youth volunteers, I wash my hands frequently at home and Plan International Ethiopia has placed handwashing facilities for the community where I live, which is good as many of the community members do not have access to this kind of facility in their homes or neighbourhoods, says Eyerusalem. "However, I do not wear masks, gloves, or other protective equipment when I go out outside as my family are not in a position to provide me with them."
Alemwork Zena is a member of the COVID-19 Taskforce Committee in Yeka and is providing technical and administrative support to one of the handwashing facilities that Plan International has installed in the district.
"I am very grateful for what Plan International is doing to support the district's effort to prevent and control the coronavirus outbreak. This area is a highly-populated urban area which is poverty-stricken," says Alemwork, adding: "Since the handwashing facility is located at the taxi station and close to the shopping centre, it encourages many people to wash their hands before getting into and out of a taxi."
Fanta Solomon is a mother of three and lives in Addis Ababa, the capital city of Ethiopia. "Two of my children are from my deceased husband and my third one has a father, but he left me because of the other children. I feed my children with the money that I earn from working each day, but now I am no longer working due to the coronavirus," says Fanta, continuing: "It is very hard to live without anything and I am really wondering how long my children and I can continue to live this way."
"When I lost hope and had no other options, I went to the Bureau of Women and Children and told them about my situation and asked them for support. They called me when Plan International started distributing food in our district."
"It is a big relief for a person like me who doesn't have anything to feed her children with at home. It will serve us for a few weeks and who knows for the future. What I can say now is that may God get rid of this disease so I can help myself by working like I did before," says Fanta.
Tesfanesh Teferi is married and a mother of one child. "Before this virus disrupted our lives, I used to sell candles made of beeswax around the churches, carrying my child all the time. My husband is a security guard, but he is now at home because he got into an accident while he was on duty and was injured. Now, I am also staying at home since the churches are closed due to the pandemic."
"I used to make a profit of only 50 birrs (1.6USD) per 100 candles if I got a buyer. I spend the day looking for buyers, carrying the candles on my head and the baby on my back, but I never complained as at least I spent the day with hope. Now the worst is here," Tesfanesh says, adding: "I am so grateful for the support that I received from Plan International. It will serve us for some time."
Child Protection Coordinator, Mitiku Demissie, explains more about Plan international's response. "We are providing support for the neediest people who are living in the implementation area of the Safer Cities project. The project started in 2018 with the intention of creating a violence-free environment. However, after discussions with the Danish International Development Agency, we shifted our activities to respond to this pandemic. Each package contains 10 kg of rice, 25 kg of wheat flour, 6 litres of oil, 3 bottles of liquid soap, and 3 face masks."
Emergencies, COVID-19