Leave No One Behind Partnership
2020 – 2021 Vietnam highlight report
The Leave No One Behind (LNOB) Vietnam Partnership was established in 2017 with the mission of empowering disadvantaged and vulnerable groups through the broad and comprehensive application of the Sustainable Development Goals (SDGs).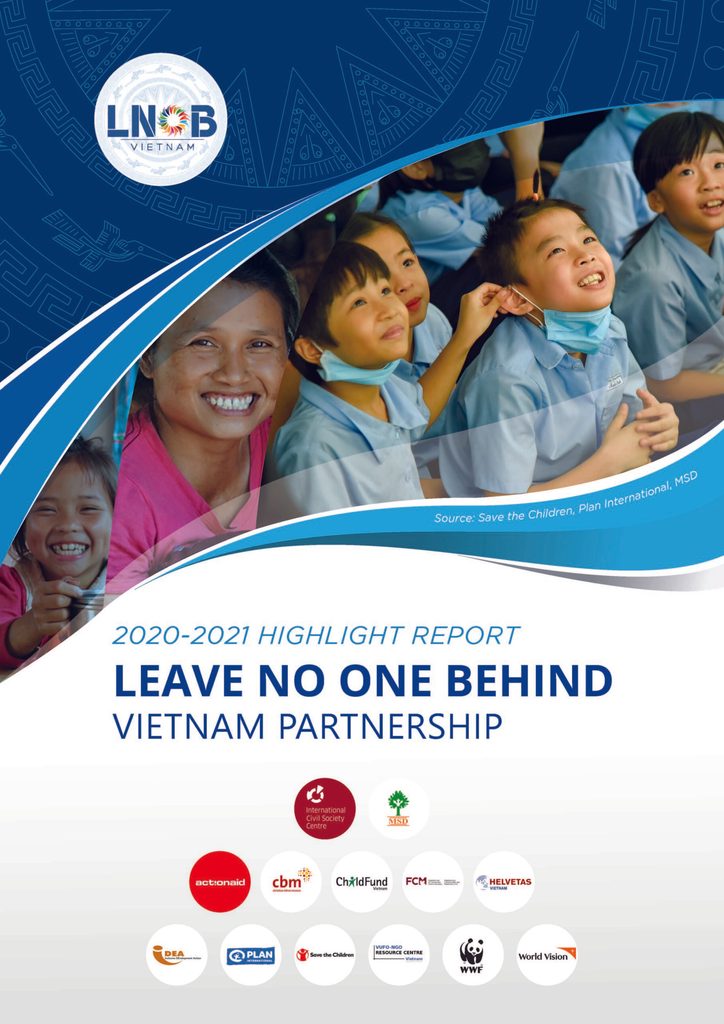 Plan International Vietnam and other members of the LNOB Vietnam Partnership are delighted to publish the 2020-2021 LNOB highlight report. This report is a summary of the brief introduction on LNOB Vietnam, our highlight activities, and the contributions of our member organisations to the 17 SDGs of the United Nations.
According to the report, the 2020-2021 period marked 2 major achievements of the LNOB Vietnam Partnership:
LNOB members actively provided recommendations to the Vietnam National Report 2020: 5-year Progress of SDG Implementation, and had nearly 80% of their feedback incorporated in the final report by the Ministry of Planning and Investment.
The coalition published the Vietnam SDG 16+ Report, an important section in the Monitoring and Review of SDG 16 Plus at the National and Regional Level (2015-2020) in Asia.
"Vietnam's SDGs Index ranking has rocketed from 88th in 2016 to 55th in 2022, showing our resolute determination in implementing sustainable development as a developing country. With our solidarity and commitment, LNOB Vietnam Partnership will continue to give voice to marginalised groups and deliver unprecedented results, thus contributing to the 2030 Agenda for Sustainable Development in the coming years", said Ms. Nguyen Phuong Linh (Executive Director of MSD, Country Lead of LNOB Vietnam Partnership) in the report.
Education, Protection from violence, Comprehensive sexuality education, Gender-based violence