"I am afraid of the unpredictable future we are facing."
6 June 2023
In Sudan, Plan International is working to get life-saving supplies to those in need. Before the start of the crisis, the humanitarian needs in Sudan were vast, with children the most vulnerable. Here, Emergency Response Coordinator, Alaa Abusifian, shares what life is like for those trying to survive in a country torn apart by violence.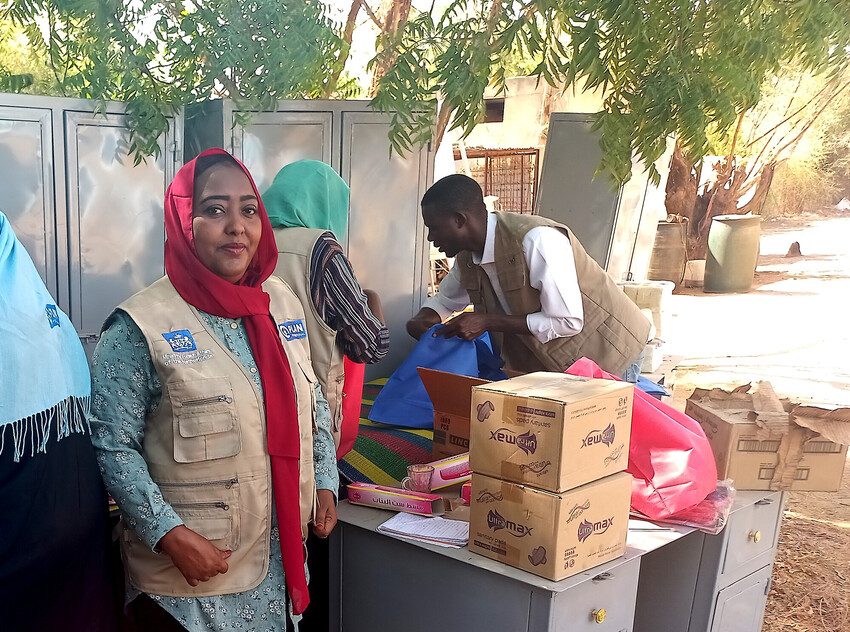 When the conflict began, I was in Gezira state, which neighbours Khartoum state. It was stressful trying to check on my colleagues, as we have a lot of people in Khartoum, and also my family, as my husband was there. The situation wasn't good.
I travelled to White Nile to support Plan International's humanitarian response. Most people are traumatised and in need of psychosocial support. Many people, including our colleagues, have lost everything. Some people returned to find all their belongings stolen. The people of Khartoum have not experienced anything like this before.
We have staff still in Khartoum who are finding it difficult to leave. For the last ten days, we have been trying to check on one colleague who has not had electricity and was unable to charge her phone. Fortunately, we have been able to reach her.
In terms of food, shops are opening for a couple of hours to allow people to get what they need quickly, then they will return home. There is a water shortage, and no maintenance can be carried out.
Supporting refugees and internally displaced people
We are focusing on our humanitarian response to people in White Nile, including both South Sudanese refugees and the internally displaced people from Khartoum.
The state has limited resources for the number of people there. Plan International is responding by supplying non-food items (NFI kits), which include mosquito nets, plastic sheets soap and blankets.
We also are supplying dignity kits for girls and women which include sanitary towels, underwear toothbrushes and paste and a torch. We are trying to use whatever we have in our stores.
Inside refugee camps, we are working with other NGOs (Non-Government Organisations) to try to identify a clear picture of what essentials are needed. Access to fuel and cash flow are huge challenges inhibiting us from providing intervention.
Children are traumatised by violence
We are providing psychosocial support for children who are traumatised by what they have witnessed in Khartoum. They are struggling to sleep at night, and if any planes fly over them, the children hide and cry. The adults are also scared, they feel unstable and are scared about their futures.
It has been over a month, and they don't know what to do. We are offering psychosocial support through talking therapies and group therapy sessions. We have created friendly spaces for children where they are expressing their feelings through painting and storytelling.
What we need right now is access to cash to get more fuel and supplies for refugees. We are running out of everything, and in our emergency team, we have identified the essential items we need, for example, food items such as lentils, cereal, and cooking oil.
Many children ran away without anything, so we need clothes, shoes, recreational materials, and basic supplies, just to register them on our child protection records.
White Nile state is currently preparing students for sixth grade exams, so the state is trying to ensure those students from Khartoum can sit their exams. We need supplies to facilitate this.
Personally, I am afraid of the unpredictable future we are facing.