academic and personal growth through school meals
Haja is focusing on her studies and a positive future with the help of a Plan International-run school feeding programme.
Haja's life in Port Loko district is not an easy one. At only 11 years old, she wakes up every morning at 5 a.m. to wash dishes, sweep, fetch water and bathe her limbless and blind uncle, whom she and her brother take care of.
Haja has never met her mother, and her father lives far away in the capital, Freetown doing carpentry. She lives with her uncle and brother in a 1-bedroom home where they all sleep on the floor. There is no toilet in their home, so they must visit their neighbour's toilet whenever they need to use it. 
Despite her difficult living situation, Haja attends primary school in Port Loko district. Her grandmother brought Haja to the school so she can study and receive a good education.
She did not pass the entrance exam with the score required for her age level but she was fortunate enough to be accepted into the school. She was placed in class 3 instead of class 6 but despite this setback, Haja perservered. Her school doesn't charge fees and she was given a uniform and books by the school.
She says, "I used to be worried about food all the time, but now with the school feeding programme, I can focus on my studies and my future."
Feeding programme boosts health and education
Before the school feeding programme started, Haja would come to school with no food and would often go to bed hungry. The school feeding programme by the Government of Sierra Leone through the Ministry of Basic and Senior Secondary Education, implemented by Plan International, has made a big difference in her life. The programme has helped to improve her health and she now wakes up with more energy and is better able to focus on her studies.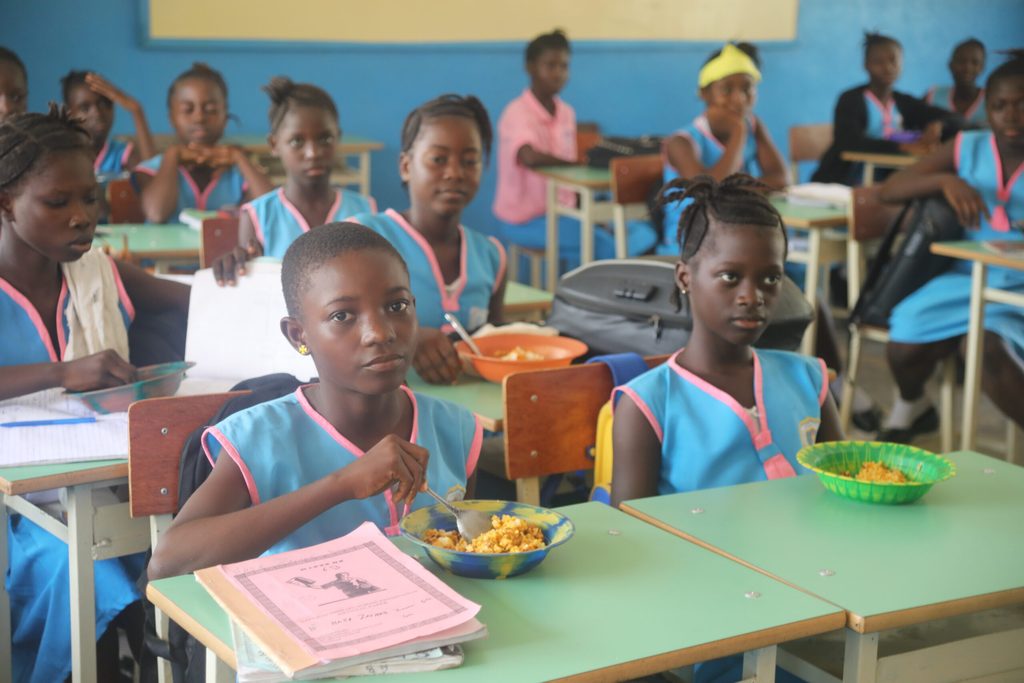 "Thanks to the school feeding programme, we've seen a big improvement in our students' academic performance," says Monica, Haja's teacher. "It's not just their physical health that's improved, but their mental health too." 
Food improves health and academic performance
Monica has noticed a significant improvement in Haja's academic performance since the school feeding programme began. Haja is no longer distracted by hunger and is able to participate actively in class discussions. Her mental health has improved as well.
Monica is impressed with Haja's resilience and hard work, considering the difficult circumstances she faces. Despite her difficult living situation, Haja remains positive and encourages other children to stay in school and finish their education. She knows she will reap the benefits of her education in the future
The school feeding programme has made a big difference in Haja's life, not just in terms of her physical health but also her mental health. It has given her the energy and focus she needs to do well in school and to work towards a brighter future. The programme has also had a positive impact on the entire community, as it has helped to improve the academic performance of all students and has brought hope to families who struggle to provide for their children.