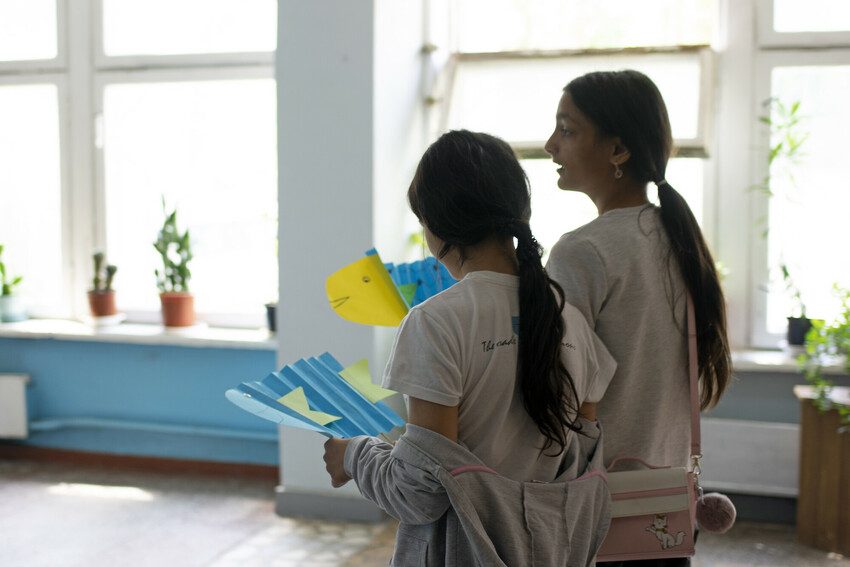 Having the chance to attend school is critical for children – both for their learning and their wellbeing. This is just as true in times of conflict, when school can give children an important sense of normality, routine and safety, and the chance to socialise with others.
But as is too often the case, the conflict in Ukraine has disrupted the education of millions of pupils – many of them virtually overnight. At the end of February, all teaching in Ukrainian schools was immediately suspended for two weeks. Since then, millions of children have fled the country in search of safety, leaving their classmates and teachers behind, while others have settled in other parts of Ukraine further away from active fighting.
Impressively, the Ukrainian Ministry of Education has continued to operate and made online lessons available for all age groups within a fortnight, wherever they are – inside or outside Ukraine. But online lessons, particularly for primary aged children, are limited in scope and cannot replace the important social and emotional support that face-to-face classes with a well-prepared teacher provides.
Getting refugee children back in school
In Poland – which has so far offered a home to more Ukrainian refugees than any other country – Plan International is working with local partners to get refugee children back into school as quickly as possible.
Although the Polish government has guaranteed that all Ukrainian children in Poland have the right to continue their education, the scale and speed of new arrivals of school-aged children is something no country has ever faced before.
"It's a huge challenge for the school system", explains Jędrzej Witkowski, President of the Centre for Citizenship Education Foundation, the largest education NGO in Poland, based in Warsaw.
"Of the 2.8m Ukrainian refugees who have crossed into Poland, at least half are under the age of 18. So while we don't know how many have or will stay here long term, that are a lot of children enrolling in school.
"When the first refugees arrived 50 days ago, a lot of them said they would go home in two weeks. It's now been two months. Even if there's a peace deal tomorrow, many will want to trust that it will be a long-lasting peace before they feel it is safe to go home. Whatever happens, we will have a lot of extra children in the school system.
"We have been supporting schools since day one of the conflict, helping teachers to talk to pupils about the war and how to understand what's going on. Now, we're working to help schools cope with the challenges and unprecedented scale of new arrivals."
The most urgent and immediate needs are to support Polish headteachers and teachers to expand their classes and equip them with the skills needed to teach Ukrainian pupils, including children who have potentially experienced traumatic events.
Learning language skills
While some Ukrainian pupils are enrolling directly into regular primary and secondary school classes, others are first enrolling in preparatory lessons where they get more support to improve their Polish language skills.
"Preparatory classes are important for those who need to learn Polish, which is 70% similar to Ukrainian in that you can understand and communicate, but it's totally different if you are a kid and trying to understand a lesson in physics," Witkowski, whose organisation has worked in Poland for more than 20 years and now supports a network of more than 5,000 schools.
With Plan International's support, the Centre for Citizenship Education has run online courses for teachers in how to teach Polish as a second language and how to teach diverse classes. More than 3,000 teachers attended a live webinar on the first day of the conflict, with 30,000 watching afterwards. Another 2,100 have now also completed a language course.
School can be a lifeline
"Nearly overnight, the conflict in Ukraine has turned the lives of countless children upside down, with many experiencing unimaginable distress or upheaval," adds Alison Joyner, Education in Emergencies Specialist at Plan International.
"In times of crisis, the chance to go to school can be a lifeline. For children who have been forced to flee their homes, it is an important part of starting to build a life in a new country. As schools across Poland and other neighbouring countries welcome Ukrainian children into their schools, it's critical that they receive the support they need to make sure they can provide pupils with the quality education which they have the right to."
Around the world, Plan International works to promote free, equal access to quality education for all children – from early learning to secondary education. We work with children, their families, communities, wider society and governments, and advocate at local and international level so that all children are able to get an education.