JULIEANNE TABILOG Content and Digital Consultant
26 NOVEMBER 2021
Daine Torregosa and Regina Buco of the Centre for Youth Advocacy and Networking (CYAN) sit down with Plan International Philippines to discuss how the student-led sanctuary project works to campaign against gender-based sexual harassment by localising the Safe Spaces Act of 2019, one school and university at a time.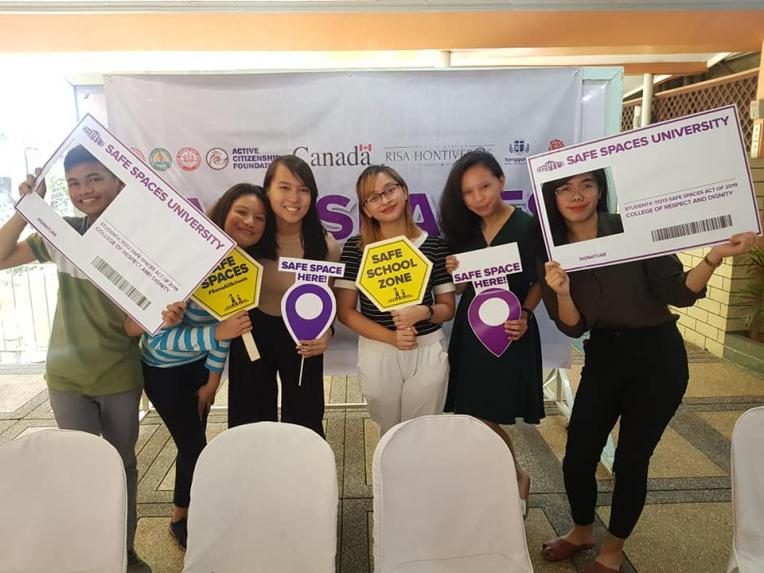 If you ask them, women and girls can probably count on one hand the places where they feel completely safe from any potential incident of sexual harassment.
For so long, it has been a sad reality in the Philippines that there aren't many safe spaces—especially for women and girls and members of the LGBT+ community—where they can freely go about their life without fear of being harassed. It happens on online platforms, in public spaces, in schools, and even at home.
Though there exists the Safe Spaces Act (SSA) of 2019, at the community level, the full implementation of the law has yet to be realised. This is what the Center for Youth Advocacy and Networking (CYAN) is working towards through The Sanctuary Project in partnership with Student Council Alliance of the Philippines (SCAP), The United Nations Population Fund (UNFPA), SheDecides Philippines and Plan International Philippines.
lots of people are forced to drop out because of trauma, because they don't feel safe.
The Sanctuary Project is a student-led feminist movement that assists survivors of gender-based violence and campaigns for safe spaces in schools and universities in the Philippines. Composed of youth advocates, the group also supports students who want to develop and lobby for anti-sexual harassment policies and codes in their respective universities in coordination with the school administration.
"We wanted [to have] the discussion of [gender-based sexual harassment] within the campus, so it's not just led by policies coming [down] from the universities but a collaborative effort with the students since they are among those who experience it," shared Daine Torregosa of CYAN.
They also train students to be active responders to cases of abuse, providing survivors access to immediate assistance should there be a need.
The gaps
Under their Research Policy and Initiatives, they recently published a study entitled Paperwork Alone Does Not Work which reviewed policies that address gender-based violence in select educational institutions in Samar and Cotabato. This, along with their continuing discussions with various colleagues across the country, has brought to light how the implementation of the Safe Spaces Act is truly lacking, particularly in a school setting.
"We can't leave that kind of gap," said Regina Buco, 'Paperwork' Lead Researcher. "Studies have already shown that lots of people are forced to drop out because of trauma, because they don't feel safe, because the environment is not conducive to learning anymore. So, how are we going to build a productive society if we leave students traumatised?"
School-based harassment, according to them, has its own unique nuances since the context and the triggers of the problem can vary per university, and this is something to note for those involved in the localisation of SSA.
Daine also mentioned how the challenge of establishing a full mechanism for addressing cases is largely connected as well to the weaknesses of the wider judicial system in the country, where processing of harassment cases takes up a lot of effort and resources.
"Given all those flaws in the very system we have on top, we wanted to be more contextualised with our approach on how we can localise efforts and make sure that our target universities would eventually have an office, a code, a document that would protect them," she added.
"We have to work with the culture rather than against it, since that makes it more effective. You must work with the gatekeepers, the implementers of culture. You have to really immerse [yourself] with the community for you to know what the contexts are and what the needed adjustments for it to work in each area are."
The learnings
While these types of conversations reveal many roadblocks, they also point to the many learnings that can guide the actions of policy developers, implementers, and advocates in the actualisation of Safe Spaces.
According to Daine, it starts off with mandating a Gender Sensitivity Training for those in the academy, and goes on towards establishing a physical sanctuary, where possible, so survivors can come forward without fear.
if you feel like you've been hurt, you should take up space and speak up about it.
For Regina, one thing to keep in mind is the bottom-top approach. This is especially important in settings where social norms and cultures embedded in communities heavily influence how sexual harassment and violence are perceived and even indirectly enabled.
Language is also a key factor in localising SSA, she added since policies are usually in English and might not be accessible for all audiences. Not to mention, having clear definitions is crucial to prevent misinterpretation and underplaying of what survivors are going through.
The hope
With these seeds of change that The Sanctuary Project is planting, one school at a time, the hope of these advocates is to grow a generation of gender-sensitive youth who can then carry with them the principles of Safe Spaces as they leave the academy and enter the workplace.
Social norms and conservative cultures make it difficult to openly discuss issues like sexual harassment. But as Regina reminds young advocates: "Don't be afraid to take up space. [Part of] the roots of abuse are that people are made to feel small, like their feelings aren't valid, like their experiences don't matter, and like what happens to them can just be waved away. Movements like this are a way for us to tell each other that no, if you feel like you've been hurt, you should take up space and speak up about it."
For these advocates, starting small is key to bringing change, but it doesn't have to end there. What everyone starts with must grow bigger and reach wider until every place can be a safe space and until every person can be free from gender-based violence.
Protection from violence, Gender-based violence