26 AUGUST 2021
JULIEANNE TABILOG Content and Digital Consultant
When girls get talking, girls get creating.
Over the course of three and a half days, girl and young women advocates from all over the Philippines attended Plan International Philippines's 2021 Equality Camp from August 3 to 12, 2021 in collaboration with design thinking start-up, Limitless Lab. Conducted through a mix of online and on-site activities, the Equality Camp aimed to capacitate young advocates for more effective youth-led campaigning.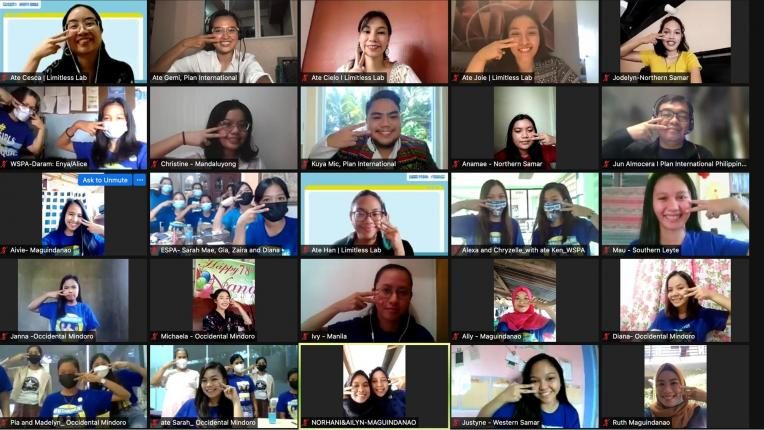 Advocates as young as 13 years old dove into the concepts under Gender Equality, Local Policy Advocacy, and Design Thinking and Social Innovation. Guided by their mentors, the girls had the chance to create solutions to the gender issues they experience in their own communities. The activities in the Camp helped the advocates prepare for the much-anticipated Pitching Day on August 12, wherein they presented their innovations and vied for the Equality Camp Champion award. Plan International Philippines will support the implementation of the winning solution.  
Pitch proper 
On Pitching Day, the girls were divided into seven groups based on their areas. The Western Samar group kickstarted the presentations by introducing their idea for a youth-led alliance called Balangaw Han Samar. This alliance aims to create a firm voice against gender-based violence and to raise awareness in the community about the local Safe Spaces Act using traditional and digital channels.
Meanwhile, the first Occidental Mindoro team touched on gender-based sexism and stereotyping, which they hoped to address through a strong online campaign. A group dubbed 'Archipelago', a mixed group girl leaders from different parts of the Philippines, also honed in on the lack of menstrual and hygiene kits in standard state-provided disaster response kits. This issue motivated them to pitch a plan to engage with local Disaster Risk Reduction and Management Councils (DRRMC) and encourage them to prioritize sexual and reproductive health rights (SRHR) in times of disasters.
No idea was too big for the young advocates to explore, as the group from Eastern Samar suggested putting up a facility called Balay Pahuwayan to combat mental illness and incidences of suicide. According to the girls, this facility would be a safe space where mental health services would be available to girls and young people.
Team Northern Samar also pitched a similar idea to have an Adolescence Hub in an effort to counter the rising cases of teenage pregnancy and the burdens that come with it. The Hub called KAUPOD, they said, would serve as a second home and school where young people can learn about adolescence, family planning, and SRHR.
2021 Equality Camp Champions
Ultimately, two groups took home the title of 2021 Equality Camp Champions and secured the implementation support from Plan International. The first group is Team Maguindanao, which focused on empowering young mothers through the Usapang Kababaihan Program, while the other is the second Occidental Mindoro team which aimed to tackle teenage pregnancy.
In their presentation, Team Maguindanao highlighted the unique challenges faced by young mothers and the prevalent taboo culture that brings down their confidence. This led the girls to conceptualize an alliance and program that can provide a safe space for young mothers to talk and learn more about motherhood and family life.
Limitless Lab CEO and Founder Joie Cruz commended the group for choosing a problem that is not widely recognized, saying that there is a great opportunity for this project to help many struggling young mothers.
As for the other Champions, the Occidental Mindoro group of girls were able to create a prototype Explosion Box — a portable box containing bite-sized information on teenage pregnancy, which young people can easily use to understand the challenges and consequences involved in this issue. Likewise, Joie Cruz commended the group for the innovativeness, resourcefulness, and the high potential of the product to reach even those without internet connection.
Though the Equality Camp has drawn to a close, the advocacy work only continues. Towards the end, Plan International and Limitless Lab gave heartfelt messages to the girls, reminding them to keep moving forward, reaching out to their own communities, and enjoining everyone to join the fight for girls to get equal. 
Protection from violence, Sexual and reproductive health and rights, Youth empowerment, Disaster risk management, Gender-based violence, Teenage pregnancy