JULIEANNE TABILOG Content and Digital Consultant
19 AUGUST 2021
This World Humanitarian Day 2021, we touched base with some of our key responders in different areas in the country and asked them about their insights on doing humanitarian work. What these three dedicated humanitarian workers shared are the simple yet immensely meaningful ways that can help the process of rebuilding and recovery.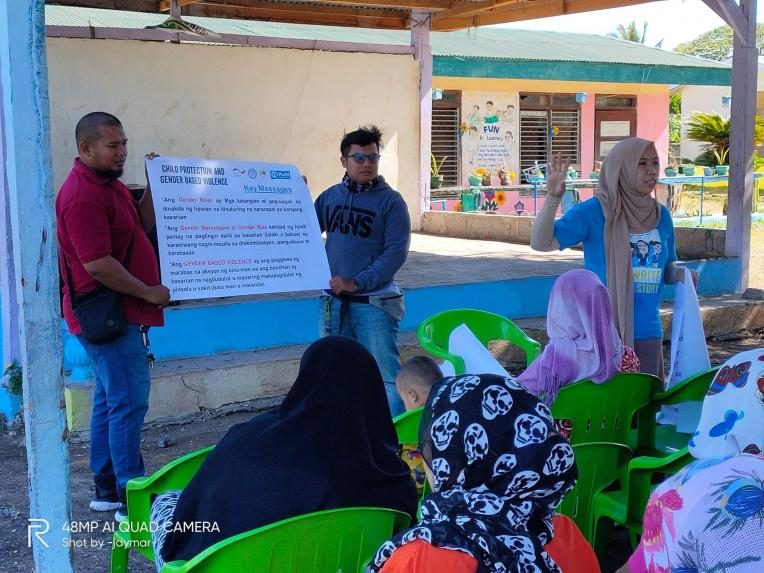 These days, we continue to be enveloped in the most devastating humanitarian crises of our generation, one after the other. From the ongoing pandemic to the recurring calamities, and even escalating armed conflicts around the world, it becomes more and more difficult to find the pockets of hope and inspiration each day.
This World Humanitarian Day 2021, we touched base with some of our key responders in different areas in the country and asked them about their insights on doing humanitarian work.
While the concept of humanitarian response can seem daunting, three dedicated humanitarian workers shared that there are many simple yet immensely meaningful ways that can help the process of rebuilding and recovery.
The secret? Listening to stories from the communities, recognizing the agency of the youth, and adapting based on emergent realities and issues. 
Raising voices, listening to stories
For Rabia Mustapha, finding herself in humanitarian work was, in some ways, an unexpected path. She was a social worker by profession, but when a breakdown of peace agreements on the Memorandum of Agreement on Ancestral Domain caused a massive displacement in Mindanao, Rabia's journey led her to humanitarian work.
At that time, though she was not trained in the humanitarian setting, she pursued an opportunity to be a Community Organizer, sparking the beginning of her humanitarian work. Since then, she was deployed to various response operations for typhoons, earthquakes, and armed conflicts. 
Crises emerging from armed conflicts particularly hit close to home, she mentioned, since her family was among those affected by the displacement. Whenever she met young girls in a similar scenario, she said, she is reminded of her own mother.
"Back in our time, there were no discussions of human rights or protection or psychosocial [support]. It's really just survival," she said.
Now, Rabia is a Child Protection Specialist whose keen eyes narrow in on the risks and threats specific to children and young people during emergency situations. Reflecting on her experience in addressing child protection issues during emergencies, she acknowledged the mixed feelings of inspiration and heartbreak that she encounters in her work.
"When we engage with the young people, with girls, we understand that they're struggling with their family, with their situation, with their community and yet it is inspiring that they find strength, they use their own time, they volunteer, they reach out to their peers," she recalled. "That kind of hope and that kind of energy is very inspiring."
With that, Rabia issued a call to all those involved in humanitarian work, reminding them of the unique opportunity they have to hear the stories of children and young people. These stories, she said, should be amplified and addresed in response operations.
"If we can recognize the hidden survivors and victims of disasters, let's try to raise their voices and stories so we can design a response that is evidence-based, that really addresses the impact of disasters," reminded Rabia.
Children as change agents
Meanwhile, Aries Tizon has been in humanitarian work for more than 14 years now. She started out in Plan International back in 2007 as a Community Development Facilitator. She was among the staff deployed during response operations for Typhoon Haiyan, Typhoon Mangkhut, and the Marawi crisis. Currently, she is the Monitoring and Evaluation Officer of the RAISE Above Project, a project aiming to improve the access to education and skills for work and life among adolescent girls, young women, and young men in targeted communities in Western Samar.
Working closely with girls and young people, Aries has learned to appreciate the important role that they play as change agents in their communities.
"From breaking gender norms to tackling problems on teenage pregnancy, sexual and reproductive health rights, and mental health, it is still the girls and young people who play a bigger role. As much as possible, we are [just] there to capacitate them and build their confidence because those is already within. We just have to build [them up] so they themselves act on their issues and concerns," said the M&E Officer.
Being a long-time responder to disaster and emergency situations, Aries has shared that one of the biggest challenges for her is the need to move around often to reach the different communities in need. With a family to leave behind, Aries has struggled with this part of the job, along with the need to integrate herself with new environments, cultures, or languages whenever needed. Still, she views every challenge as a learning opportunity and a chance to make even the smallest positive impact on the lives of people. 
Willingness to explore
Another veteran humanitarian worker is Northern Samar-based Community Development Facilitator Imelda Dela Cruz. She was first deployed in 2006 and has since been an active frontline responder through the many calamities in the area. Aside from immediate response operations, she also gets to engage with potential children and youth advocates and capacitate them to facilitate child-led activities.
One thing she learned in her line of work is that although the children and youth themselves are affected, they are also the best communicators to their peers, making their active involvement vital to the recovery process. 
Nowadays, the pandemic has become an added hardship in rebuilding communities that were already affected by other disasters and emergency situations. Still, in her view, there is always something that can be done amidst difficult circumstances.
"Although we are in these situations, whether it's disaster or pandemic, … You can [always] explore alternative ways of participation for children, families, and communities," said the Facilitator. She then highlighted how they maximized social media for awareness-raising efforts, and how they managed to continue their program activities by complying with the minimum health protocols required within the community.
Given that humanitarian workers face difficult situations on the ground, Imelda also shared a simple reminder that gives her the strength to march onwards in her humanitarian work. She said, "There is always someone who is weaker than us, who needs the help of other people. No matter what the disaster is, I think about those who need us more, who are in worse situations."
Humanitarian work calls for us all to respond and adapt to the needs of our fellow human beings. Together, we can rise above the challenges, and rebuild towards a better future.  
Ultimately, what their insights point to is that at the core of every humanitarian intervention, there is a need to continuously listen to the stories from the communities, engage with children and young people, and adapt our programs to remain responsive to current challenges. Because while there will always be a multitude of things that need to be done to mitigate the impact of crises, these three points—listening, engaging, and adapting—can be a good place to start. 
About Plan International, Emergencies, Disaster relief, Disaster risk management