9 MARCH 2021
Following the launch of our #FreeToBeOnline campaign and our research on the abuse and harassment girls face online, Instagram, along with Facebook and WhatsApp, committed to a series of listening sessions with girls around the world. Kicking off last year, the Girls Get Equal #FreeToBeOnline Listening Sessions have brought together girl leaders, aged 15 to 22, from different countries to directly engage with Instagram, Facebook, and WhatsApp and contribute to keeping the internet safe for girls and young women. In this up-close conversation, Dorothy, an 18 year old Girl Scout and a Girls Get Equal advocate and Youth Reporter from the Philippines, shares about her experience of representing girls and young women in her country in the listening sessions and advocating for digital safety.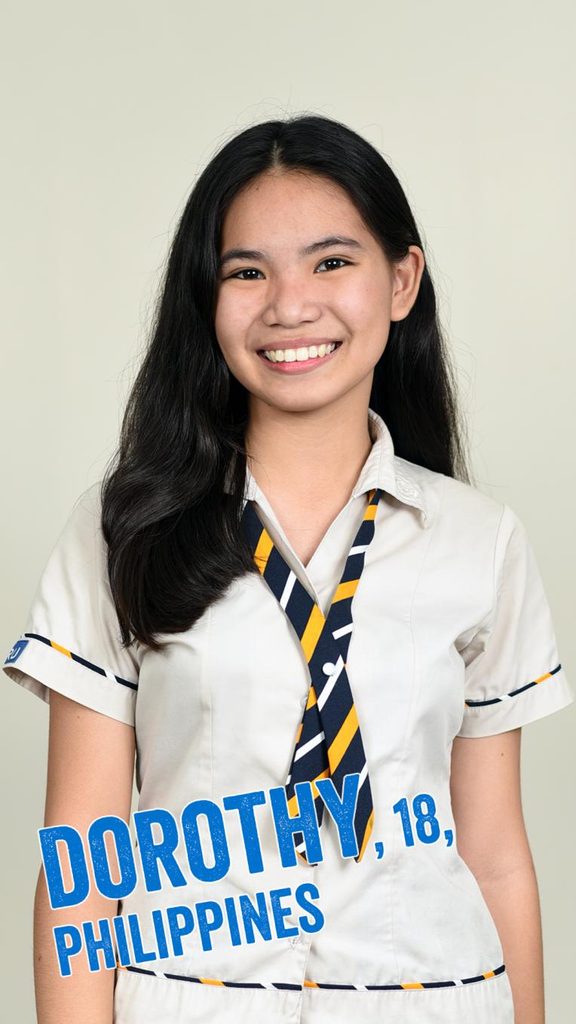 What are the Girls Get Equal #FreeToBeOnline Listening Sessions and how did you get involved?
The Girls Get Equal #FreeToBeOnline Listening Sessions are part of a collaborative initiative of Plan International with Facebook, Instagram, and WhatsApp which connects girls and young women to people behind the said social media giants. I got involved in this initiative through an opportunity shared in the Girls Out Loud network, and fortunately, I was chosen to represent the Philippines. The sessions gave us the much-needed space to speak about our lived experiences on the platforms and the change we want to see for us to feel safer while using them. Through the months, I and the girl leaders from other countries like Brazil, India, Benin, Japan, UK, Spain, Kenya, USA, Germany, and Palestine were able to crowdsource insights and recommendations from girls within our individual networks, craft a vision for online safety, and create a 'wishlist' or set of recommended changes that we presented to the product and policy teams of Instagram, Facebook and WhatsApp. This April, we will reveal the 'wishlist' which will hopefully lead to a better online experience for everyone, especially girls.
What are the particular 'asks' that you strongly supported in the 'wishlist' to Facebook, Instagram, and Whatsapp and why these specific asks?
The 'wishlist' that the whole team came up with is comprehensive; it includes improvements on reporting mechanisms, content moderation, and community guidelines. Personally, I strongly supported the specific 'ask' under strengthening reporting mechanisms which highlights the need for quick response to reports received by the platforms and that there should be definite measures that a user at risk can take. As a social media user who reports abusive content myself, I feel that my reports are being valued and paid attention to whenever I get feedback. It increases my confidence and feeling of being safe while using the platforms and it motivates me as well to speak more about my experiences online. I also believe that taking reports seriously can be a strong warning of these social media platforms against online abusers and predators.
How does it feel to represent the girls and young women sector in the Philippines in the sessions, work with girl leaders from other countries, and directly engage with social media giants?
I am really grateful and happy for the opportunity to represent girls and young women in my country and speak up on their behalf. Directly engaging with social media giants made me feel heard and optimistic about the change we are about to bring. Also, I learned a lot from my fellow girl leaders which I would love to share with my network.
What is 'online freedom' for you and what makes you feel the safest when you're online?
For me, online freedom is accessing the internet whenever I need and want to, engaging with ideas and online users that resonate with me without being bullied or restricted, and feeling safe and validated while expressing myself and sharing my opinions online. I feel the safest when I am interacting with online users I personally know or people sharing the same advocacies.
How important is it for girls and young women like you to have a say in keeping the internet safe?
It is very important to involve girls and young women like me in conversations about online safety because most of us are daily internet users, especially now that various aspects of our lives like school and communicating with friends have shifted online because of the pandemic. We are vulnerable to being bullied, abused, and exploited online, thus it is necessary that we are given more support, space, and opportunities to participate so we can learn how to protect ourselves.
Aside from commitment and action from social media companies, what other support or platforms do you think girls and women need to be free from online violence and discrimination?
I always believe in the power of education. If only we can reach everyone and teach them how to protect themselves and be advocates of online safety through integrating online safety lessons into our school curriculum or providing non-formal education like what we do in Plan International Philippines, it will make a huge difference. Also, we need to push for strengthened and well-implemented laws and policies against online violence.
What is your message to girls and young women who are silenced by the abuse and harassment they experience online?
No one— no girl or woman— deserves to experience online abuse and harassment. It's time we get the justice we deserve and stop online violence from being experienced by more girls and young women. Be with us in raising awareness about this issue, reporting abusers, and demanding support and action from people in power.
The Girls Get Equal #FreeToBeOnline Listening Sessions with girls and young women from around the world have been completed. In April, we will hear what specific steps Instagram, Facebook, and WhatsApp can take to make girls' safety online a reality.
Girls Get Equal, Youth empowerment, girls' leadership, Youth economic empowerment in emergencies, Youth in media