13 AUGUST 2020
by Aly Narvaez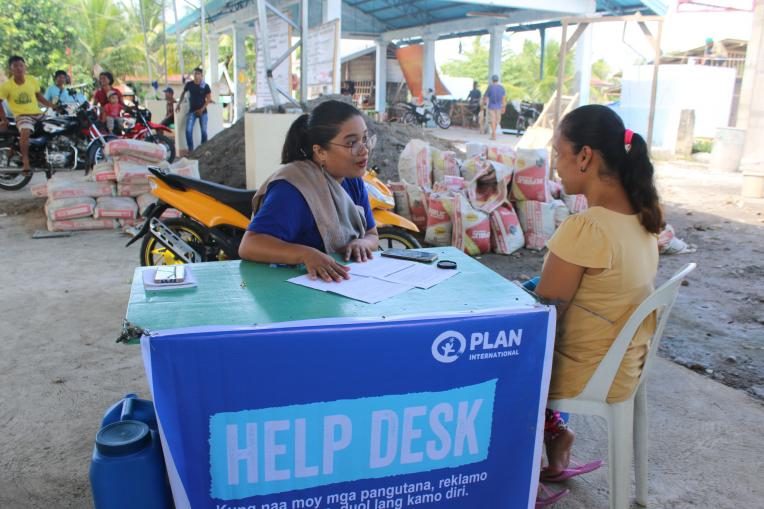 With the humanitarian aid sector also gripped by the COVID-19 pandemic, Mahjalin Baldesco, a community development facilitator working for Plan International Philippines, is among those enduring its brunt.
With over 7 years spent as a humanitarian worker, Mahja, as what she's often called by her colleagues, admits that the current global health crisis has posed new and huge challenges in her work.
"As a community development facilitator, my work revolves around interacting with people, building relationships, and listening to communities. I need to have a deep understanding about the issue or problem in a community so I can recommend and work on the right interventions," shares Mahja.
"To do that, I have to be there. In the community. With the community members," she adds. "But with the situation now, it's impossible to do that."
With local travel bans, country-wide implementation of community quarantine and other COVID-19 restrictions and measures in place, Mahja is faced with unforeseen roadblocks to reaching the communities she serves and delivering essential services to those who need them the most.
However, this does not keep Mahja from playing her important role in providing humanitarian support and relief to children, girls, and their families in this time of pandemic.
Communities first
Mahja is part of the North Cotabato Earthquake Response team. Being disaster survivors, the communities they serve are having it worse as the pandemic continues to increase their vulnerabilities and exacerbate the impact brought by the series of earthquakes that hit Cotabato in 2019.
Mahja knows that now more than ever, they cannot leave these communities behind.
"We have to overcome the challenges and think of new ways for our interventions to reach communities," says Mahja. "It is when crises like this happen that humanitarian workers like us are needed the most."
Strictly observing preventive measures and physical distancing protocols, the North Cotabato Earthquake Response team was able to continue and even strengthen their interventions. Working with local governments and partners, the team was able to distribute hygiene kits and provide multi-purpose cash assistance to earthquake- and pandemic-hit families.
What keeps a CDF moving
Stories, memories, and lessons from the field, these, according to Mahja, are what keep her motivated and passionate about being a humanitarian worker.
"Some stories will break your heart, but it will also inspire you to do better and do more to help the vulnerable and marginalized," continues Mahja.
At least six (6) different donors supported the implementation of the North Cotabato Earthquake Response amid COVID-19 pandemic.
"It was really challenging—dealing with and reporting to different donors. But when we hear stories from communities, especially on how our work changes their lives, everything becomes worth it."

This is a feature for the 2020 World Humanitarian Day, with theme: #RealLifeHeroes.
Emergencies, COVID-19, Disaster relief, Disaster risk management