21 JULY 2020
by Phil De Leon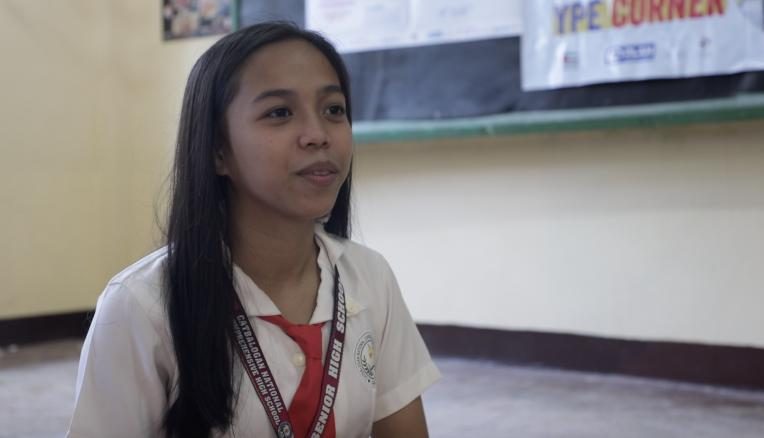 "I experienced anxiety whenever my family's everyday life was disrupted by the COVID-19 pandemic," Reni Rose said in Filipino.
"And my greatest source of worry was how the pandemic would be affecting my education," she stressed.
The 18 year old has just completed Senior High School in March 2020. Like many students, she missed the graduation, since all face-to-face school activities had to be cancelled due to the pandemic.
Her school plans to hold an online ceremony sometime soon; however, not all students would be able to participate as not everyone has smart phones or an internet connection.
Reni Rose hails from Western Samar, Philippines. The province, like many others, is affected by the pandemic. Communities were placed under strict quarantine and many businesses ceased operations.
"I've always dreamed of becoming a teacher," shared Reni Rose. "Now, I am uncertain if I can still go to college. I guess I couldn't for now due to our financial difficulties."
Reni Rose has been losing sleep over her worries.

 "I would lie down in the evening, trying to sleep," she narrated. "I lay awake until I hear the chickens crow, again I was unable to rest my mind."
Coping and striving
For 3 months now, her parents have had no steady source of income.
Reni Rose's father works as a habal-habal (motorcycle) driver; however, since the community lockdown, passengers have been rare and few. Meanwhile, her mother cooks and sells meals. This small business has also been interrupted by the pandemic.
"They can't find new jobs since most of the establishments in our town have been closed," Reni Rose detailed.
"I am worried about my family's food, will we have enough for the next few days? What will we do if one of us gets sick," the aspiring teacher asked.
"It was not easy for me to handle the situation. It was new to me," Reni Rose admitted. "But as more days passed, I realized that I could draw strength and hope from my parents and my older brother. And this helped me cope with our current problems."
"We will always have hope for as long as we continue to live," she added.
Reni Rose's parents set new house rules to maximize their resources. Electricity and water were to be conserved, no matter how hot the summer days could be.
"We cannot afford to waste any food. Every grain of rice is a product of my parents' blood and sweat," she said.
She also shared how her decision-making and critical thinking skills saved her from her anxiety. These are skills she learned and honed as a Youth Peer Educator trained through Plan International's RAISE Above Project.
"No matter what happens, I will continue my studies," Reni Rose promised herself. "I shall make my dreams come true. And as a future teacher, I hope to help others do the same."
To help with her family's finances, Reni Rose sold various items online, such as face masks, soaps, and perfume.
"Even though I only earn a little from my small online business, I am happy that I could help my parents pay some of our bills and put food on our table."
"I have to be creative," said Reni Rose. "I need to make good use of my skills and talents to help my family."
Eventually, Reni Rose finally got her good night's sleep.
"I stopped focusing on what could go wrong because of the COVID-19 pandemic," she shared. "Instead I chose to focus on what I can do to overcome the many challenges coming my way."
As the quarantine measures began to ease, Reni Rose's parents regained their livelihoods.
"Don't focus on negative thoughts," Reni Rose advised her fellow teens. "Always remember that each day is a fresh start, a sign that you have successfully overcome yesterday's battle."
"You are doing great, so always be kind to yourself," she said, smiling.
The RAISE Above Project is implemented by Plan International Philippines under its Youth Economic Empowerment program.
The RAISE Above Project is funded by Dubai Cares, part of Mohammed bin Rashid Al Maktoum Global Initiatives.
Emergencies, COVID-19