Despite high levels of child marriage and child labour among refugee communities in Lebanon, Kholud, 10, is looking forward to a positive future thanks to life skills training.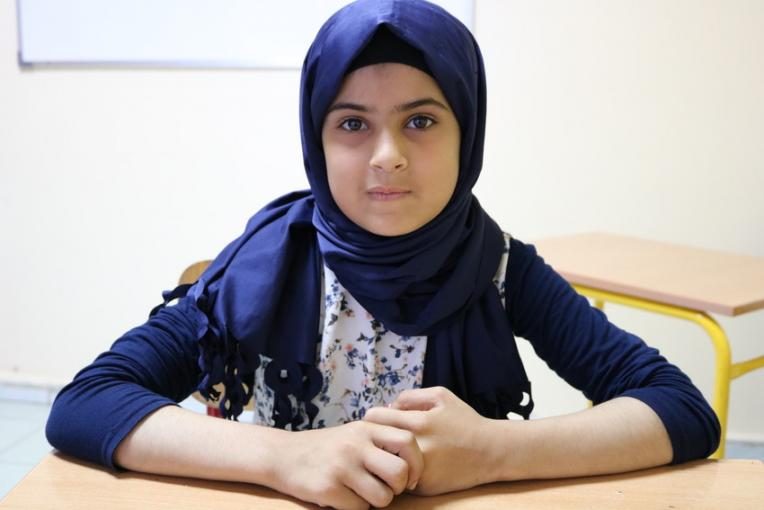 Kholud, 10, is the youngest member of her family. Forced to drop out of school in 4th grade, Kholud was 3 when she and her family of 10 had to leave Syria in 2011 when civil war broke out.
The family found refuge in Tripoli, a city in north Lebanon affected by a long history of conflict between 2 neighbourhoods: a large majority of Arab Sunni Muslims and a small Alawite Muslim community. The conflict was curtailed by the Lebanese army in 2014, leaving the area lacking basic educational resources for children and young people living there.

Child marriage and child labour rife
Kholud's 4 older sisters have been forced into early marriages as the family has struggled to make ends meet. Two of her brothers, aged 14 and 15, work to support their family's basic needs instead of going to school. In March 2018, Kholud's father passed away which has made things even harder.
"We feel unsafe to leave our home without men. Our cultural constraints prevent adolescent girls from going outside their homes if there is no urgent need to do so. I feel bored without anything to do," explains Kholud's teenage sister, who spends most of her time at home with her mother.

Skills training and non-formal education
Despite these obstacles, Kholud is determined to follow her dream of becoming a lawyer and has joined Plan International's life skills and non-formal educational programme run in partnership with the René Moawad Foundation.
"I want to become a lawyer to defend all people's rights and become an active member in my community." Kholud says.
The life skills programme is designed to enhance the social, interpersonal and cognitive skills and capacities of children. The sessions are tailored for children who are out of school and at risk of child labour or child marriage. As part of the programme, basic literacy and numeracy are also taught as preparation for re-entering education or accessing vocational training at a later stage.
Hope for the future
Kholud explains that although her 17 year old sister is introverted, she sees her potential. But her mother underestimates her ability and value and thinks that she should be married soon. Kholud refuses to accept that her sister's fate is sealed and often urges her sister to decide her own fate.
"If only she would leave the house to meet new people and learn about new things, it could be the start of a glowing future." Kholud says. "My sister can't read or write and I'm trying to teach her everything I learn in the sessions so she can become stronger."
Kholud's persistence finally paid off and she managed to convince her family to allow her 17 year old sister to join her in the project sessions. "I can already feel the change in my sister's personality and I am really glad for that."