Plan International held an inaugural youth conference in Zambia in September 2018 to provide a platform for young people across eastern and southern Africa to come together to discuss how to end child marriage.
The conference was attended by over 30 young people from 11 countries across the region. Kenya was represented at the youth conference by Cynthia, 24 and Emily, 28.
Cynthia, who lives in Kibera, said, "The opportunity to travel to Zambia was very exciting for me as the conference gave me a chance to write down my own personal story which was a healing process.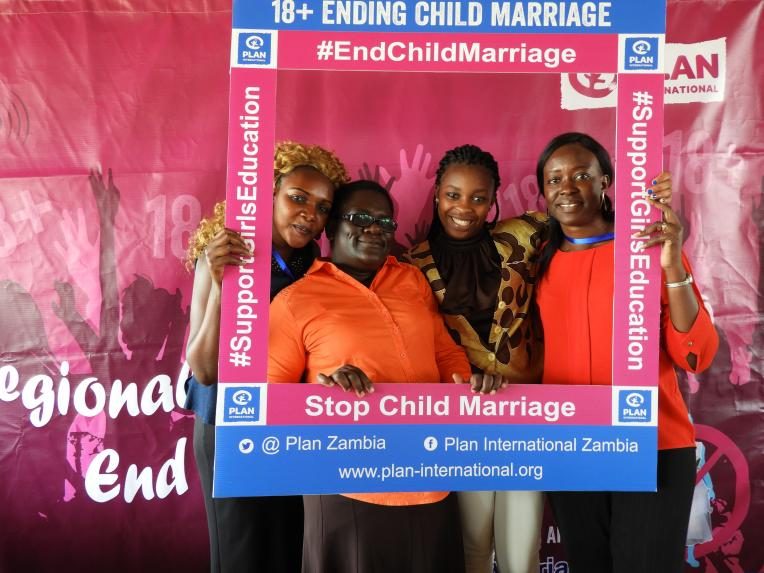 "Meeting other young people and listening to their stories was very inspiring to me. I met young people who have been able to go past their challenges to make significant changes in their countries.
INSPIRATIONAL YOUNG PEOPLE
"A story that stood out for me is that of a young lady I am now friends with. After learning that she contracted HIV/Aids through child marriage, she began living a healthy life and uses her experience to encourage and inspire others.
"My stay in Zambia was also very enjoyable as I experienced living on the mountain side. The country too has many historical sites which are outstanding. Coming back home, I look forward to sharing what I have learnt with the team of young people that I mentor in Kibera.
"If I fail to stand and speak up as a young woman, I will not be able to influence any change.
"Top on my priority list is to put down strategies which will help me be a better advocate. This includes working on different messages which will enable me to reach out to more young people. This is now a new opportunity for me to encourage people in an effort to end child marriage and support girls to get an education."
Emily, a community facilitator with Plan International's Safer Cities for Girls Project, said, "I am 28 and I have been working with young people in my community to ensure there are safe spaces for girls to thrive and reach their full potential.
"I shared my personal experiences with the participants and even though I have had a difficult past, I am glad that it doesn't define my future."
WORKING TOGETHER TO END CHILD MARRIAGE
"I believe that child marriage can come to an end if we work together with young girls and their parents in equal measure. I also strongly believe that parents need to be made aware of the dangers and risks that their girls are likely to go through and guide girls to make better choices in life.
"Children should never be allowed to get married until they are 18 plus because it is only then that they can make sound decisions.
"A story that stood out for me was of a young lady who was forcefully married off. But since her mother loved her so much, she sought help from Plan International who came to their aid and gave her a second chance in education.
"I realised that it does not matter how poor your background is, if you fight for your rights, you will be able to break through from poverty.
"Right now, I am pretty much excited about mobilising more young people with whom I can share these lessons that I learnt.
"In addition to community meetings that we already have, I am looking forward to starting a group for young girls and women who have been affected by early child marriages in one way or another. I would like to start a movement in my community to protect girls from getting married off when they are still children."