The Dinner Ladies of Kilifi County
In Kilifi County, Kenya, a group of local mothers has stepped in as dinner ladies, making sure children get a hot meal – and therefore keep coming to class.
Meet the dinner ladies of Kilifi County…
It's 6am, a sweltering morning in a rural village in Kilifi County, Kenya, and dinner ladies Behave and Khadijah have just arrived at the local primary school.
Chatting about this and that, they collect firewood from the kitchen storeroom, then light the fire, washing and filling the metal cooking pots with water, putting them on to boil as, together, they begin to prepare lunch for the 600 students who will later line up, noisy, hungry, beneath the fiery noonday sun.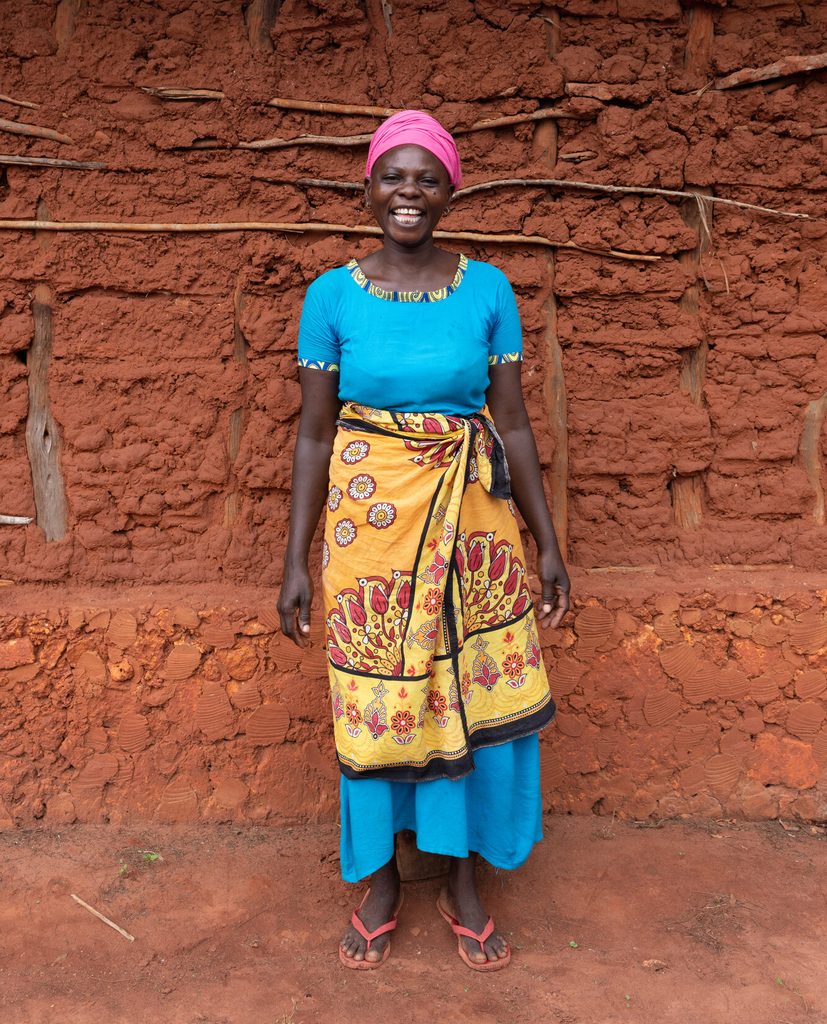 "After that I take food from the store, wash it, and put everything in the pots to cook.

"I wash the maize first, then boil it. Once it starts boiling a bit, I add the beans. I add them at 9am, and by 11am the food is ready."

Khadijah has worked as a volunteer dinner lady for 3 years.
As a devastating hunger crisis sweeps the Horn of Africa, caused by recurring drought and years of failed rains and crop failures, these pioneering mums are taking matters into their own hands.
Kenya, Somalia and Ethiopia are all facing a sixth successive year of failed rains, bringing widespread drought, and leaving 22 million people acutely food insecure, and 5.1 million children acutely malnourished.
"I have been working in this school for one year. I cook maize and beans. I leave home at 6am. When I get here, I wash the cooking pots and maize, and put them on fire to cook. Later on, when I'm done with that, I take firewood from where it is kept and put it in the kitchen, while the maize continues to cook.
"We are requesting that the food keeps coming to the children, so that they can continue getting help."
– Behave, parent and dinner lady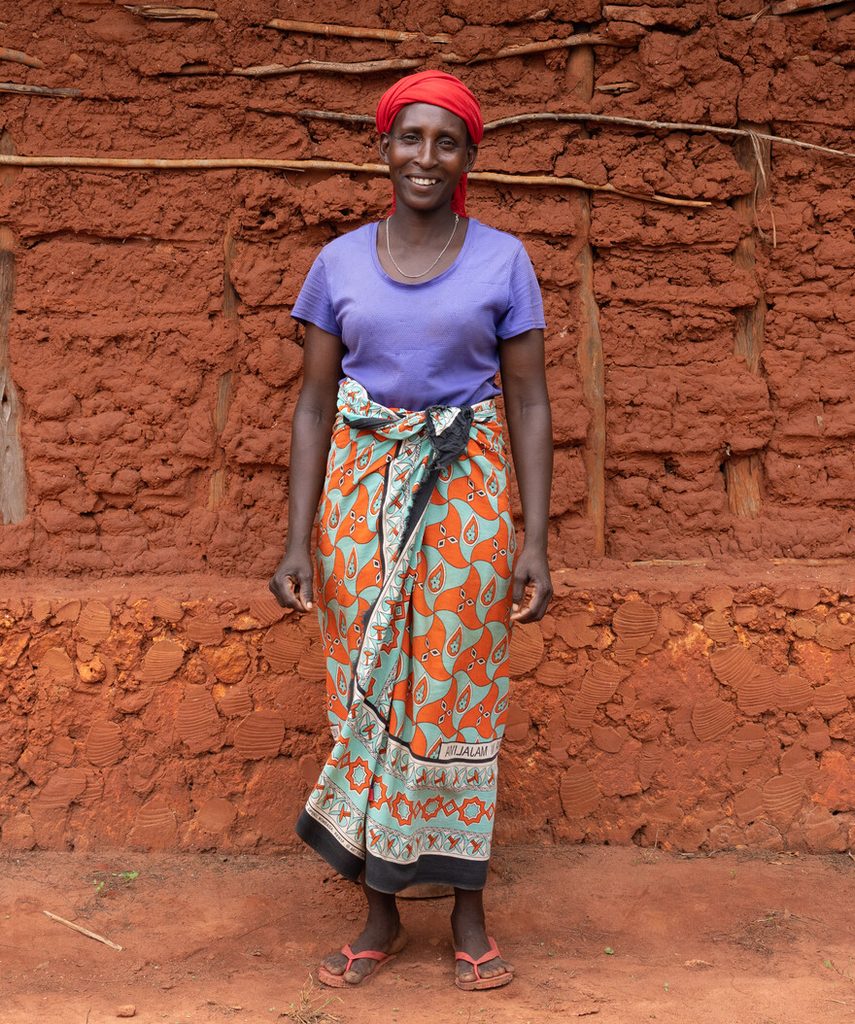 As far as Behave and Khadijah are concerned, offering their services as dinner ladies means that, in the face of acute hunger, poverty and hardship, local children are attending school because a nutritious meal is guaranteed – a result which the two dinner ladies both value more than anything else.
"The children kept crying from hunger," agrees Behave, who has four children at the school. She and Khadijah met at church, have been friends for years.
"While cooking, we always chat about how this food should continue being here, because our children are doing well, our children are learning, they now study well in school. So, when we talk, we just hope that the food doesn't run out."
Students are able to concentrate in class better when they have eaten.
Ingredients and other necessities for the lunches are funded by Plan International, with the aim of ensuring that children – especially girls – stay in school, protected from risks such as child marriage and child labour, explains Winfred Mukonza, Programme Unit Manager for Plan International in Kilifi County.
"Parents are struggling," Winfred says. "Struggling to feed their children, to keep their children in school, to provide other basic needs. We are now losing girls and boys; children are now being introduced to child labour to get income, to be able to get their food and other necessities. So Plan International comes in to provide school feeding, ensuring that children are comfortable, especially girls, and protected from all forms of violence."
Girls stay in school, protected from risks such as child marriage and child labour, explains Winfred Mukonza, Programme Unit Manager for Plan International in Kilifi County.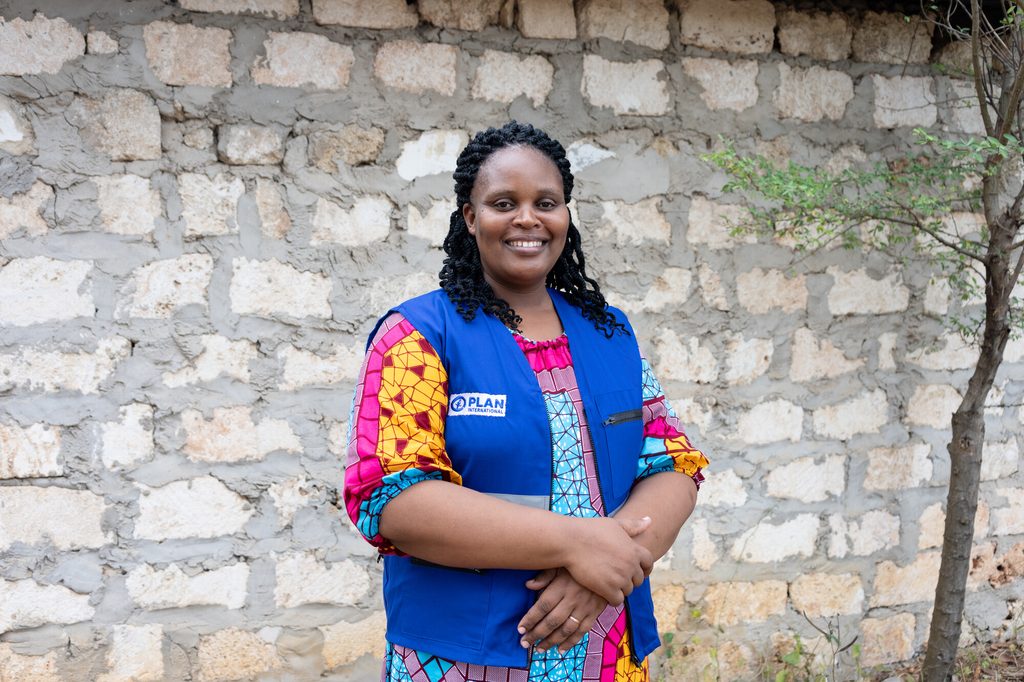 Plan International's school feeding programme has been running in Kilifi County for nearly two years, part of our emergency response to the hunger crisis, after Plan International received reports from schools that children were falling ill from hunger while in school. Free school meals are "one of the effective ways of keeping girls in school," says Winfred, who believes her work would be impossible without the help of the dynamic group of volunteer dinner ladies.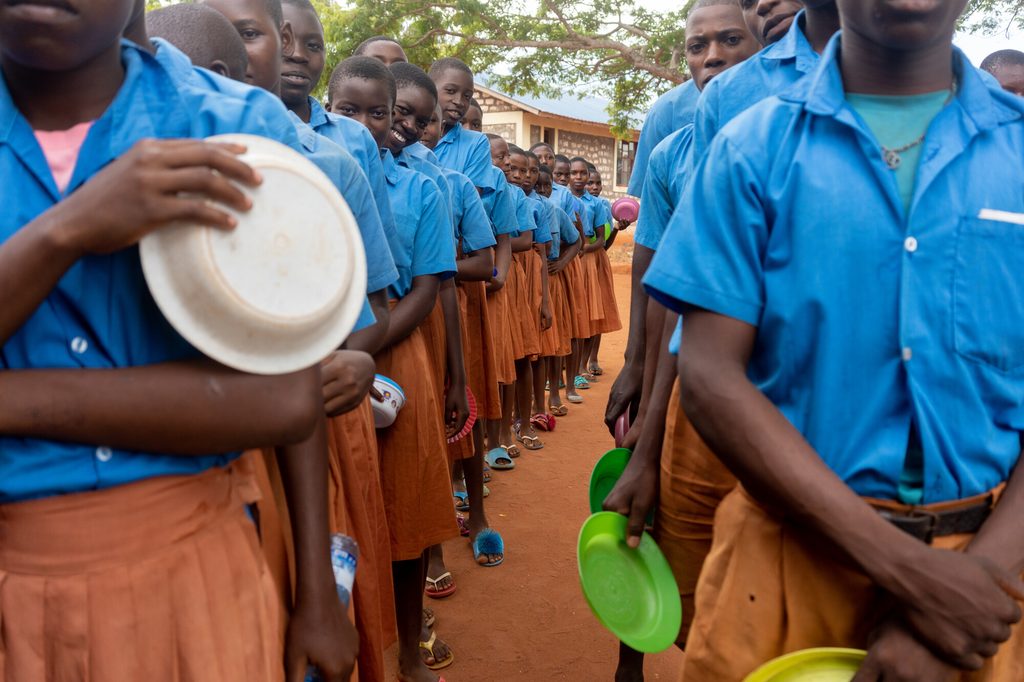 A daily hot lunch at school boosts learning by allowing children to focus on their studies and not their hungry stomachs..
None of the dinner ladies get paid, "just a small tip to help them with their upkeep," says Winfred. "The willingness of these women shows us that the community is willing to go an extra mile to support their children to be in school, by cooking and providing water, firewood, and ensuring the safety of food at school."
The success of the school feeding programme is evident in the big smiles of the school's pupils. Grade eight student, Winnie, 14, has just eaten her lunch.
"Today, I ate maize and beans," she grins, "and I'm very happy, because before, I didn't have food to eat. I'm very happy to eat maize and beans."
– Winnie, 14, Kilifi County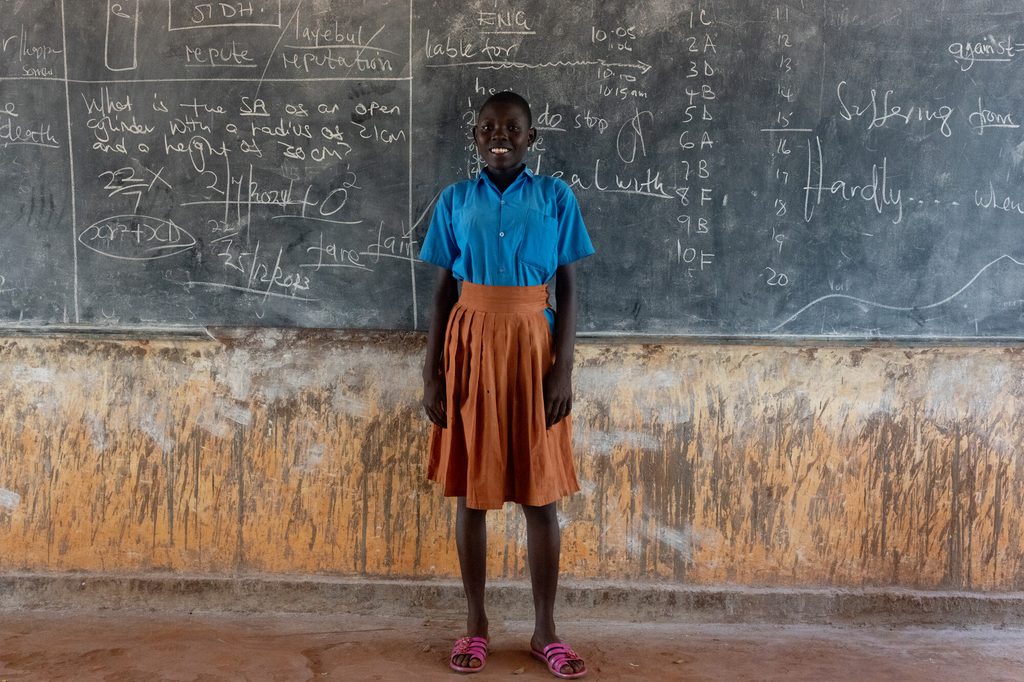 Plan International Kenya has supported 47 schools in Kilifi County since the free school meals programme started, with some 20,234 children (9,886 girls and 10,348 boys) eating meals in school. However, due to scarce resources, coupled with rising prices of commodities, only 18 schools of 10,663 children (5,062 girls and 5,601 boys) are now supported via school meals.
These schools have reported 100% attendance and high concentration during studies.