Meet Kenya's next generation of welders and electricians. They're all young women who are forging a new path, proving that stereotypes shouldn't stand in the way of anyone's ambitions.
Ann, Winnie and Quline are young women from Kenya who are challenging gender stereotypes and taking on male-dominated industries.
Ann, Winnie and Quline are students at a vocational training centre in Nairobi which provides a wide variety of courses ranging from catering, hairdressing and beauty to business management. However, these young women decided they wanted to choose courses that are not typical career options for women.
NEW FOCUS IN LIFE
Ann, for instance, decided to study welding. She says, "Welding has given me the discipline to concentrate on something to its completion. This has also helped me become more focused in life."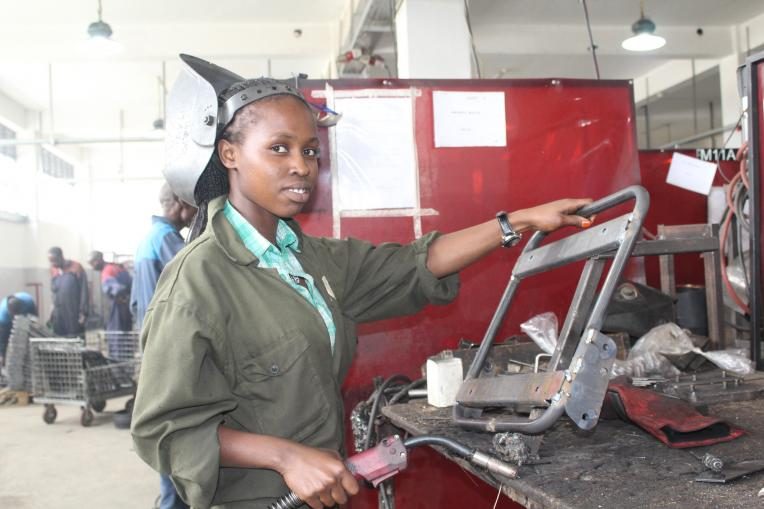 Growing up in a family of 7, Ann could not imagine she would become an expert in anything. Her parents could not afford for her to go to college and being the second born she was expected to take care of her younger siblings once she had completed secondary school.
It was not until she heard about a scholarship opportunity offered by Plan International Uganda that she dared hope for a better future. Ann was accepted onto the education and training project, which is funded by the German Government, and started the 6-month training course in welding.
HIGH HOPES FOR THE FUTURE
Winnie, also 19, opted for a course on electrical installation and electronics. She says, "I wanted to send a message to the world that what men can do, women can do better."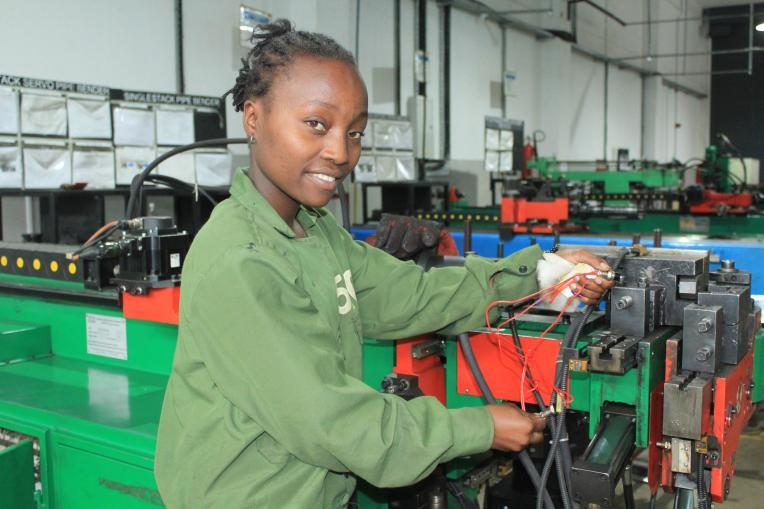 Having been raised by a single parent, Winnie did not know what to do after finishing secondary school. "My mum works at a local hotel that usually prepares food for construction workers. She earns very little and could not pay for my college education. When I completed high school, I joined her business to increase our income," she says.
"It was around that time that a relative told my mother about the scholarship to support vulnerable young people. I did not hesitate. I applied for it and went for an interview. I passed the interview and got a position at the training centre. It was a dream come true."
Winnie decided to specialise in motor vehicle wiring. After passing her course with flying colours she has successfully completed a 3-month work placement and has high hopes for her future.
"I hope that one day I will start a motor vehicle wiring workshop and help more girls and boys to gain skills and expertise in the field of electronics and electrical wiring," she says.
Although Winnie is optimistic about her new life, she says working with men is not easy. "I have experienced some harassment from male colleagues and tough competition, since the men feel inferior and do not like to see a woman doing such a profession. This has not discouraged me however, but rather it has made me strong willed, focused and ready to face the world."
LEARNING SKILLS, GAINING EXPERIENCE
Quline, 20, is another bright spark. Born and raised in a slum area of Nairobi, she has beaten all the odds to become an electrician.
"I am the youngest of 3 children. I was raised by a single parent after my father passed away when I was very young. As a young girl, growing up in a slum has not been easy. I have gone through so many difficult situations. I could not imagine that one day things would change."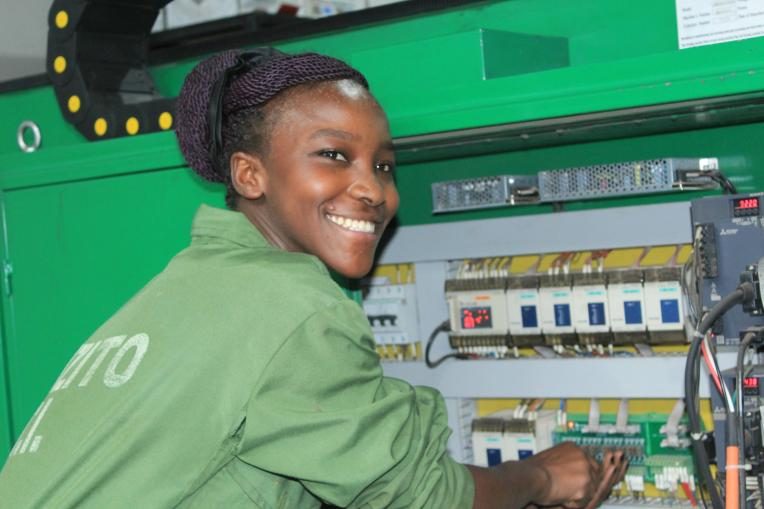 From a young age, Quline wanted to become an electrician. As a child, she used to tinker around with cars, connect wires and repair radios, so registering on the electrical installation and electronics course was an amazing opportunity.
"I joined the Plan International scholarship programme immediately after I completed my secondary education. I was enrolled onto a 6-month training course and did the theory work during the first 3 months and now I am finishing a 3-month placement," she says.
"I have gained a lot of experience and at the same time I have learnt many new things. I now have the knowledge to service a machine, start it up and shut it down, and I know the precautions to take when handling a machine. I know how to use grinders, drills and how to repair them. For sure, this is a dream come true.
"My mum is so proud of me. I remember one time we had an electrical problem at home. My mum was worried about what to do as at that time she did not have the money to call an electrician. When I told her I would fix it, she could not believe it. I fixed the issue with the knowledge I had learnt. She was very happy and truly proud of me. I would like to advance my career further and become an electrical engineer."
OPPORTUNITIES FOR VULNERABLE YOUNG WOMEN
The Competency Based Education and Training project is funded by the German Society for International Cooperation.
The objective of this project is to create opportunities for vulnerable youth, especially young women, in technical training programmes and to increase women's employability in technical areas which are currently male dominated.