17 MAY 2020
A father of 2 daughters, 33 year old Cosmas is a boda boda rider from an informal slum settlement in Nairobi, Kenya. He is one of many motorcycle taxi riders that received training from Plan International as part of our Safer Cities for Girls project.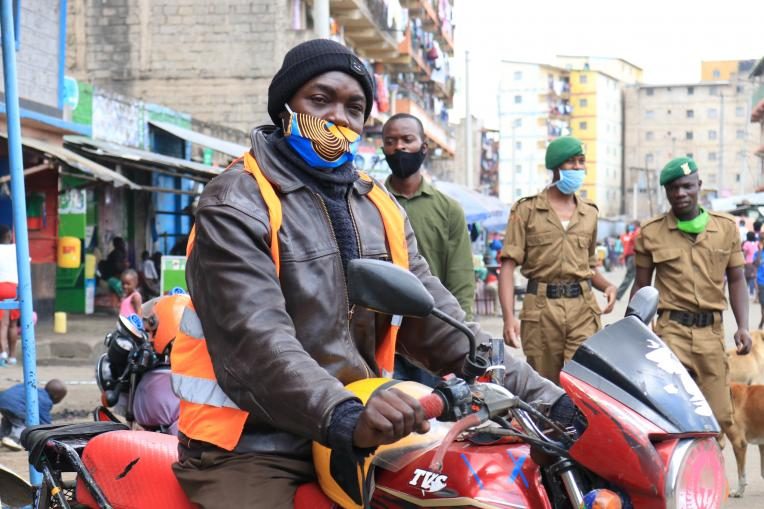 Now he is ensuring girls are aware of all the risks when using public transport during the COVID-19 crisis. "I place the safety of girls first, before money," he says. "It is not safe out here for girls, many young men are idle and are a threat to their safety."
Unsafe cities
As with many cities, Nairobi was not designed with girls' safety in mind. The lack of street lighting, walkways and safe public spaces mean girls and women often don't feel safe travelling to school or work, and they face regular harassment, abuse and intimidation.
##It is not safe out here for girls, many young men are idle and are a threat to their safety.
Plan International's Safer Cities for Girls project in Nairobi is supporting girls to make their city more safe, accountable and inclusive. We're training and empowering girls and boys to affect the change they want to see in their communities and to campaign for gender equality, reaching out to their peers, parents, community members and the government.
Ensuring safety
The project has also trained over 1,700 transport workers in how to consider girls' safety, including preventing and reporting harassment and driving safely as Cosmas explains:
"I learnt a lot from the Safer Cities project on how to protect girls from sexual harassment, rape and defilement as well as ensuring they are safe when using public transport. I take it upon myself to advise the girls I interact with on how best to stay safe during this time and which routes they should avoid."
As with the rest of the World, the impact of COVID-19 in Kenya is putting a strain on the economy as people's livelihoods are seriously affected.
"Times are tough for many people in our community, as a father I strive everyday to provide for my family and ensure that they are comfortable. My community has lacked water for a long period of time so we have to go the extra mile to ensure that we get this very basic commodity for us to wash our hands and observe the hygiene standards. Although business is slow, I have been lucky to make some money which has met the needs of my family, including buying facemasks and sanitiser gel," Cosmas says.
Communities suffer during the pandemic
For many families living in informal settlements, COVID-19 has deprived them of an income. People have lost their jobs and businesses are making a loss so it's very difficult for people to make ends meet. "One of my biggest concerns is that some families and households cannot even afford to put food on their table, let alone buy face masks or hand sanitiser," says Cosmas.
In addition to this, gender-based violence continues to be a serious matter of concern. Cosmas says, "Spouses are spending a lot of time together during this pandemic unlike before, therefore increasing the chances of misunderstandings and arguments. Poverty is a burden and without proper knowledge of survival, families start to blame each other for the misfortunes bestowed upon them.
"To help, the government and other organisations should provide food and essential items to people living in Mathare. The suffering is real, and this has played a major role in escalating the cases of gender-based violence and crime."
Emergencies, Protection from violence, COVID-19, Safer Cities