11 MAY 2020
Lornah, 21, is fearful of the affects the COVID-19 pandemic will have on her community but she is determined to help as many people as she can.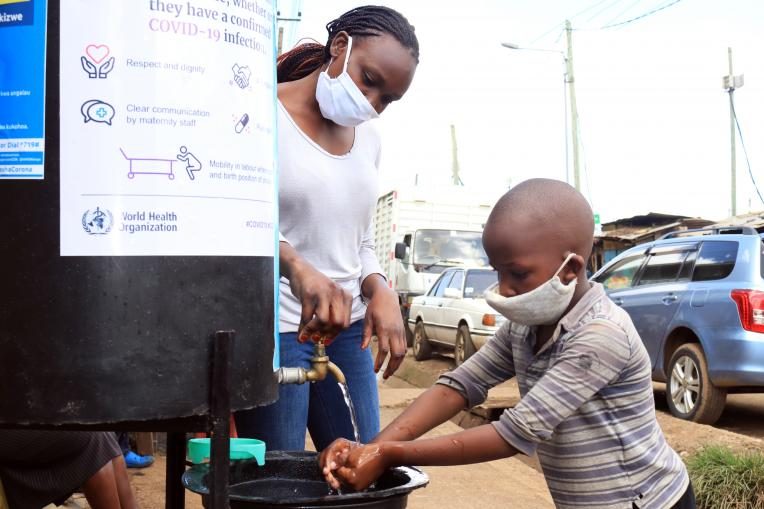 Lornah, 21, like many other girls in Kibera, Kenya's largest urban slum settlement, has been hugely affected by COVID-19. The pandemic has made it difficult for her parents to go to work causing a financial crisis in her household. Food and water rationing have become the new norm, with most families reducing their meals from 3 to 2 a day. 
Access to water
"Due to the current COVID-19 situation, access to water has become a problem. The biggest dilemma for most people in Kibera is whether to use their water to wash their hands or to cook and drink with. This has become a difficult challenge. For girls and young women, we are now unable to wash during our periods because of the scarcity of water." Lornah explains.
Lornah is part of the Girls Advocacy Alliance project and is currently studying for her bachelor's degree in education science. While her university is closed, she is helping look after one of the handwashing points installed by Plan International in Kibera. Her duties involve keeping a record of people who wash their hands and ensuring that the tank is refilled. She also opens and closes the tap to ensure it is not touched by the person who is washing their hands.
"Since the water tanks were brought to our community, a lot has changed in the behaviour of the community members. People are coming out in large numbers to wash their hands, unlike before. However, I have noticed that children and older people wash their hands more often compared to girls and young women aged 18-30 years. When I asked them why, they told me they were too shy to be seen washing their hands. By who? That was my reaction. This means that more awareness-raising needs to be done especially for girls in that age bracket," Lornah says.
In many parts of Kenya, there is concern about the high number of cases of girls dropping out of school. Evidence from past crises shows that adolescent girls are at particular risk of dropping out and not returning to school even after the crisis is over.
"I urge my fellow girls to be patient, this situation will come to an end. They should take care of themselves and stay at home. During this time, girls should spend their time doing whatever they love to do to minimise the stress and prevent falling into depression," says Lornah.
Her fear
"I am also worried that since the Government decided to close the schools due to the COVID-19 pandemic, many students will indulge in social vices. It has been months now, and a number of them have got into drugs and theft in my area. In informal settlements, school plays a huge role in ensuring discipline is enforced in young minds but due to this pandemic, many have gone back to their old habits."
Plan International has so far distributed 15,000 litres of liquid soap, 39 handwashing stands that hold 100 litres of water, and 10 5,000 litre tanks of water to target communities living in urban slum areas in Nairobi.
Emergencies, COVID-19, Water and sanitation