11 MAY 2020
Terry, 24, a dancer and student, fears for her future as her life is currently on hold due to the COVID-19 pandemic.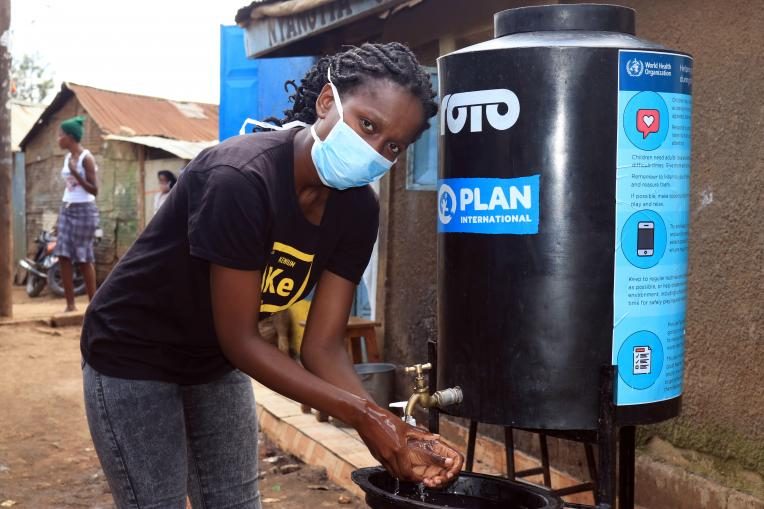 COVID-19 has disrupted the lives of millions of girls in Kenya. Many are forced to stay at home while their schools and workplaces are closed. 24 year old Terry is a professional dancer, with well-known dance group 'Wasani Sanaa' in Kibera. Currently studying botany at university, Terry uses dancing to earn a living.
"Our dancing is focussed on passing on informative messages to the community and society in general. We use dance to educate people about gender-based violence, peacebuilding, female empowerment, and health issues. For every performance we give, we get paid and I use that to feed my family and pay the tuition fees for my siblings," Terry explains.
The impact
Without this vital income, Terry is struggling to survive. "COVID-19 has dragged us behind as a group and as individuals. We cannot dance anymore, we cannot do community outreach, we just stay at home. I am in a financial crisis. I cannot meet my essential needs. Buying food has become a challenge, accessing sanitary towels and paying the rent has become more difficult.
"We truly don't know what the future holds for us. I am afraid that we might all die of hunger. The lack of food has taken a real toll on many households due to a lack of income. Families are now dependent on well-wishers to feed them. I, therefore, urge the government and aid organisations to organise food distributions to benefit all the families in Kibera.
"I also call upon organisations and other stakeholders to educate the community on the importance of wearing masks, washing their hands with soap, and maintaining social distance. I feel like many people here still don't know the effects of this disease."
Terry has been impressed by the work that Plan International has done in her community. So far, we have donated 15,000 litres of liquid soap, 39 handwashing stands that hold 100 litres of water, and 10 5000-litre tanks of water for use in urban slum areas in Nairobi.
"This is a good initiative; it shows that Plan International has the community at heart. They have been with us during the good and bad times. I urge them to continue with the same energy. We have seen people coming out to wash their hands, both children and older people have embraced the culture since the project started. It is a good sign."
"I urge all girls and young women across the world to hold on, all this shall pass. Let's take care of ourselves and remember to follow all the rules and regulations concerning preventing the spread of COVID-19."
Emergencies, COVID-19, Disaster relief, Disaster risk management