Teachers in Tharaka North are now better able to teach children about digital literacy following training provided by Plan International Kenya.
Working closely with the Sub-County Director of Education in Tharaka North, Plan International Kenya ran a refresher training session for 44 teachers on digital literacy.
The Digital Literacy Programme initiated by the Government of Kenya in 2013 aims to integrate digital technology into all public primary schools in the country. The goal of the programme is to make sure every child is prepared for the modern, digital world and to ensure Kenya's education system is fit for the 21st century.
DIGITAL SKILLS FOR TEACHERS AND CHILDREN
Some of the key components of the programme include:
Provision of digital devices for both pupils and teachers
Training for teachers and other implementers
Broadband connectivity devices
Provision of content for digital learning.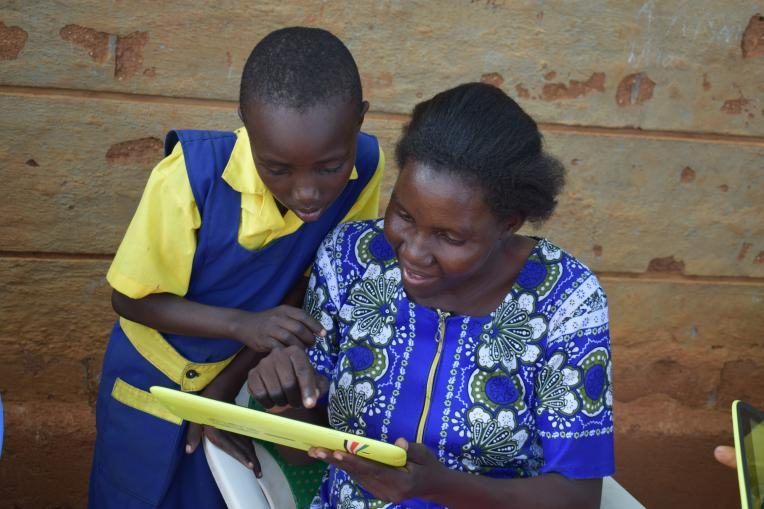 While some of these plans have been implemented in various schools, the benefits are yet to be realised in many parts of Tharaka North.
This is because some of the teachers that were trained did not have full confidence in using the digital devices. In many schools in Tharaka North and Tharaka South, the devices have been not been used since they were received. 
"They have been gathering dust in the office since the teacher who was trained transferred," said one of the head teachers present during the training. 
TRANSFORMING EDUCATION IN KENYA
The refresher training session run by Plan International Kenya was a practical session that offered the teachers an opportunity to interact with the devices and use them within a classroom environment.
During the practice session some pupils were delighted to use tablets for the first time.
"I was surprised to touch the laptop for the first time and am now happy to know that I will use it for learning," said Mary, one of the pupils. 
The Curriculum Support Officers will follow up with the trained teachers to ensure the technology is being integrated into lessons in Tharaka North.
BENEFITS OF THE DIGITAL LITERACY PROGRAMME IN KENYA