Adolescent Girls in NW Syria: research findings
27 April 2022
Shining a light on the priorities of adolescent girls in Syria.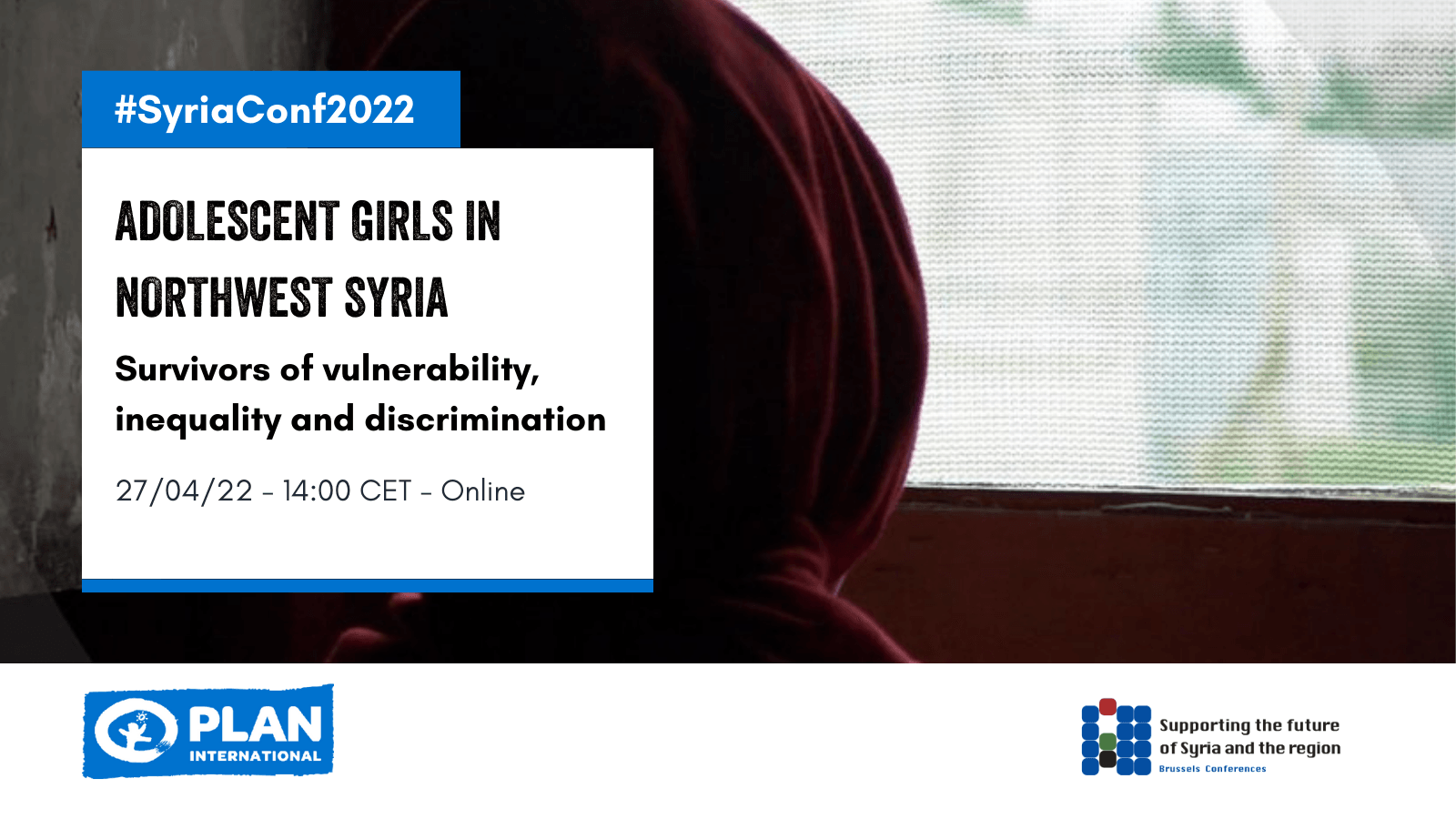 On the occasion of the 2022 Syria Donor Conference, Plan International organised an event on "Adolescent Girls in NW Syria: Survivors of Vulnerability, Inequality and Discrimination" on 27 April 2022.
This was an opportunity to learn more about our research on Adolescent Girls in Northwest Syria: Survivors of Vulnerability, Inequality and Discrimination, undertaken by Plan International and Women Now for Development.
The event informed the debate and challenged technical stakeholders to take forward recommendations and evidence from the research during the Syria Brussels VI Conference Day of Dialogue and High-Level Official Meeting on 9-10 May 2022. It also advocated for the EU and the international community to continue prioritizing humanitarian responses on child protection and education in emergencies, focusing on the most affected populations, especially girls and young women, refugees and internal displaced people in Syria and host countries.
Speakers
The event welcomed the following speakers:
Syrian Adolescent Girl Youth Advocate
Dina Sinigallia, Syria Crisis Team Leader, DG ECHO
Dr. Maria Al Abdeh, Executive director of Women Now for Development.
Hiba AlHejazi

, Advocacy & Influencing Manager, Plan International Jordan
The discussion was moderated by Muna Emran Abbas, Country Director, Plan International Jordan.
About the research
Our research focuses on the status of adolescent girls in Syria and the coping mechanisms currently being forced or adopted by them as a result of the intersection of vulnerability, inequality and discrimination within the context of conflict and COVID-19. It is aimed at contributing to the limited (but growing) literature on adolescent girls in Syria to inform programming and advocate on the importance of protecting adolescent girls' rights during humanitarian crises.
NB: Views, thoughts, and opinions expressed during the side events reflect solely those of the speakers/organisers and do not constitute endorsement by the EU or the UN.
Emergencies, Protection from violence, Gender-based violence