Ethiopia: education in emergencies for South Sudanese refugees
24 January 2019
Strengthening the existing education services and increasing the enrolment rate, attendance and success of school-aged children, especially girls.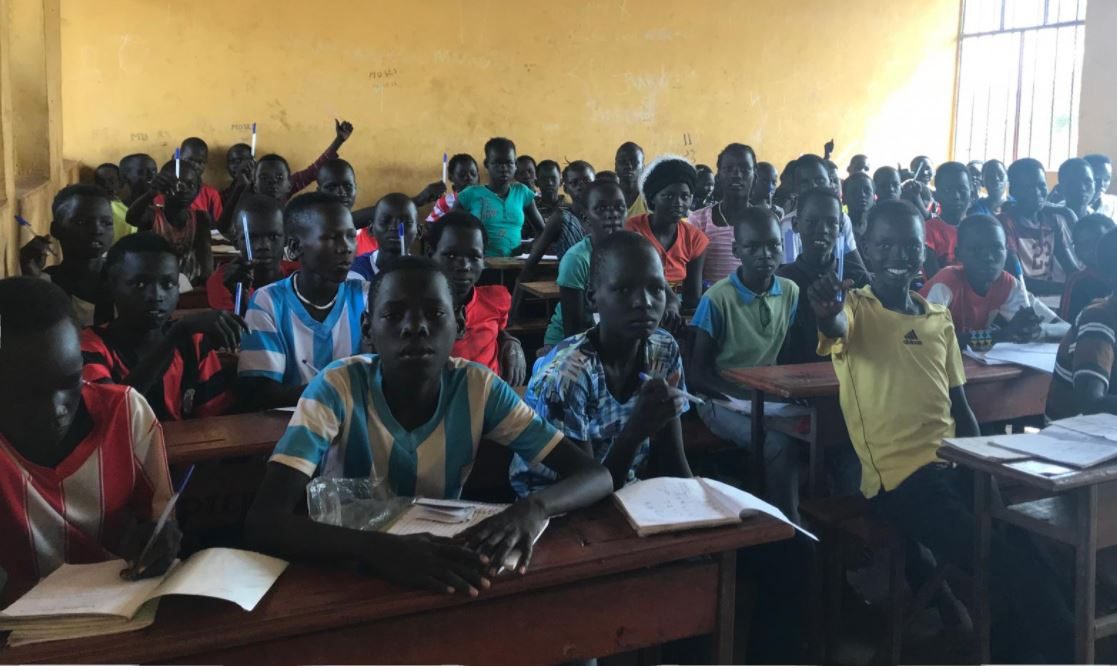 School children in one of the refugee camps in the Gambella Region.
Research has shown that girls face unique barriers to quality education simply because they are young and female. These barriers are even worse in times of man-made and natural disasters. At times when girls are not enrolled in school, they face a heightened risk of gender-based violence trafficking, early and forced marriage, early pregnancy and forced abduction. Therefore, it is pivotal to ensure access to education and the enrolment of girls in emergency settings. Education in Emergencies (EiE) is thus essential at all stages of emergency planning.
As the communication and recommendations of the Council Conclusions of 27th November on EiE and Protracted Crises stressed, it is of prime importance to focus on those most marginalised, vulnerable and disadvantaged groups in line with a need-based approach in emergencies. It further underlines "the disproportionate effects of emergencies and protracted crises on the education of girls and women, an intersectional gender perspective must be mainstreamed throughout all education actions, accompanied by targeted actions addressing any context-specific disadvantages and barriers."
European Commissioner Stylianides also reiterated the importance of education in the blog he wrote for our Girls' Rights Gazette in September last year: "Education is also a fundamental right and an important tool for protection in humanitarian crises. Regrettably and despite its importance, access to quality education is being denied to tens of millions of children by increasingly protracted conflicts, forced displacement, violence, climate change, and disasters. As a result, we have sadly witnessed lost generations affecting the stability and development of entire regions. We have no other option but to address this major issue head on. We owe it to all vulnerable children around the globe."
For the past three years Plan International has been implementing an integrated Child Protection in Emergencies (CPiE) and EiE project in Ethiopia's Gambella region. The region is among the ones most strongly affected by the conflict in South Sudan. The ongoing influx of refugees presents a significant strain on the limited available resources and services available in the Gambella region. Accordinging to UNHCR's 2018 mid-year report on Ethiopia the majority of the 401,507 refugees living in the Gambella refugee camps of which 46% are children under the age of 18 (including unaccompanied and separated minors and children with disabilities). Therefore, the camps deal with a group that is particularly vulnerable when it comes to protection, food insecurity, and access to psychosocial support. On top of that, about half of the children arriving to the refugee camps are between 3 and 18 years, and hence often times experiencing an interruption of their education. With financial support from ECHO, Plan international has been able to implement different life saving protection and education activities to support South Sudanese refugees in several regions of Ethiopia, including supporting Early Childhood Care and Development (ECCD). Besides the construction of new class rooms and ECCD centres, the project focuses on strengthening the existing education services and increasing the enrolment rate, attendance and success of school-aged children, especially girls.
The project also provides capacity building training for ECCD facilitators, and refugee primary school teachers by applying a student-centred teaching methodology, classroom management and positive discipline approaches in education. To ensure protection and safety of children in the learning centres, the staff has received training in child protection, safeguarding and the referral mechanisms in line with their roles. Through parenting group sessions and Parent Teacher Associations (PTAs) Plan International engages the children's parents, and especially their mothers, to ensure their enrolment and retention in schools. The mothers of the children, or "school mothers" as they are called in the framework of the project, are engaged by Plan International to ensure disparity and closer collaboration with the community to encourage particularly girls to attend schools. Besides involving the community, the projects aims to include the host communities. By including the parents and the host communities of these children, the project is able to improve girls' enrolment and attendance to education, while strengthening its quality. Simultaneously, these positive results were supported by several activities to significantly decreased tensions between the refugees and the host community, hence ensuring a sustainable impact of the intervention.
All in all, granting safety for children to attend school in the refugee camps and support of community members and the host communities is key to increase the level of enrolment, attendance and success, and conversely key to decrease the risk of resorting to negative coping mechanisms, especially for girls. Nyaluak (name changed for confidentiality purposes), 14 years old, arrived at the Nguenyyiel Refugee camp in 2016. About Plan International's project, she is greatly positive, stating "So many thanks to Plan [International Ethiopia] that I regained hope and I will try my best to better my future". Nyaluak, is now a grade 3 student in Mat Primary School where she attends her favourite subject, mathematics. She is also a member of the Adolescents Girls' Club, where girls come together to discuss various issues affecting them on the short and long term, such as their prospects in the camps and the availability of services and other challenges they may have as adolescent girls.
Education, Emergencies, Education in emergencies