24 AUGUST 2021
Plan International South Sudan has launched a new strategy which will support 1.3 million of the country's most vulnerable people until 2024.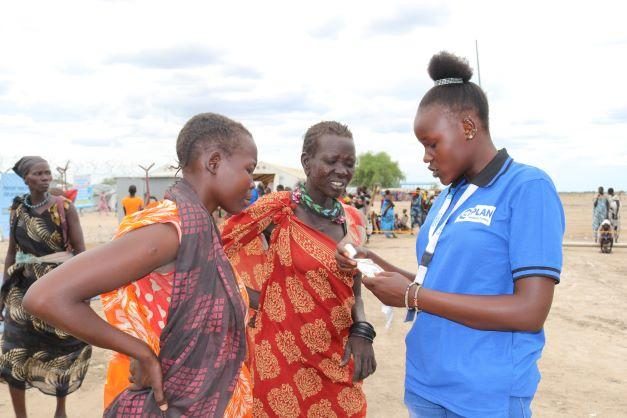 Plan International South Sudan's new country strategy for 2021 to 2024 will support the most vulnerable children and young people, especially girls to:
Access and complete inclusive, safe, equitable, quality education
Get good jobs
Grow up safe from violence and discrimination
Make autonomous, healthy decisions about their sexuality, relationships and sexual and reproductive health.
Plan International South Sudan will also work on food security, nutrition, water, sanitation and hygiene as a foundation to achieve the goals of the new strategy.
Support for vulnerable girls
By 2024 our aim is to have directly supported 1.3 million people, of whom 70% will be girls and women.
Overall, the strategy directly contributes Plan International's global purpose of striving for a just world that advances children's rights and equality for girls.
The strategy will simultaneously support the development of communities while providing humanitarian support in a country where 70% of the population require humanitarian assistance and around 50% of girls are married before 18. To achieve this, we will work alongside the government, UN agencies, civil society organisations and the private sector.
To achieve the strategy, we will also influence power holders to protect and empower girls by strengthening the systems, services and policies which affect their rights.
We will continually monitor and evaluate our progress using monitoring tools and carrying out research. We will also set up community-based mechanisms to ensure accountability to the communities we are working alongside. We will also ensure the voices of children and young people are at the centre of our work throughout.
We already have a significant presence in Central Equatoria, Eastern Equotoria, Lakes and Pibor where we will continue our work based on the continued needs of communities and our commitment to support to the most vulnerable people.
During the period of the new strategy, we aim to raise and mobilise €80 million, working closely with funding partners to achieve our objectives.
Working alongside children and communities
The strategy was developed in consultation with children and is based on an analysis of children's right in South Sudan. It will compliment the plans of the government and donor agencies and will work towards the sustainable development goals.
At the launch of the new strategy, Plan International South Sudan Country Director, George Otim, said, "The strategy will reduce child, early and forced marriage and promote girls' education in South Sudan.
"The strategy is an important document for us that sets another journey in South Sudan to bring transformative change to the lives of girls and young women. Therefore, we need support from the Relief and Rescue Committee, government ministries and the donor community.
"Our strategy is focused on the integrated implementation of various programmes which will bring equality for girls."
Internally, the strategy aims to enhance operational efficiency and performance, and build a team with strong values that follows feminist leadership principles to deliver high quality programmes.
Plan International has operated in South Sudan since 2006 and continued to do so through civil war and famine. At present we have around 400 staff members working to support vulnerable children.
Fragile context in South Sudan
Ten years since gaining independence, South Sudan is ranked as the 4th most fragile state globally, with high levels of food insecurity and malnutrition. The country continues to experience the cumulative effects of years of conflict, a surge in sub-national violence, unprecedented flooding and hyperinflation, further compounded by the COVID-19 pandemic. Prolonged insecurity and violence have disproportionately affected vulnerable people including children, older persons, survivors of gender-based violence and conflict-related sexual violence.
About 1.6 million people remain internally displaced and another 2.2 million South Sudanese refugees have fled to neighbouring countries.
A 1-page infographic about Plan International South Sudan's new strategy is available in the download section at the bottom of the page.
South Sudan Country strategy One Pager
About Plan International, Emergencies, COVID-19, Food crisis