20 NOVEMBER 2018
We're working with boys in Rwandan refugee camps to address discrimination and reduce violence against girls who are at greater risk during emergencies.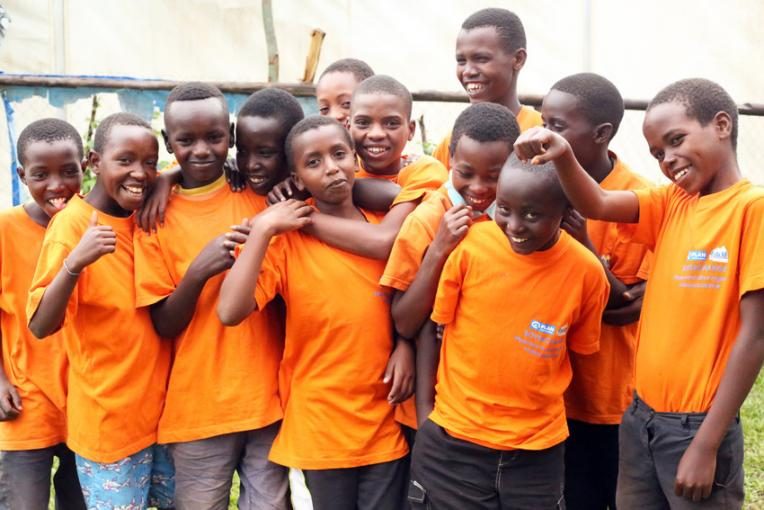 Girls are more likely to suffer abuse in emergency situations, especially when they are forced to flee their homes. As a result, we are working with boys in Rwanda's refugee camps to stop violence against girls and women.
Our Boys for Change project, which is working with 12 to 17 year olds in refugee camps across Rwanda, builds respect and empathy towards girls and women in order to reduce abusive behaviour.
Positive attitudes towards girls
By transforming the boys' attitudes towards girls we are addressing a root cause of violence in refugee camps while creating committed groups who share positive messages about peaceful relationships and gender equality among their fellow refugees.
Egide, 24, mentors a group of boys as part of the project. He says, "We train boys on gender differences, equality and positive masculinity. Over two-thirds of the boys we mentor show changes in the way they live their lives compared to before we started mentoring them.
"We give them examples based on our daily lives in the camp. We show them the bad effects of abusing drugs, alcohol and engaging in promiscuous sexual conduct. For example, I helped one boy to stop smoking. I promised that whenever he felt like he wanted to smoke, he could come to me so that I can buy him sugar cane to chew instead of smoking a cigarette."
Boys' behaviour transformed
Roger, 15, is a member of Boys for Change and has noticed a shift in his attitude towards his sister. "Before joining the group, I used to think that I was so different from my sister because of our cultural beliefs," he says.
"My sister used to do all the household chores alone and I would just do a few tasks like fetching water. Now I have become a changed person, I sweep the compound and do the cleaning at home.
"I used to like roaming around the camp getting into trouble but now I behave myself at home. My mother told me that she likes the way I behave towards my sister."
Inspiring more boys
Egide would like to see more boys enrolled in the project. He says, "The knowledge we give to boys is so crucial for our community. It would be good to increase the number of boys we reach so we have a much bigger impact."
Roger is keen to share the things he has learned with other boys in the camp. "I would like our mentors to organise games and events to bring more children together so we can use it as an opportunity to inspire them on how to change their behavior," he says.
Protection from violence, Youth empowerment, Gender-based violence, girls' leadership