20 NOVEMBER 2018
Groups of men in Rwandan refugee camps are taking the lead to prevent abuse against women and girls thanks to training provided by Plan International.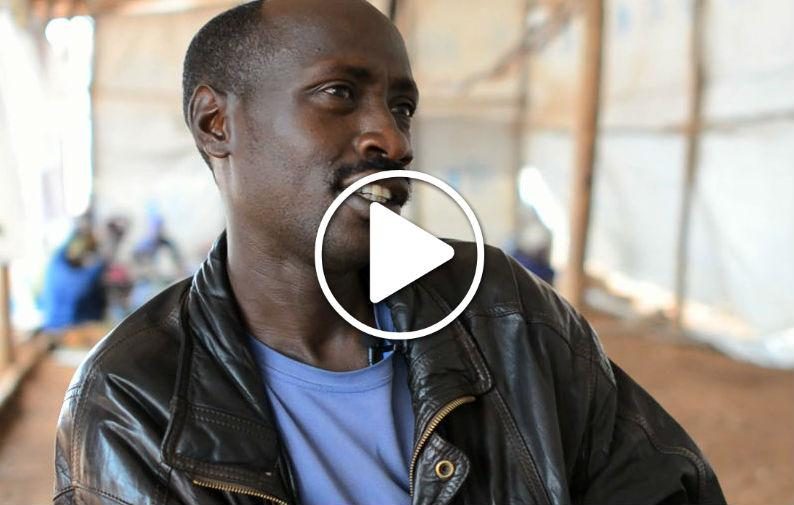 Girls and women are more likely to suffer abuse during emergency situations, especially when they are forced to flee their homes. Plan International Rwanda has been working alongside the UN since 2014 to stop abuse in 5 refugee camps and in urban areas where refugees have settled.
Resolving disputes peacefully
In Mugombwa refugee camp, home to over 8,000 refugees from the Democratic Republic of Congo, we're working alongside a men's group and providing them with training to promote peaceful resolutions to conflicts.
The leader of the men's group, John Rohogu, has been living in the camp since June 2014 and has seen many disputes within families.
"It all started when I saw my neighbour wasting money drinking, irrespective of his starving children and wife," says Rohugu. "Sometimes, the wife denied him food as revenge. Seeing this disturbed me a lot and I decided to take action even though I wasn't sure it would work."
"I turned that man into a friend and started counselling him about giving priority to his family and encouraged him to take the lead in promoting peace. He accepted and his family is a role model in our neighbourhood." adds Ruhogo.
Men take the lead
Having seen the difference he could make, Ruhogo and his friend started a group of male role models.
"Sometimes you find hungry children wandering in the camp because their parents don't take care of them. Food is often not sufficient because the mother or father sold it to buy beer. Children living in such families do not go to school, and all this because of domestic violence."
The men's group has 30 members divided into 7 groups, one for each area of Mugombwa refugee camp. Each group of men reaches out to households to ensure conflicts are addressed without abuse. Peaceful and regular dialogue is the main approach used to prevent violence.
"We gather once every 2 weeks and talk about problems we have observed and then we schedule home visits for families that have difficulties," says Ruhogo.
"After 1 month, we assess how far things were solved in those families, and if we find that the issue persists, we report it to organisations like Plan International so that peace reigns within our community."
Changing behaviours
To date, numerous disputes have been settled and the men's group is attracting new members. Overcoming the reluctance of some men to accept change is the group's main challenge, although it is hoped that women will soon join the group to reinforce the message that disputes should be solved peacefully.
"No man in my neighbourhood beats his wife anymore," adds Ruhogo.
Protection from violence, Gender-based violence