Meet Loveth and Gift, sisters from Nigeria who are determined to bring an end to the discrimination of girls and women in their country.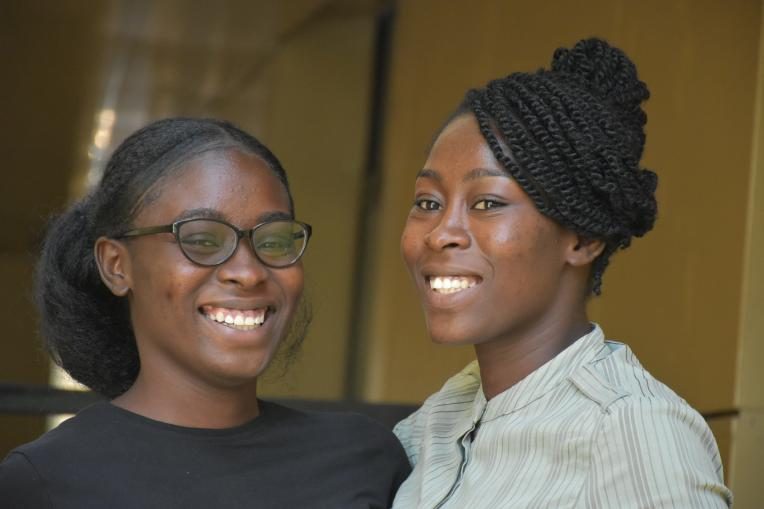 Sisters Loveth, 23, and Gift, 25, share more than just the same parents – they are also passionate about ridding Nigerian society of the negative patriarchal practices that stifle the growth and well-being of women. With the support of Plan International, the sisters are raising their voices for girls' and women's rights in education, the workplace and the home.
The sisters have experienced first-hand how girls and women are discriminated against by men and treated as objects with little or no choice in their lives, propelling them to stand up for their rights and those of other women.
"There are a lot of patriarchy practices we need to unlearn in Nigeria," explains Loveth who is a doctor. "These include denying girls job opportunities because they are young or married and the lack of paternity leave for men to help their wives who have just had babies. Women in the military also cannot get pregnant without permission from the authorities."

Campaigning to end the patriarchy
Loveth believes that "Patriarchy lives in Nigeria." She says "There are just a few of us that know the problem and recognise the need for change and are working towards it. But a lot more people out there in Nigeria think that those campaigning for change are troublemakers and stubborn. They think we just want to be like white people. They think suppressing women is the natural order of things which we are trying to change."
Youth activists for Plan International Nigeria's Girls Get Equal campaign, Loveth and Gift lead other young people in discussions on how to combat gender-based violence in their communities and routinely visit secondary schools in the neighbourhood to teach adolescent girls and boys how to identify and report sexual abuse as well as providing sexual health education and career counselling.
"We also visit the local marketplaces to protest and campaign against harassment and all forms of abuses of market women," Loveth enthuses.
Girls' rights advocates
Gift, who holds a master's degree in development economics, is also a member of Plan International's anti-human trafficking campaign and traces her resolve to fight against human trafficking to her time at school in the UK.
"I met a friend in the UK who had been trafficked, but she managed to escape. She was trafficked by a close family member," she says. "Now, we are joining forces with Plan International to teach young girls about the cunning ways traffickers use. I am able to channel my passion for good use."
As a career driven young woman, Gift says her personal experience in the workplace has buoyed her desire to stand up for women's right to choose their own career. "There are a lot of biases on what a woman should or can be. A lot of people including men and woman have discouraged me," she says. "They think that because I am a woman, I should stay at home to care for my family."

Discrimination becomes motivation for change
Recently married, Gift has lost out on work because of people's prejudices. "I got a contract to consult for a firm but when I told them I was preparing to get married, the contract was cut short because I am female. They said women's careers don't flourish especially after marriage. The most painful element of this was that it was women who gave me this feedback."
Loveth and Gift are currently working on a campaign to develop a petition to be delivered to the Nigeria Corporate Affairs Commission to compel all registered organisations and entities in the country to have a sexual harassment policy as pre-condition for registration.
"A lot of women are being assaulted in the workplace in Nigeria with no repercussions. This is because the companies have no internal policies to hold them accountable." Gift says.
"Plan International has given me a platform to express myself, for my voice to be heard. My ideas are not seen as irrelevant."