Skills training helps internally displaced woman support family
Yangana was forced to flee her home due to insurgents' violence. Now, after enrolling in a Plan International skills training course, she is working as a tailor and is earning money to create a better future for her family.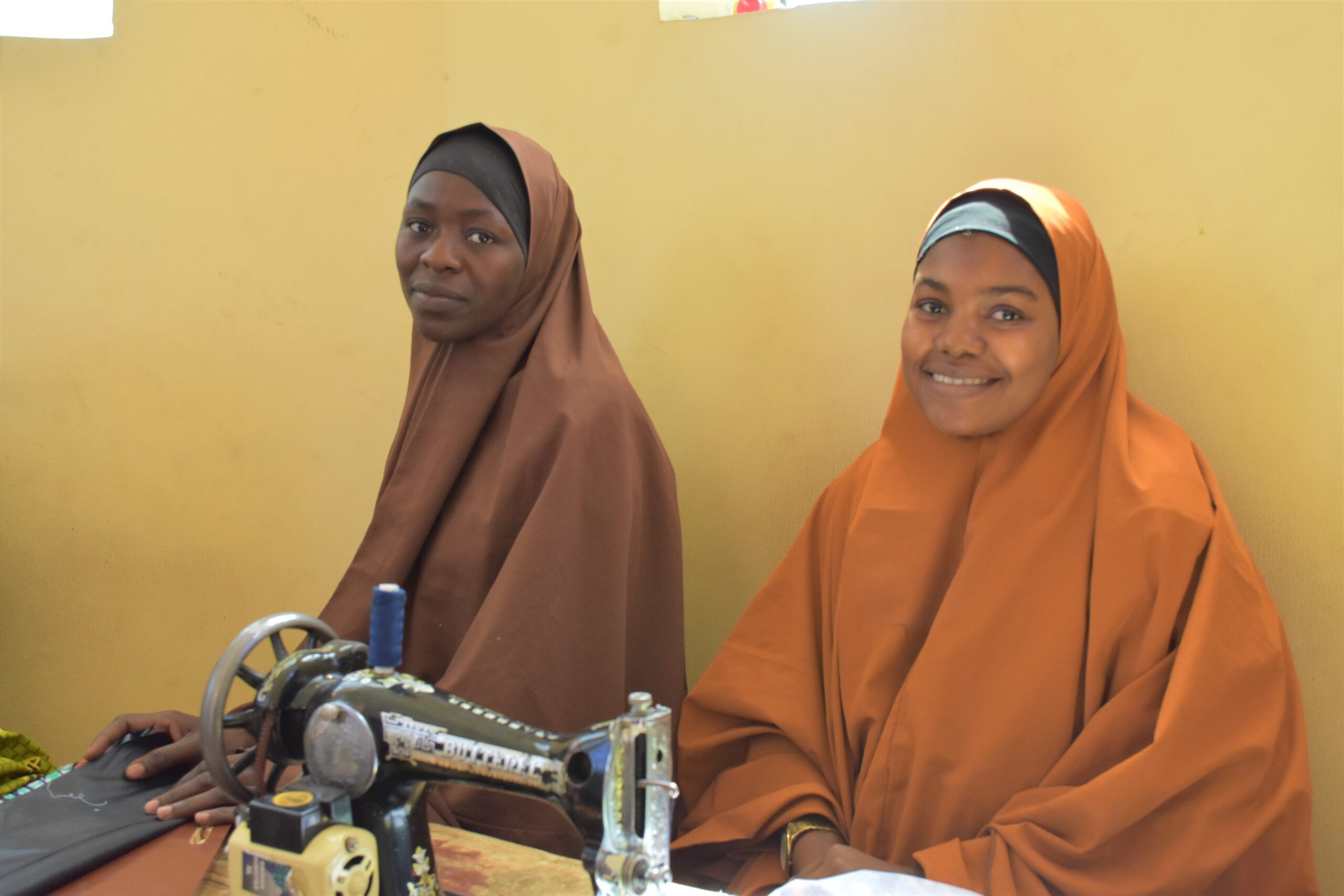 Yagana (right) with a fellow apprentice at the tailoring shop.
Yagana lost her elder siblings and mother to the Boko Haram crisis in north east of Nigeria at the young age of 16.
In 2013, she fled from insurgents' attacks with her parents and younger siblings from her home town in Borno state to Maiduguri.
Now 26, Yagana has become her family's breadwinner following the death of her mum in 2017.
"I was 16 when Boko Haram insurgents invaded my community to abduct young girls. I managed to escape the next day after hiding for 24 hours and fled to Maiduguri with my parents," she recalls.
"We have remained displaced since 2017 and unable to return to our ancestral home due to the persisted insecurity and fear of being attacked."
Skills training helps crisis-hit women
Six weeks ago, Yagana joined 34 other young women to enroll in Plan International's apprenticeship programme to learn tailoring. The project is funded by the Spanish Cooperation for International Development (AECID). The apprenticeship programme is part of Plan International's support for adolescent girls and young women who are internally displaced or in host communities affected by the now 13-year-old crisis.
The north east crisis in Nigeria which extends to the larger Lake Chad region, remains one of the worst humanitarian crises and as the years pass by, the world is beginning to forget the misery still being faced by people in the affected communities, especially girls and women. According to the UNOCHA, some 8.4 million people in the north eastern states if Borno, Adamawa and Yobe need humanitarian aid.
Support for women and families
Yagana is determined to complete her apprenticeship and set up her own shop to earn extra income. She said: "I make hand knitted caps for sale to support myself and my younger siblings but I decided to enroll in Plan International's vocational project to learn tailoring to augment my income. In reality, the turnaround time for cap knitting is long; taking like a month or more to finish one. Sewing doesn't take that long."
When fully established, she said she intends to, "Teach other young women like me for free so they can have some financial freedom."
Fatima Kyarimi, one of the Plan International Nigeria staff members working on the project said the 35 apprentices will receive sets of start-up kits including sewing machines, tape rules, machine oils, and scissors when they complete the 5-month training programme.
Emergencies, Skills and work, Livelihoods, Vocational training, Youth economic empowerment in emergencies