Following the outbreak of coronavirus in Nigeria, Plan International has been taking steps to provide critical support to vulnerable displaced communities through food distribution as prices soar in the country.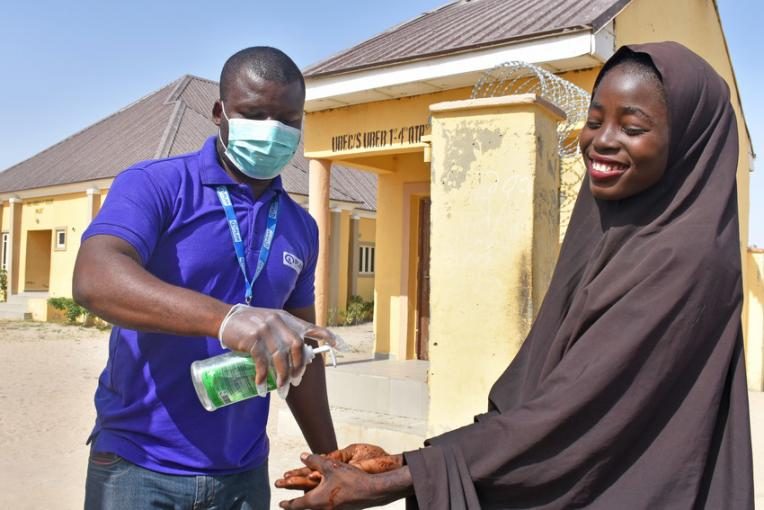 Nigeria has been under lockdown since 31 March 2020, a measure imposed by government to stop the spread of the virus. This has had a marked impact on most people lives, many of whom live a hand-to-mouth existence. But as the number of people in the street fell, food prices increased, in some instances up to 50% of its previous price.
The issue has been caused by the restrictions of movement as well as food supply chain problems with a lot of farmers on the receiving end. As commercial transportation wound down to a halt, movement of food and agricultural produce proved difficult.

Distributing food packages
To support those most in need in northeastern Borno state, Plan International is distributing food packages to thousands of vulnerable families. The state has been the epicenter of the Boko Haram insurgency in Nigeria for the last 10 years, leaving its civilians caught in the middle.
Each food package contains 10.5kg of sorghum or millet, 3kg of beans, 1.5kg of cereal, 0.972kg vegetable oil and 0.15kg of salt. We aim to reach more than 56,000 beneficiaries with food packages each month.
"Our support is to enhance household food and nutrition security for vulnerable individuals in the host community and IDP camps who have been affected by insurgency and are now under lockdown due to COVID-19, leaving them in dire need of assistance," says Hussaini Abdu, Country Director of Plan International in Nigeria.

Cramped, unsanitary camp conditions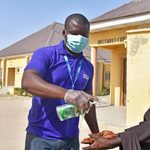 We are focusing our response in the northeast of the country where the situation is already precarious and COVID-19 is adding to the frail support system. Malnutrition and poor livelihood are already high among internally displaced people who live in cramped unsanitary camp conditions.
Our target beneficiaries are families with children, disabled people and the elderly. Female and child headed household are also being prioritised to ensure their rights and dignity are protected.
"Our response will help improve the nutritional status of the population through the provision of various food commodities that will help meet their daily nutrient requirements of 2,100 calorie per person per day." Hussaini Abdu says. "We have so far reached 28,724 needy beneficiaries with food items to cushion the effect of the lockdown measures."

COVID-19 outbreak in Nigeria
As of Monday, 11 May 2020, 186 cases of the COVID-19 have been confirmed in Borno state by the Nigeria Center for Disease Control (NCDC) as community transmission takes hold across the country. 21 cases have been confirmed by Adamawa state and 13 in Yobe state. These three states are the most impacted by insurgency in the northeast region.
Across the country, more than 4,600 positive cases of COVID-19 have been confirmed with over 150 deaths. The commercial city of Lagos is the centre of the outbreak with more than 1933 cases.
In partnership with community leaders and the Borno state government, we are also raising awareness of about the coronavirus and how to prevent its spread. Ahead of food distributions, we provide hygiene training using the local languages of Hausa and Mandara to better connect with the displaced community. This includes handwashing demonstrations with soap and water, social and physical distancing, personal hygiene and immune boosting nutritional practices.
The communities are also taught how to spot symptoms of the virus such as a cough or fever and given information on how they can get help from government authorities in case they develop symptoms. We have also set up handwashing stations in rural communities that have no running water.