Children should thrive in online spaces
4 July 2023
The intenet should be a safe space for everyone, but there is a lot to be done to ensure it doesn't reinforce negative stereotypes, argues Plan International Kenya Country Director, George Otim.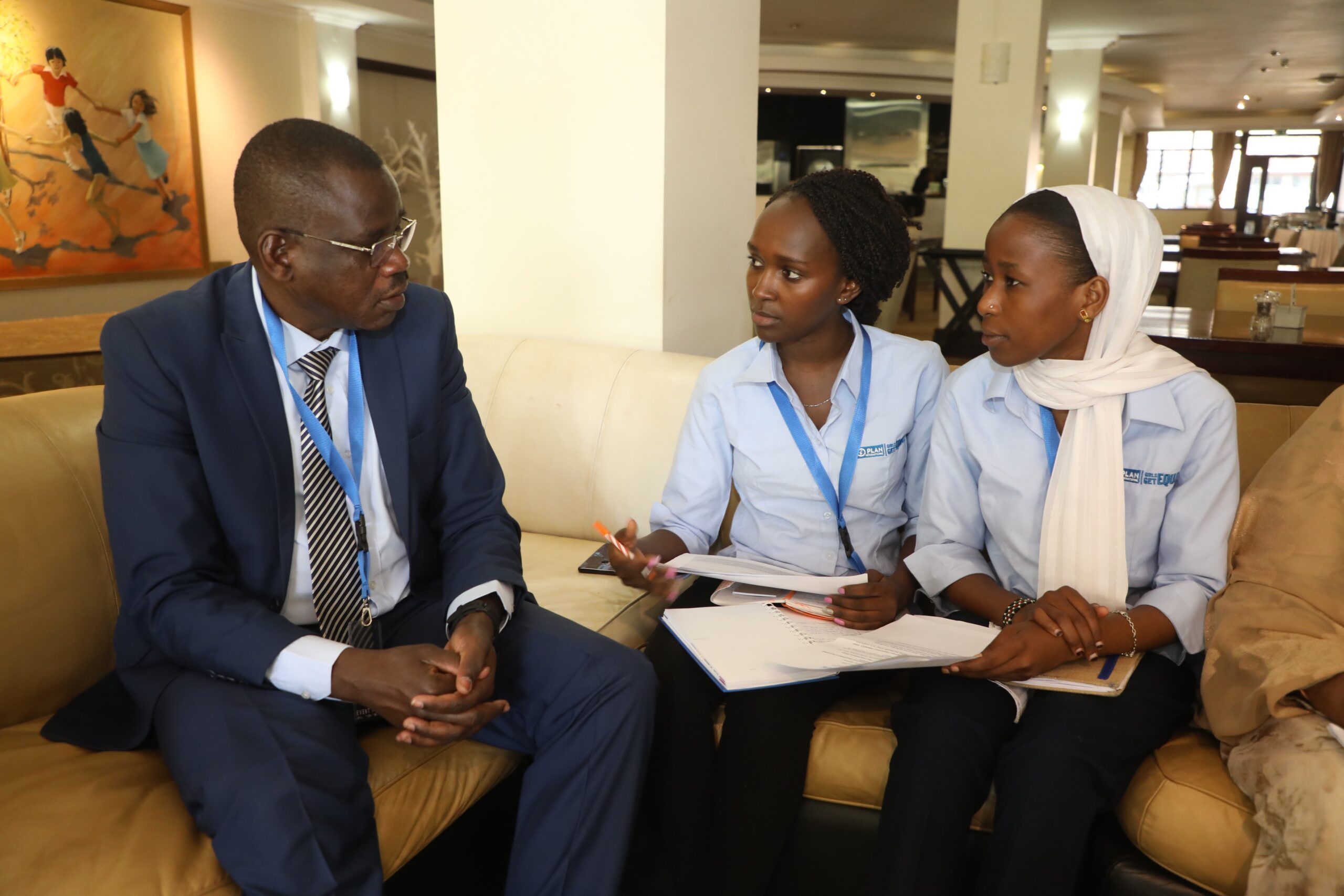 Plan International Kenya Country Director George Otim talking to girls at a recent forum where over 30 young women below the age of 24 were sharing their experiences using social media.
Children, particularly girls, are facing more online peer pressure to be like influencers or like their school mates who live exorbitant lifestyles that they post online compared to their male peers.
On the other hand, they are exposed to age-inappropriate content. Pseudonyms throw shades of hate, body shaming, ethnic profiling, divisive politics and pornographic materials. Various social media platforms gradually contribute to eroding young people's self-esteem, for comparing themselves with online 'friends' and taking harsh comments to heart.
"Every time I log in on my Instagram, Facebook and TikTok accounts, I read a lot of posts and view pictures and videos of renowned influencers flaunting their expensive cars, executive houses, taking their families on vacations abroad and in expensive hotels. I want to have such a life but my family is struggling," says Sheila*, 19, who hails from Kibra, Nairobi County.
Young Sheila* was speaking in a recent forum where over 30 young women below the age of 24 were sharing their experiences using social media applications such as WhatsApp, Facebook, Instagram, Snapchat and TikTok. The platform was organised by one of our implementing partners under the Safe and Inclusive Cities Project in Kibra.
"One stranger (who is not on my friend's list) commented on my photo I shared on my Facebook timeline that I am too fat, saying that I should go to the gym to look attractive. I was demoralised that I immediately deactivated my account," a teary Violet, 22* narrated at the forum.
The internet is vital in modern life
In today's world, internet usage is a part of our everyday lives. From virtual meetings, classes, e-courses, e-mails, e-commerce, e-banking, access to news and information sources, blogs, to gaming and its most popular use – the social network.
According to a report by DataReportal, internet penetration in Kenya stood at 32.7% in January 2023, with an estimated 17.9 million users. The report further indicates that social media users were 10.6 million, translating to 19.3% of Kenya's total population.
While the increasing usage of internet has positively impacted many lives and transformed manual works into the digital space, there is an increased online gender-based violence, especially for girls, who continue to suffer threats and bullying while navigating the online world.
As the world commemorates Day of the African Child themed "The rights of the child in the digital environment", it reminds me of our children who are exposed to a lot of harmful content on digital media, but are susceptible to sexual exploitation, unprotected social media profiles, online gaming mediums that may introduce them to self-harm or suicide and trafficking rings.
Unlike in our days growing up where we would go out to play with our peers, the digital space has also reduced social interactions and physical activities. The concentration on internet-enabled screens is increasing, with young people spending huge amounts of time online, oblivious of whether the content is appropriate or not.
Misinformation, disinformation and abuse prevent girls from thriving online
The State of the World's Girls report 2021 by Plan International reveals a study on how misinformation and disinformation online affect the lives, learning and leadership of girls and young women. Out of over 26,000 adolescent girls and young women surveyed in 33 countries, 55% of girls and young women said they spend more than 7 hours a day online while 16% spend more than 12 hours.
In addition, The State of the World's Girls Report 2020 themed Freedom Online, reflects girls' experiences of being online on social media. Rather than free and empowered to express themselves online, girls are all too often harassed, abused and driven from online spaces. In the present day, physical and online violence are interwoven, where perpetrators use abusive language and post manipulated photos online to name and shame girls and young women. Fear of victimisation restrict their will to post content. Their priority is to try to protect themselves.
There is need for concerted efforts starting from their parents or guardians, to policy makers, state and non-state actors to create a safe digital space for the vulnerable African child. While educational institutions have incorporated computer literacy in learning, this should be the initial platform that ensures children know their rights and responsibilities using the online platforms.
A recent move by the Department of Children's Services and Communications Authority of Kenya to draft online child protection laws will go a long way in enhancing safety for children against bullying and other related crimes.
Comprehensive sexuality education should have online safety where our children understand the clear usage of online spaces, how to feel and stay safe, and when and where to report any form of abuse, violence and harassment.
The future is digital. There is need to strengthen legislation and increase cooperation that put to book, perpetrators of online violence through strong reporting mechanisms.
Similar to the offline world, harassment and bullying online is gendered. It is our collective responsibility to ensure that children and youth are not limited to what they post online, rather have freedom to thrive in the digital environment.
Girls Get Equal, Protection from violence, Gender-based violence, Safer Cities