World must take action for Haiti
17 August 2023
This World Humanitarian Day, Head of Programmes Anaëlle Canez, who leads efforts to provide crucial assistance to vulnerable families in crisis, reaches out for urgent support to prevent Haiti reaching the point of no return.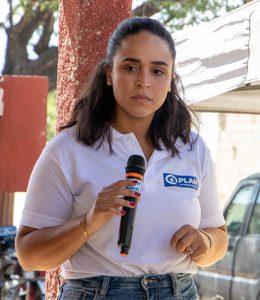 In Haiti right now, living conditions are deteriorating rapidly with widespread hunger, gang violence, school closures and an ongoing cholera epidemic. Beyond the international headlines about anarchy and lawless dystopia in the capital Port-Au-Prince, it is children, especially girls, who are particularly at risk.
The conditions can be described as akin to living in a warzone, with the number of violent incidents more than doubling since last year. On top of that, five million people, nearly half the population of Haiti, are facing acute hunger right now, with food and water supplies breaking down, and a crippling cholera outbreak that has overwhelmed Haiti's under-resourced health care system.
I was born in Port-au-Prince in the early 1990's where I spent much of my childhood before relocating to the USA for a decade of studies. I have recently returned to my home country and now work with Plan International Haiti as Head of Programmes for the Country Office, working with my team to bring assistance to the most vulnerable families of the North-East and South-East departments.
As a child growing up here, I can't say Haiti ever felt like a carefree country, there have always been periods of volatility and it's never been completely politically stable. But children never had to live with the levels of fear, insecurity and hunger that are facing children in Haiti today.
Children in Haiti live amid unprecedented crisis
I think of how the situation here has rapidly deteriorated over the past four or five years for Haitian children, they are now living amid an unprecedented humanitarian crisis. We work a lot with children and young adolescents and it's heartbreaking to hear the kinds of dangers they must face just going about their lives.
Girls tell us they are living in constant fear of violence, and there are girls who are going to bed hungry every night, making it almost impossible for them to go to school. One 13-year-old girl named Chedeline living in Haiti's Southeast province told us she hadn't eaten that day and how it is directly impacting her studies. "When I'm hungry, I can't study," she said.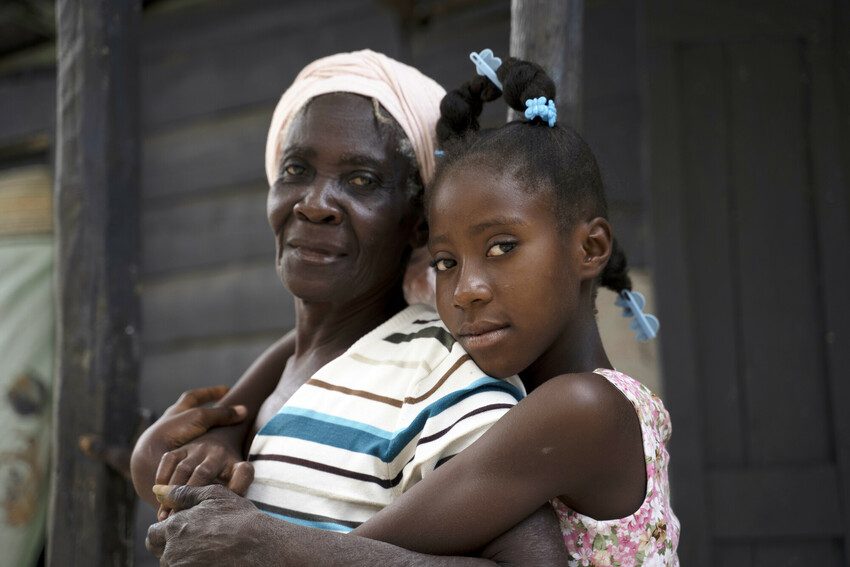 It strikes that even though it is rarely reported in the international media – in reality it is women and girls who are bearing the brunt of this crisis. And it gets worse with every day. As a native to this country with deep family roots here – it's hard to bear witness to the deteriorating safety of my country.
But the thing that keeps me going is seeing some of the tangible outcomes from our work from those families we can help.
I recently met a mother in the Northeast Department who has seven of her own children and had taken in two other children of her sister. She had recently received cash and food voucher assistance from Plan, and you could really see how empowering this was to her. She said being able to provide her children with food after school renewed her sense of being a good caretaker for them, and the strength to go onwards.
Life is difficult and dangerous
Life in Haiti is difficult and dangerous for everyone right now. We are all grateful with each passing day that we simply get home safely and can carry out our work because it is very dangerous. The gang violence spreading throughout the country brings a very challenging set of circumstances to everyone.
But I think when we can bring change to even one beneficiary it brings a great sense of fulfillment. We are fearful of our situation here, but of course our communities of girls are facing even greater threats than we do. Where we work in the Northeast and Southeast of Haiti it is easier to access than the capital Port-au-Prince which is the epicenter of the violence. But it still requires great care and creativity to carry out our work.
Sometimes working in Haiti is overwhelming. In an ideal scenario we would like to help everyone here access food and security. But we know nearly half the population, around 5 million people, are facing acute hunger. Since we declared a Red Alert here almost a year ago, we've been able to get assistance to about 30 thousand people.
The UN and partners have called for $720m to reach 3.2 million people this year. That's more than double the amount that was needed last year. So, we are faced with these needs, and we want to see donors step up and allocate funding with a strong gender lens in terms of protection.
At present, Haiti still feels like a forgotten crisis. But we will continue to keep raising our voice, especially for those children and girls struggling to survive. We need the international community to step up their response now, so we don't reach the point of no return.