Inspiring female entrepreneur
Being the boss has become a reality for Mahou, who has set up her own business, become financially independent and gained respect within her community.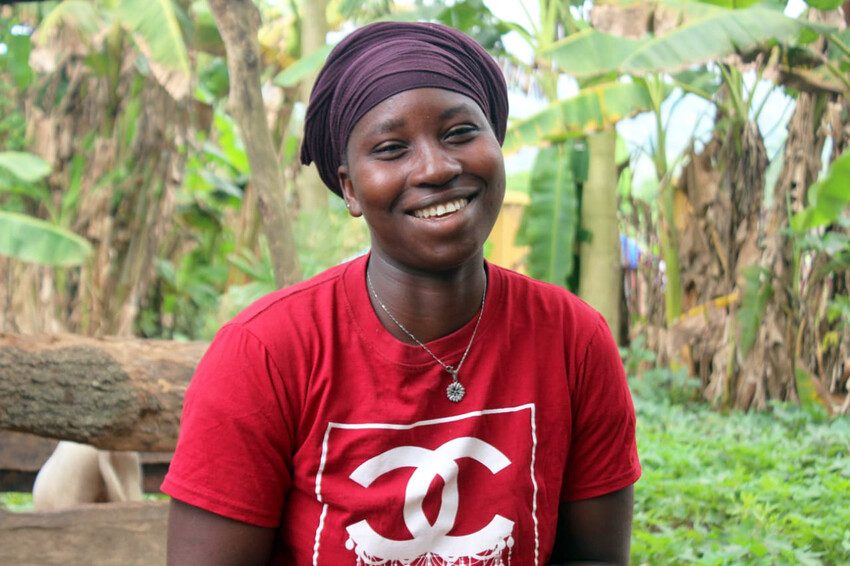 In Guinea, 75% of the country's 13 million citizens are under the age of 35. Despite this, young people are often side-lined, lacking the means to make a decent living and provide for their families. The youth unemployment rate in Guinea is estimated at 60%. According to government statistics, a large proportion of these are young women who are further discriminated against because of their gender.
Skills training for young women
To help young women in Guinea reach their full potential, Plan International set up an entrepreneurship project to equip girls and young women with the skills they need to set up their own businesses and earn an income. Twenty-five-year-old Mahou took part in the project and decided to set up a pig farming business following the training.
"One day we were informed that Plan International had set up a project to train girls in various fields, in particular agricultural activities. As soon as I was informed I went directly to the office to register and thankfully I was able to meet the criteria to be part of the first cohort of this training for a period of 6 months," explains Mahou, who decided to learn pig rearing and farming skills.
"We were trained on pig breeding techniques, their maintenance and even their feeding. For the market gardening activities, we were trained on the different crops and the cultivation periods. After 6 months of training, it was time to put into practice what I had learnt. Now I am a pig farmer and a vegetable farmer."
Respect and financial independence
Now Mahou is able to support herself and pay for her children's schooling and health. "Not long ago, I sold 2 pigs for 1 million Guinean francs each ($100 USD). I used this money for my family's needs and to maintain my business. This money also helps me to diversify my income-generating activities."
Now that she is financially independent, Mahou says that she has gained more respect from her husband and extended family. "My husband has no authority over me and treats me with respect and consideration."
Mahou is optimistic about her future and is looking forward to expanding her farming activities. "In the coming months, I will move to another location and expand my piggery to increase my business. To feed my pigs, I have created a garden where I have planted potato leaves, these leaves are sold and at the same time feed my pigs. The waste from the pigs is used as fertiliser for my garden."
"At the very beginning when I went for training, people made fun of me, saying I had given up my studies for training. Today these same people call me a boss and even envy me. This training has been very beneficial for me, because now I am able to take charge of myself and make my own income."
"Today, I owe my success to Plan International, because thanks to this organisation I am seen as an example by the girls in my community and I do not fail to share my experience with girls who want to do the same thing as me. I encourage them to take their work seriously," Mahou concludes.
Skills and work, Financial literacy, Livelihoods