"I want to break the cycle of limitations placed on women in Ghana"
After marrying at 16, Ikilimah is now turning her life around and is planning a career in construction following training from Plan International Ghana.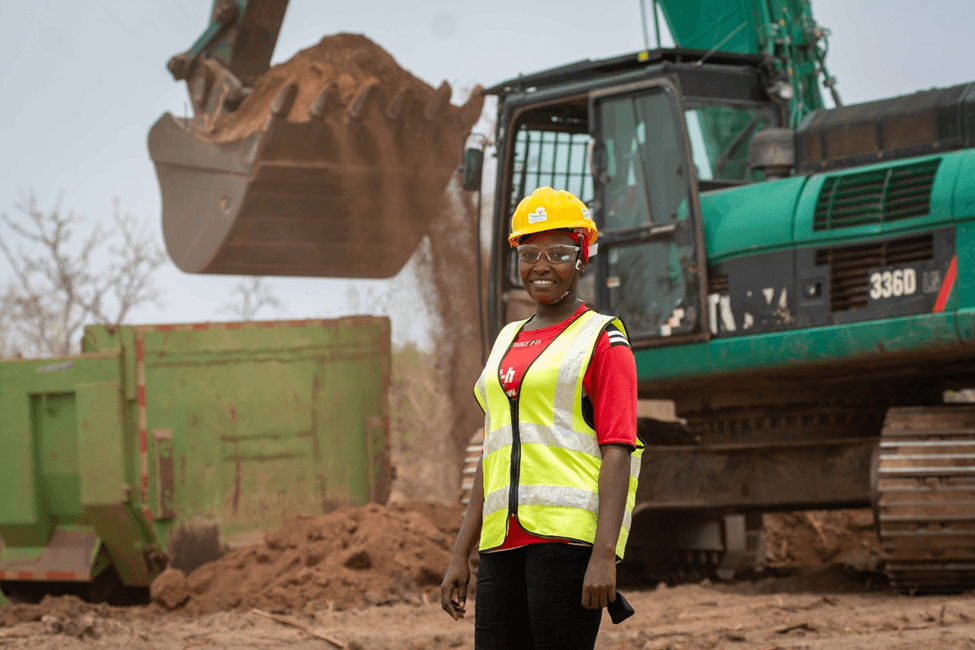 Ikilimah working on a construction site, following vocational training from Plan International Ghana.
Married at 16, Ikilimah had 4 children in quick succession and seemed destined for a life of poverty. The fifth of 10 children, her parents had taken her out of school early leaving her without any qualifications or skills to be able to earn her own income, forcing her to rely on her husband's income which was not enough to cover the family's needs.
"I was educated to the junior high school level when I had to drop out because my parents had a large family to support. They were faced with constant financial challenges with all 10 of us in school. My parents used the criteria of which child was not performing well in class to withdraw them from school. I was the first because my school grades were very bad. By 16 years, I was already married to the first suitor who asked to marry me," explains 33-year-old Ikilimah.
After having her fourth child, Ikilimah realised that her own household was beginning to look like that of her parents. "My husband and I were always arguing over food and other items mainly because his earnings couldn't cater for our needs. This was a major source of worry to me because we owed a lot of money to people in our community. I also did not want my children to be school dropouts like myself, so I decided to look for a way to earn an income otherwise my family would never rise from this poverty."
Skills training creates new possibilities
Ikilimah's younger brother introduced her to the PASEWAY project which was operating in her community in the Savannah Region, Northern Ghana. The skills training project is being implemented by Plan International alongside our local partner RAINS with funding from the German Federal Ministry for Economic Corporation and Development (BMZ).
"From a young age, I knew I wanted to work with my hands, but I was not sure of what exactly I wanted to do, so when my brother mentioned training in construction, I decided to give it a try without knowing what the outcome would be. I just wanted to be out of the house and working," Ikilimah tells us.
With encouragement from her brother and husband, Ikilimah enrolled in a 3-month construction training course to learn building techniques. This was an introductory course after which Ikilimah was assisted by the project to obtain her Proficiency and Trade Tests for informal trained skilled people from the National Vocational Training Institute.
"I received foundational training from RAINS under its partnership with the PASEWAY project, after which I was placed on a 1-month internship with a road construction firm. Many people around me were surprised that I had chosen to enter this male-dominated field and worried I would not succeed. During my study period, I took every lesson seriously and participated in all parts of the course. My focus, determination, and tenacity helped me to come through."
Challenging gender stereotypes
Ikilimah is now the only female excavator operator interning with a road construction company in the whole region and her employers are very happy with her progress.
"Considering the limitations put on women in this region, Ikilimah has surpassed our expectations. When she arrived, she was shy so we downplayed her value but she has proven all of us wrong. As the manager of this firm, I am going to retain her after this internship because of her willingness to learn and adapt. I am in the process of clearing 3 more excavators from the port and I have promised to allocate one solely to her. I am very proud of her work ethic," says Umar Abubakari Salifu from the Daadingbe Construction Company.
Ikilimah now sees a very bright future for herself in the construction industry. "With all the things I have learnt on-site, I am very certain I will pass the required proficiency test. Passing the tests and earning my certificate will mean I can earn the same wage as my male colleagues here which will change our living conditions in my home for the better."   
In the future, Akilimah wants to see more women in the construction sector in her region. "I don't want to be labeled as the only woman in the construction field from this region, instead I want to be known as the woman who paved the way for other girls and women in this male-dominated field. I want to break the cycle of limitations placed on women in Ghana."