Digitalisation and gender equality human library
25 October 2021
The Plan International EU Office and AEGEE-Europe organised together "Digitalisation & Gender Equality Human Library" on 25 October. During the event, key youth speakers shared their stories and experiences with the participants, interacting with them and answering their questions.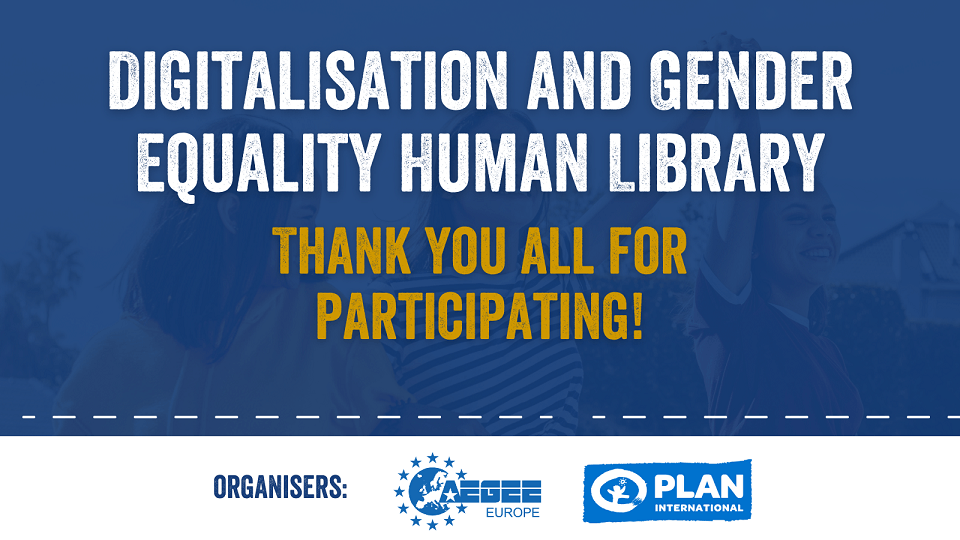 What's a human library?
The human library is an activity based on a project that started in Denmark in 2000. It uses the analogy of a library but, instead of books, there are people ("human books") and participants, instead of reading stories, listen to them.
About the digitalisation and gender equality human library
This human library event built upon the momentum and theme of the International Day of the Girl 2021 – "Digital Generation. Our Generation" – and highlighted the obstacles and challenges that girls and young women face in accessing digital technologies and the negative impact that this has on their lives. We believe that to build better it is critical that decision-makers listen to the voices and lived experiences of girls and young women.
About the speakers
Brigitte Luggin – INTPA G1- Gender Equality, Human Rights and Democratic Governance, opening remarks
Marjana Prifti Skenduli – PhD, Professor of Computer Science at the University of New York Tirana (UNYT), opening remarks
Alda Soraya, Girls Leadership Academy Officer at Plan International and INTPA Youth Sounding Board member (Indonesia)
David Karorero, Global School Advocate and INTPA Youth Sounding Board member (Burundi)
Krist Petraj Zicishti, Head of PR and Marketing at University of New York (Albania)
Maria Belén Luna Sanz, Campaign Officer at European Digital Rights (Bolivia)
Marvel Nyama Gusona, UNICEF International Consultant and INTPA Youth Sounding Board member (Cameroon)
Vera, World YWCA regional coordinator of the "Young Women Changing Narratives" on SRHR & Mental Health (Belarus)
About the human books
Three steps away: how the digital divide perpetuates inequality in education – Alda Soraya
How far do you have to go to have access to the digital world? For many of you, it might only take three steps away from your bed to reach your laptop and connect it to the internet. However, this easy access is not something that is equally accessible and beneficial for everyone. Especially during the pandemic, many girls and young women lost their access to education due to unequal access to remote learning tools. In this book, Alda shared her stories on how digitalisation has brought a positive impact on her life and activism for gender equality but also built a barrier for marginalised groups in her community, especially girls and young women.
Left behind – David Karorero
In this book, David talked about young adolescent girls and women living in refugees camps in East Africa and how they struggle to have access to sexual reproductive health knowledge but also sanitary pads. Some young adolescents sometimes are obliged to do prostitution to get sanitary pads. The book was about their daily lives and how they feel "being left behind".
Digitalised woman – Krist Petraj Zicishti
Faced with disparities in pay, job promotions, backstabbing, and even a dilemma announcing her pregnancy, she had difficulties in the place of work because there has always been the prejudice that digital marketing and digital promotion are best done by men. In this book, Krist guided us through some of the challenges faced and successes achieved in her experience in the advertising sector.
At first it was the parks, now it is in the digital space – Maria Belén Luna Sanz
The consciousness that women and girls had shared experiences began in their conversations while washing clothes in the fountains or rivers. Today, something similar happens in the digital space. Phenomena such as #MeToo and #NiUnaMenos were a wake-up call for society in general but especially for women to know that it was not an isolated case: it is patriarchy. But, what happens when being online is no longer safe for women and girls? In this book, Belen shared her story of how online gender violence against women inspired her to improve digital policies.
A woman's place is only in the kitchen – Marvel Nyama Gusona
In this book, Marvel explored norms and gender stereotypes that contribute to gender inequality, by sharing some of her personal stories. She explained how girls are too often told where they are supposed to be and not supposed to be, what they are supposed to study and the "tough" and "masculine" courses like ICT that they are not supposed to study.
Online safe spaces for advancing young women and girls rights in times of crisis – Vera
In this book, Vera shared some of her experiences in mentoring young women. Over the past year, under her mentorship, about 100 young women have learnt how to improve their health and well-being without the pressure of cultural myths about sexuality and reproduction. They have also learnt how to choose suitable hygiene products and contraception, how to access quality health care, and defend their reproductive rights and personal boundaries through assertiveness and prioritising self-care.
About the joint campaign between Plan International EU and AEGEE-Europe
AEGEE and Plan International launched a joint campaign, on International Youth Day, August 12th, 2021. The purpose of the campaign is to ensure that gender equality has a central position on the agenda of the Youth Sounding Board (YSB) of the Directorate-General for International Partnerships (DG INTPA). The YSB was created as an advisory board to foster youth empowerment and involve young people in shaping and implementing the EU's external action.
Emergencies, Protection from violence, Sexual and reproductive health and rights, Skills and work, Youth empowerment, Gender-based violence, Sexual and reproductive health services