Frida is 17 years old, she has been a social activist since she was 14 and is focused on gender equality.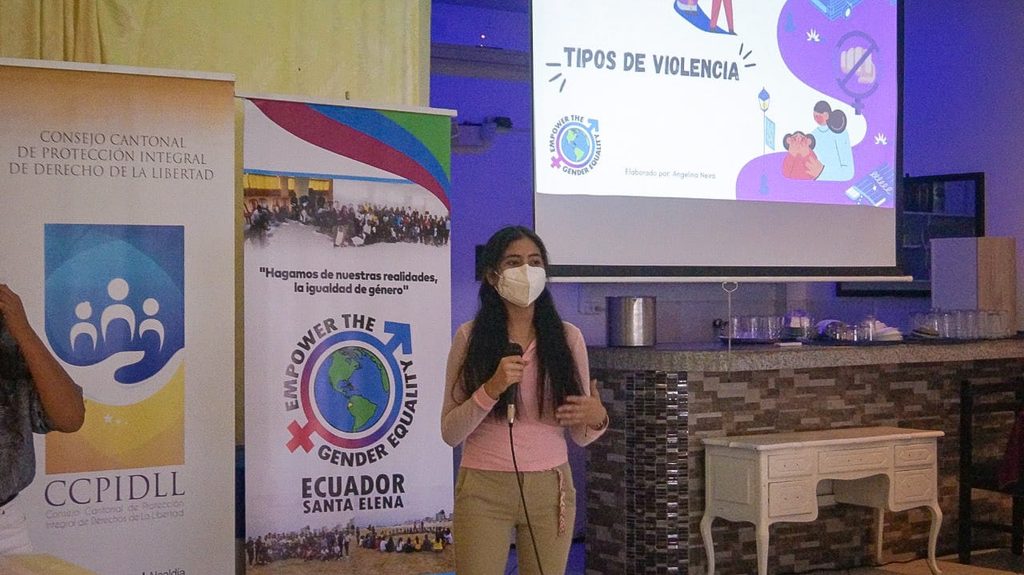 Frida was born in Santa Elena and among her favorite activities are spending time with her pet and playing basketball.
From a very young age, she participated in speech contests, she loves reading and she mentions that she is passionate about speaking in public, although in the beginning she was shy about doing it.
She began training herself to speak in public when she entered the Journalism Club at her school 4 years ago. Then, she participated in Pana TV, a space for expression and participation for adolescents.
These experiences laid roots in the leadership of a young woman who loves activism and the promotion of gender equality. Within these processes, Frida was chosen to represent her school in the Salinas Youth Advisory Council, at that moment she came across Plan International.
As part of this activity, she nurtured friendships that motivated her to venture into leadership workshops. This also motivated her to apply for the "Youth Ambassadors" programme which supports young adults from the Americas to develop a strong sense of civic responsibility, commitment to their communities, awareness of global problems and leadership skills.
Frida presented a project to the Youth Ambassadors programme that was focused on promoting gender equality. At first, Frida thought that because she belonged to a small province, her proposal would not be considered and that she would not be part of the programme. Among 6 young people from Ecuador, Frida's proposal won. This filled her with joy, empowerment and motivation for her cause. Her community, parents and her school supported her and shared her happiness. Frida traveled to the United States and she describes this experience as unforgettable. She saw other cultures, made friends, strengthened her skills, but, above all, she became a great agent of change.
Young advocate for women's rights
Frida is also a spokesperson for civil society groups that seek to promote gender equality, as well as create a culture of female empowerment and influence outlets and decision-making for the fulfillment of the rights of girls, boys, adolescents and young people.
Thanks to her involvement with these groups, she has been able to give workshops on the topics she is passionate about along with more girls and adolescents from different places. She has been developing her experience and training, including issues on sexual and reproductive rights.
Raising young leaders
"It is clear to see that public positions are mostly held by men, because society feels that women are weak. There is inequality of opportunities, that is why I decided to be an activist, because I am sure that we can break these stereotypes" says Frida.
She also expresses how she feels coordinating these spaces to break sexist stereotypes: "When I was a child, I wanted to be a leader, I felt it was a challenge, I think the language that children and adolescents use is key to leading, because we understand each other. I feel confident to lead with passion and preparation".
Frida says that girls are highly questioned, that they are seen as very vulnerable, that society thinks that they can only do household chores. However, she comments that, during her years of activism, she has proven everyone can lead, everything starts with having a support system and getting involved in learning spaces.
"It is important that we girls, adolescents and young people empower ourselves, that we raise our voices, as well as maintain confidence in ourselves and have a support network to generate opportunities that allow us to grow together," she says.
During 2020, Frida participated in a takeover which allowed her to assume for a day the role of Superintendent of Petroecuador (a public oil company), demonstrating to society that young women are capable of assuming responsibilities and performing in different areas; as well as, to analyse and present proposals for social cooperation. Also, she emphasised her commitment to social work, leaving a message: "Being young we experience judgement, this can cause us emotional distress, however, we must continue in the fight for our dreams, for our rights and for the just and equal world that we deserve."
Author: Mercy Pineda – Sustainability Technician, Santa Elena Office.
Girls Get Equal, Youth empowerment, Activism, Civic engagement, girls' leadership