Samya is a leader in her community and is calling for girls to have equal opportunities and for an end to discriminatory stereotypes.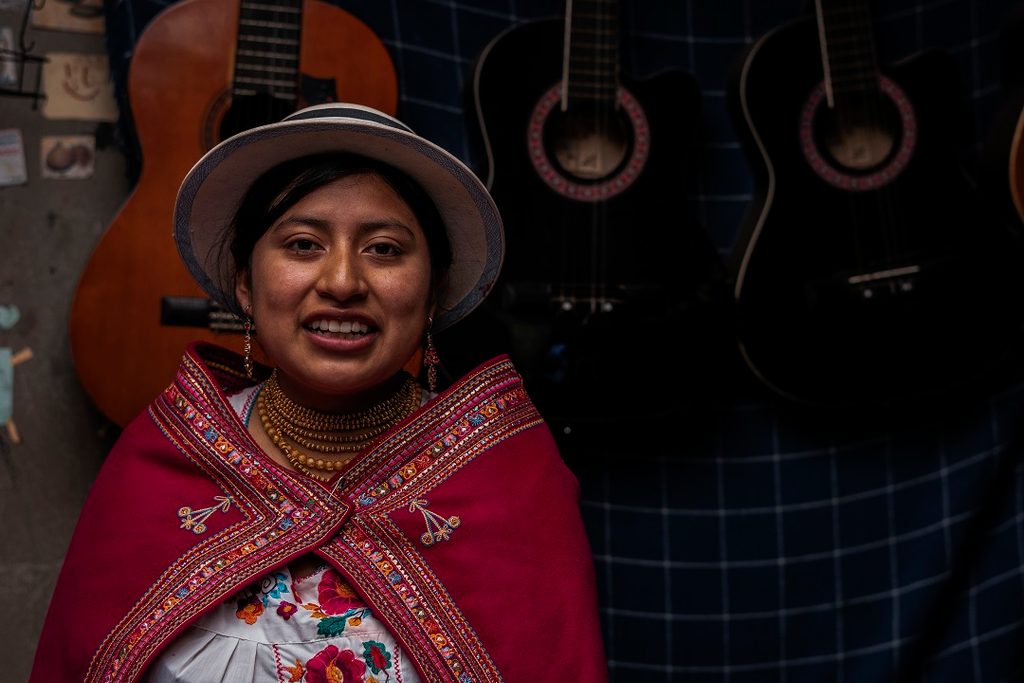 Samya is a 19-year-old indigenous girl, her Kichwa name, means "Princess of Eternity." She was born and raised in the countryside, on the slopes of the snowy Chimborazo in the province of Bolívar. Since she was little, she helped her mother with housework and took care of her siblings. Little by little, without realising it, she became the second mother of her siblings, her parents went to work and Samya stopped having time to play or do other activities, her responsibilities at home were very demanding.
Stereotypes hold girls back
When she was 6 years old, her sister was born, from that moment she decided to face fear and break the silence, "I don't want my little sister to suffer what I suffered". She felt that because she was a woman, she should not do housework alone and she began to fight with her family so that they understand her position and collaborate with each other.
Samya says that she had trauma caused by the stress of doing so much housework that, at her young age, prevented her from enjoying her childhood, playing, or living peacefully as a child. From that moment, she began to speak with her father and her mother about what she considered unfair. "Just because I am a girl I had to dedicate myself to housework," she says.
It was very hard for her parents at first, she spent a lot of time attempting to break negative cultural patterns and gender inequality at home. Now, Samya feels that it was worth it, thanks to those moments of reflection and action, she has the life that she dreamed of since she was little.
Her father became ill when she was barely 7 years old and left along with her mother for a long time. He began to have serious health problems so he was taken away from home to heal him with natural medicine and prevent his children from worrying about his delicate condition. Due to these circumstances, Samya had to take on housework while attending school. She woke up very early and rested very late, there were nights when she did not sleep because her younger brother was a 6-month-old baby who cried a lot and she took care of him.
Gender equality champion
Among her social activities, she began to promote gender equality which she did at home and at school. An experience that greatly influenced her life was when she started her first year of high school, she suffered harassment from a classmate. Samya remembers that during this experience she felt very uncomfortable and even cried when arriving at her house. In the end, with the help of a teacher, after telling her parents, she ended that problem. "If that happened to me, I am not the only one, there are more girls who suffer harassment and many do not talk about their problems," she says.
Samya found a taste for music by practicing in the afternoons after school. For her, her music prompted her to feel free and express her feelings; her music helped her break through her shyness and led her to travel to several places she had dreamed of when she was a child. In her community, her activities were not well-acknowledged and she was criticised for attending events and workshops, for riding a bicycle and playing an instrument, and mostly because she defended girls' rights. She was told that a woman should only be at home doing housework, in the fields doing farm work and that all she did for them was "walk in the wrong path". Listening to that hurt a lot, but her family always supported her to push through.
To do what she was passionate about, she had to get up very early to help her mother, get her brothers and her sister ready, and take them to school. They always walked to school, it was a 45-minute run and an hour and a half walk at a normal pace every day.
"There were days when my parents did not have money to give us for the public bus ticket, and next to my brothers after class we would walk from school to the city of Guaranda, through the chaquiñanes (roads) we knew, we would linger for 2 and a half hours, sometimes we did not have lunch."
With the help of her older brother, they saved what little money they had and bought banana bread for her younger brothers and sister to eat, while she received music classes. Samya assures that all her efforts to play music paid off when she had the opportunity to travel abroad. Thanks to a scholarship from the Municipality of Evergem, Belgium, and the Municipality of Guaranda, and after passing exhaustive tests in reading, music theory, and instruments, she managed to obtain a scholarship to travel to Belgium along with the Symphony Orchestra of the province.
Female leadership
At 16, she joined Plan International, where she began her female leadership. She says, "It hurts me to see so many girls who cannot study, to hear on the news that girls are committing suicide due to abuse at home, that every day in less than 3 minutes there are calls for help from several girls who report that they suffer abuse. Through music I want to express what I feel from the bottom of my heart, I want to have a world where there is justice and equal rights".
Samya is currently studying telecommunications engineering and has a life project that allows her to fight for her ideals, inspire other young women and change the world. She lives by the following mantra: "Strong Kichwa woman, making her dreams come true."
Author: Rosario Rea, Local Development Technician
Chimborazo Office – Bolívar.
Girls Get Equal, Youth empowerment, Activism, girls' leadership