Design thinking helps children explore online safety
Children from rural China are learning new science, technology, engineering and maths skills through Plan International-run workshops.
As part of our Science, Technology, Engineering, and Mathematics (STEM) project in China, children at 6 schools in Shaanxi Province took part in virtual workshops to learn design thinking, an innovative approach to solving problems by putting people at the heart of the thought process.
The activities, organised by a local partner and Plan International, and delivered by volunteers from global tech company ThoughtWorks and consultancy firm Accenture, helped girls and boys learn the human-centered method of thinking, encouraging the children to analyse problems in a creative and logical way, express their ideas and thoughts openly, and put their solutions into practice.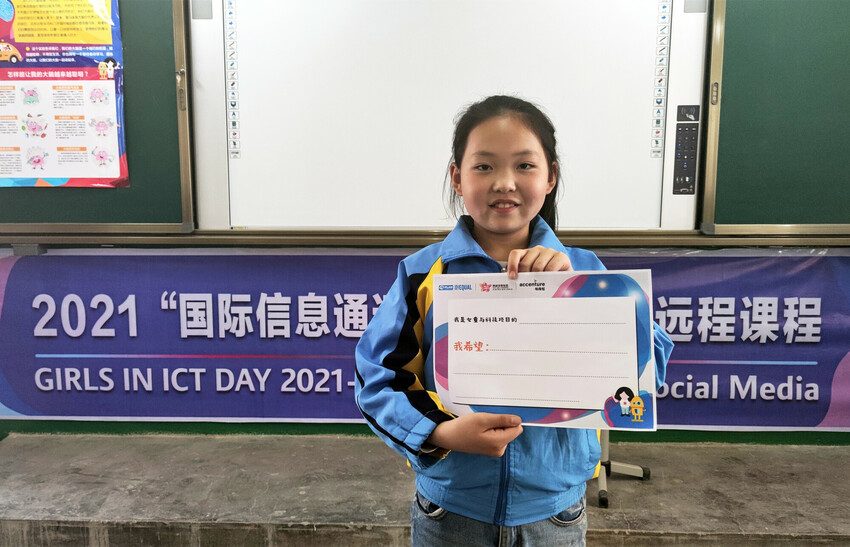 Safety online
The children were asked to explore the theme of creating a safer social media environment and discussed the advantages and disadvantages of the internet and explored the different forms of online bullying and the ways of preventing it from happening.
"I was so glad that the children loved our session on design thinking," says Liu Qiaoyu, one of the volunteers from Accenture. "We do hope that the children have learnt how to use the internet safely and can grow up without danger in the era of the internet."
Mr. Ge, a teacher at one of the participating primary schools in Jiaxian County, facilitated the online course for his pupils. "Design thinking is not only useful for conducting a discussion on creating a safer social media environment but can also be helpful to encourage children to analyse and solve problems more effectively," he said.
"In many cases children don't really have an opportunity to ask why or the reasons behind an issue, which prevents them from finding out the root cause of a problem. I hope that through taking part in these online courses, the students will be able to analyse and view problems in their lives from different angles."
Over the past few years, Plan International has worked with various partners – government, private sector, academic institutions and training agencies – to create different resources for our STEM education projects which work with girls and boys living in rural areas of China.
Since September 2019, the project has reached 2,350 children, including 65% girls, from 52 schools. The project has established child-friendly STEM learning centres in schools, conducts weekly STEM club learning activities for students, provides training workshops for school teachers on robotic programming and gender equality, and organised study trips to IT companies for both students and teachers.
Smashing stereotypes
We are also working with Beijing Normal University to explore ways to develop a growth in STEM learning activities, helping students, especially girls, overcome difficulties, increase their confidence, set long-term goals, and further improve their future development.
"After taking part in one of the STEM courses, I became more courageous. During the online course, I stood in front of the podium and answered the teacher's questions," says Xiaoyu, a sixth-grade pupil at a primary school in Jiaxian County.
As a result of our efforts, many students and teachers are challenging the gender stereotype that girls are not good at STEM subjects. Moreover, the project model and achievements have been recognised by the government, as many of the schools we work with were selected as Shaanxi Provincial STEM Education Experimental Schools by the Shaanxi Provincial Academy of Educational Sciences in January 2021.
Education, Girls Get Equal, Gender-based violence