5 AUGUST 2021
Plan International Zimbabwe is taking steps to reduce the impact of the COVID-19 pandemic by installing handwashing points at 4 schools in Kwekwe.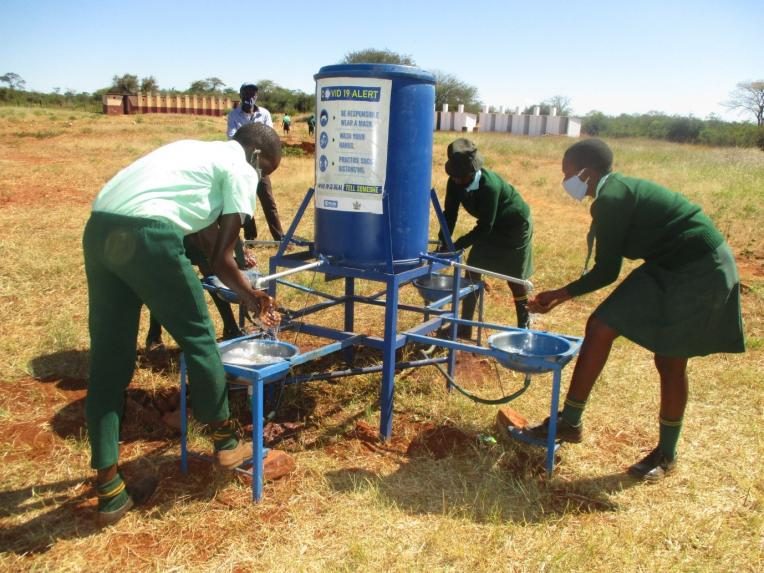 The handwashing points have been installed in a district identified by the government as the epicentre of the delta variant of the virus in Zimbabwe and the area of the country which has seen the first localised lockdown.
Handwashing prevents spread of COVID-19
The handwashing machines are uniquely designed from the commonly used foot handwashing machines and can cater for 4 people simultaneously. Not only does it allow for friends to encourage each other to wash hands but its structure promotes physical distancing during the hand washing process.   
While there have been calls for people to adapt their behaviours to prevent the spread of the virus, it has mostly been centred on the urban population. Plan international Zimbabwe identified the need to spread messages about how to prevent the spread of COVID-19 to rural communities.
Hygiene crucial as students return to school
At a time when the government has been considering the best method to reintroduce physical lessons at schools, it has become imperative that such innovations promote behaviours that prevent the transmission of COVID-19 and encourage the resumption of learning.
"The new handwashing facilities are tempting, one cannot avoid them. I now enjoy washing my hands as often as possible just because of this facility," said a secondary school pupil.
Another pupil at the school also remarked that, "Teachers are also using this same handwashing facility. Exercise books are no longer contaminated by dirty hands which used to pose a health hazard during school, especially during this COVID-19 period."
Emergencies, Water and sanitation