Girls Takeover: Vimbainashe as Swedish ambassador
Vimbainashe takes on the role of Swedish ambassador in celebration of International Day of the Girl, standing up for girls' rights and showing the strength of youth leadership.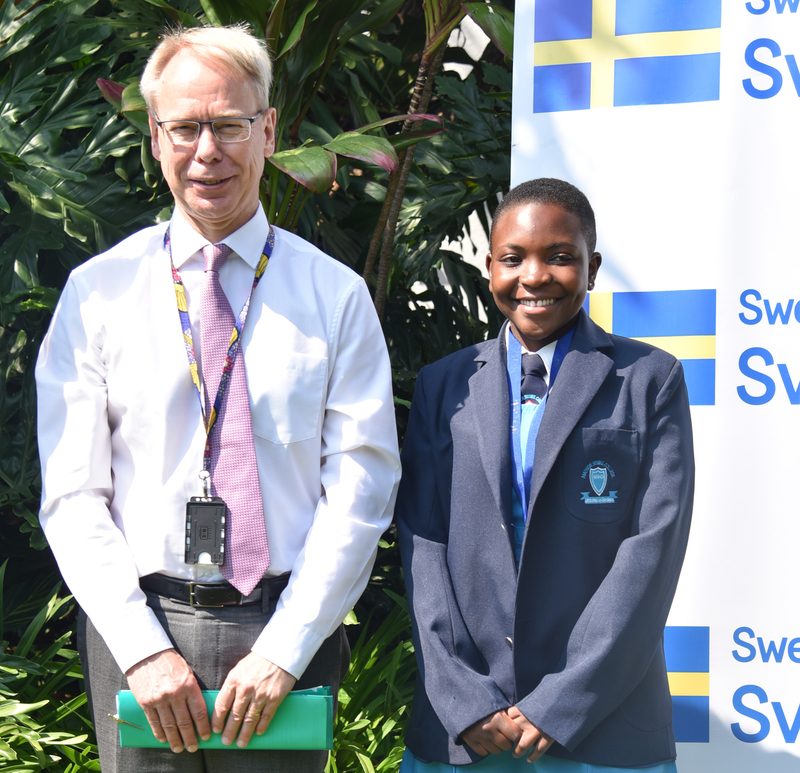 Taking over the role of the Swedish ambassador for a day was a thought that had never crossed Vimbainashe's mind, however, she knew she was destined for more than her small town had to offer.
As a sponsorship child under Plan International, Vimbainashe was chosen to participate in the 2023 International Day of the Girl Child Takeover of the Swedish embassy. An unexpected phone call that brought excitement and disbelief to the 16-year-old girl.
She eagerly accepted the opportunity, enthusiasm overshadowing any doubts. As an orphan living in a small dormitory town in Zimbabwe, where unemployment and poverty are rife, the odds are already stacked against Vimbainashe but her optimistic view of her future and willingness to grab onto opportunities has always served her well.
Taking over the Swedish embassy
Dressed in her best school uniform set, Vimbainashe arrived at the embassy accompanied by her chaperone. She was greeted by a warm and welcoming staff and given a briefing about diplomatic protocol and Sweden's foreign policies. Although nervous, she took in the experience and eagerly asked questions as she went around the embassy.

As part of the day, Vimbainashe attended an embassy partner event with Ambassador Lindgarde, engaging in discussions on the safety of young people online, opportunities for girls at a national level, and empowerment. She listened intently and shared her own unique perspectives. Her speech as the ambassador brought a fresh and valuable voice to the table, encouraging others to think differently.
"When investment is put in girls' education, safety online and offline, health, and well-being, we are investing in the future of our communities and our world. It is crucial that we break down the barriers that hold girls back.

Access to quality education is not just in terms of classrooms and textbooks, but also in terms of providing a safe and supportive learning environment where girls' voices are heard and protected," said Vimbainashe with confidence.

Her inspiring story resonated deeply with other young people in attendance, inspiring the young minds to take up opportunities to represent themselves and their peers while celebrating their own uniqueness.

As the day came to an end, Vimbainashe felt an overwhelming sense of accomplishment and gratitude. She realised that her brief tenure as ambassador had made a difference, even if only for a day. The experience had not only empowered her but also shattered stereotypes and paved the way for more inclusive representation in diplomacy.

A reflection

In a discussion after the day's events, Vimbainashe vocalised her joy. She had been inspired by the experience and hoped for more opportunities for herself and other girls with similar backgrounds.
"My friends won't believe me but I hope next time it can be them, so they can experience the potential that is beyond our current social circumstances," said
Vimbainashe.

Vimbainashe's story is an inspiration, reminding the world that dreams have no boundaries and that every individual, regardless of their background, can leave an indelible mark on the world. And so, the young girl who took over as the Swedish ambassador for the day is now a symbol of hope, breaking barriers, and building bridges between cultures and nations.
Plan International facilitates takeovers of high-level offices by girls globally every year as part of its International Day of the Girl commemorations. The takeovers are an opportunity for girls to experience leadership and inspire them to occupy spaces of influence.
Girls Get Equal, Youth empowerment, girls' leadership