26 APRIL 2021
The use of the mobile phone as a learning platform has reignited the hope of attaining literacy for thousands of marginalised adolescent girls in Zimbabwe, whose bright dreams were put on hold by the closure of schools in response to a nationwide COVID-19 lockdown in 2020.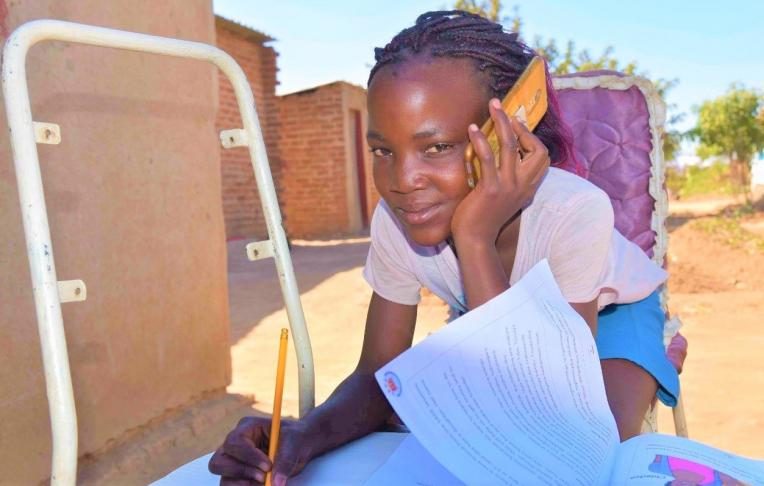 The impact of the lockdown has had far reaching consequences, particularly in the education sector, where all children in Zimbabwe are unable to go to school because of COVID-19 closures. Whilst more affluent families can access online learning, children from poor and marginalised communities are at risk of losing out on their learning.
Impact of COVID-19 on education
Before the outbreak of the pandemic, 12 year old Yollanda, who lives in an informal settlement in the outskirts of Harare counted herself lucky because she had an opportunity to get a second chance at education through the UKAID-funded Girls' Education Challenge programme implemented by Plan International called the Supporting Adolescent Girls' Education (SAGE) programme.
Having never attended school because her parents were unable to afford school fees, the SAGE programme was ideal for Yollanda and other adolescent girls in similar circumstances as her own. However, the impact of the COVID-19 lockdown disrupted the regular lessons that she used to enjoy at her local learning hub.
"I used to go to my hub every Monday and Tuesday, where we learnt as a group and had the opportunity to discuss with my friends. The lockdown has affected me negatively because am no longer going to school where I was taught how to read and write," explained Yollanda.
Adapting to the 'new normal' 
Plan International and its partners had to quickly innovate and adapt the SAGE programme to enable learning to continue amid the COVID-19 shutdown for the benefit of the young adolescent girls whose future livelihoods relied on being able to read, write and have basic numeracy skills.
Speaking on the project adaptations in response to COVID-19, SAGE Project Manager, Obert Chigodora said, "The advent of COVID 19 pandemic meant a lot had to change in the ways we are supporting girls on their learning journey. We had to adapt our support interventions from contact based to non-contact based through providing remote mobile phone support. We are happy that through our volunteers, the girls are now continuing on their learning journey."
Bertina, is one of 164 SAGE facilitators who have just received training to facilitate learning using mobile phones.
She said, "Plan International has provided airtime to enable us to communicate with the girls to assist them with their studies through phone calls, text messages and WhatsApp."
Bertina added that, "We have also been empowered on how to support learners emotionally during this difficult period and have been trained on how to handle cases where learners disclose abuse."
Negative impact of Covid-19 
Under the lockdown, cases of domestic abuse have been on the rise with adolescent girls being most vulnerable, with perpetrators being close family members they live with under one roof. In cognisance of this, safeguarding the girls is a critical part of the SAGE programme that has been taken into consideration, with Plan International rolling out the relevant training when conducting lessons over the mobile phone.
Phillip Nenhowe, a Community Educator from Chimanimani District explained that, "Safeguarding issues are a priority to all stakeholders involved in the mobile learning process".
Due to the high risk of intimate partner violence in the context in which we work, Plan International advises volunteers to speak with the caregivers or husband of the girl to explain the project and the communication aims and objectives.
Phillip added, "We have been also trained to avoid any sexually related statements and only continue lessons with the full consent of the learners, educating them on what is in their workbooks as well as on COVID-19".
Making a difference 
Young Yollanda has grasped the COVID-19 awareness and prevention messages from her teacher and has become an agent of behaviour change for her family to avoid catching and spreading the disease. 
"My teacher has taught me what to do to prevent COVID-19 over the phone. The teacher taught me that I must stay at home during the lockdown, wash my hands with soap or ash and clean running water regularly, wear a mask and observe a physical distance of at least one metre apart when in a public place."
Both learners and community educators alike are now engaged using remote learning platforms, continuing with their workbook studies, with the hope of a brighter future. "I hope our marginalised girls eventually achieve 100% numeracy and literacy through this programme", says Siphiwe Mguni, a Community Educator based in Pumula.
Education, Emergencies, Disaster risk management, Education in emergencies