5 AUGUST 2021
Girls like Sandra from rural Zimbabwe are becoming independent, supporting their families and not marrying young thanks to a project supporting them to earn a good income.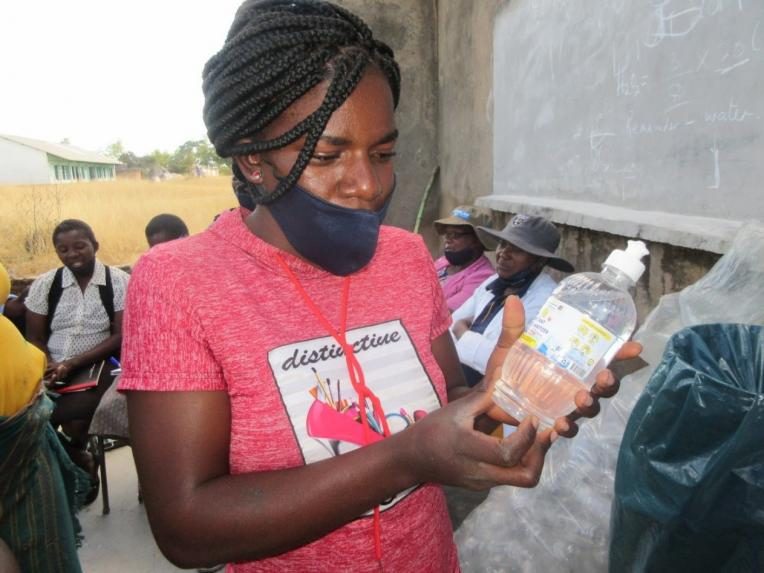 Opportunities for girls in the rural area of Kwekwe, Zimbabwe, are limited. In some instances, girls resort to arranged and forced early marriages as an avenue to escape poverty.
In response, Plan international Zimbabwe is providing young people with income generating projects so they are able to earn an income and increase their power to decide when and to whom they marry.
A new beginning for Sandra
One of the success stories of this project is Sandra. The young woman lives with her mother and 5 siblings. As the oldest child, Sandra assumed the role of the family breadwinner and was determined not to be married off young to boost her family's income and take care of her siblings. 
Sandra says she counts her blessings as she was selected to participate in the youth training for soap and detergent production under the Plan International Kwekwe Youth for water project. The training was facilitated by lecturers from Kwekwe Polytechnic College with support from the Ministry of Youth, Art, Sports and Recreation.
Vocational training develops self sufficiency
The training provided Sandra with a renewed hope for life as she can now generate her own income to take care of her family.
"I see myself rising high in life. I am confident that I can now independently prepare petroleum jelly, hand sanitiser and hydrogen peroxide though I still need to polish my skills on the making washing bar and liquid soap", she said with a smile.
When asked why she participated in the training, she said, "Life has not been good to me and my family. It is not easy to get a dollar per month in the rural community and that makes life very hard."
Coupled with the effects of COVID-19 on household income, life had dealt Sandra and her family a heavy hand.
Looking to a positive future
Sandra indicated that as a group, they plan on starting to produce petroleum jelly which is always in high demand in her part of the country. 
She expressed gratitude to Plan International for what she terms a 'life chance.'
She says, "Thanks to Plan International for bringing up this idea of income generating for youths. Promiscuity is not a good option for female youths. It is as a result of desperation but with start-up kits given to us, I am confident that life will never be the same for me."
Skills and work, Lifeskills training