Children in Uganda's refugee camps are continuing their education despite schools being closed due to the COVID-19 pandemic thanks to learning materials provided by Plan International.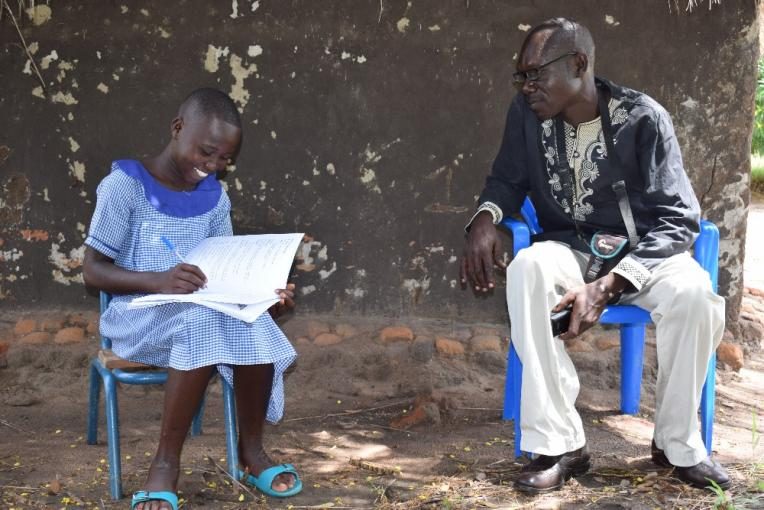 Many children in the refugee settlements of West Nile, Uganda, have been missing school since the lockdown due to COVID-19 earlier this year. In a bid to support children to continue their learning at home, Plan International Uganda has printed and distributed a set of learning materials for 10,600 children in Rhino and Bidibidi settlements.
Bridget, 13, currently studying in a candidate class, was worried that having not studied she would not be prepared for exams at the end of the year.
Education continues despite COVID-19
She says, "Being in primary 7, I was worried about my final papers; the primary leaving examination since we have not studied much this year."
The €49,000 worth of educational materials provided to the children are detailed, comprehensive and have been developed from guidelines provided by Ministry of Education and Sports. They will ensure children continue to cover the curriculum and acquire core basic concepts adding to what they learnt before schools closed.
"I like the materials because they are simple, summarised and easy to understand," says Bridget.
Extra support
To ensure children receive the self-study materials, Plan International is distributing them door-to-door with the help of parents, teachers and other community leaders. In addition, caregivers and teachers will frequently be checking on the children to ensure they are getting on well with the studies and homework.
Teachers will collect all the books for marking as soon as schools re-open which motivates children to work hard and complete all the exercises in the book. Teachers will also help children to understand all areas they couldn't complete in the booklet while at home.