14 JUNE 2021
In food crisis-hit South Sudan, women like Nyandit are learning farming and fishing skills to boost their families' health and income.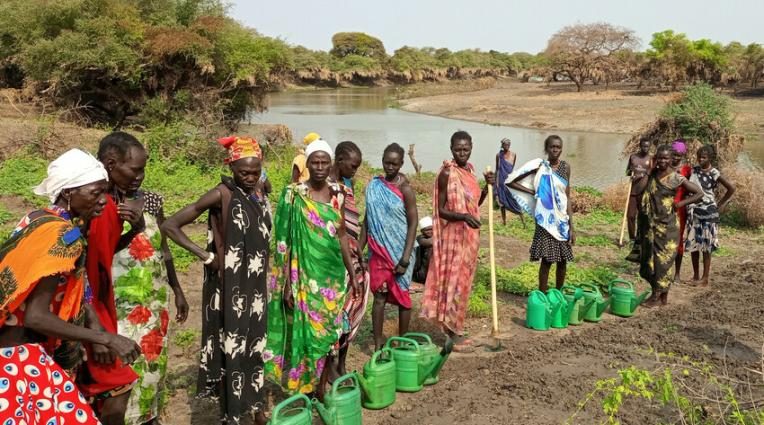 In South Sudan, acute food shortages are affecting around 60% of the population or 7.2 million people. This includes 1.4 million children under the age of 5 and almost 500,000 women who are pregnant or breastfeeding.
Intense flooding in Pibor county over the past 2 years has destroyed many houses and taken livestock and possessions. Heavy rainfall for 6 months of the year washes away seeds and destroys farmland so when the dry season comes, it's hard to grow anything.
Along with food aid provided with the support of the World Food Programme, Plan International has implemented a livelihood project to help some of the most vulnerable families rebuild their lives and produce their own food, with a focus on female-headed households.
Hope for the future
Nyandit Kuju, 49, lost her husband during inter-communal clashes in Pibor county which saw her 2 daughters abducted by armed men. Having given up all hope following 2 devastating floods, she joined the livelihood programme and is now planting seeds and fishing in the river.
"The attackers killed my husband, raided our cows and abducted my daughters, since then we have been helpless and lost all hope of survival." The conflict left many communities traumatised and large numbers of families fled their homes, leaving behind their belongings.
After identifying vulnerable families, Plan International provided project participants with agricultural training, seeds, tools and fishing kits. Nayndit, who joined the training programme to learn planting and harvesting skills, says, "I received vegetable farming training and a fishing kit, so that we could plant vegetables and do fishing."
With the new skills she learnt, Nayndit can catch fish to feed her family, selling some for a little money or exchanging it for other foods in the market. "Life now is a little easier, but it's difficult to forget the past and the bad things that happened to us. Many are living in the same situation due to fighting, floods and hunger." 
Fish boost children's health
The programme participants are finding the fishing kits very useful as they can use the nets to catch fish from the river which helps supplement their diet. The levels of child malnutrition are starting to fall in the county as fish is a nutritious meal. Many mothers report that when their children eat fish regularly, they are more active and healthier.
From January to March 2021, 1,600 families received agricultural training, farm and fishing kits. "When they plant seeds, they plant a new hope for life. This support needs to be scaled up and expanded in other communities so that other families can find ways to survive for the long term," says Berom Korok, Plan International Project Coordinator in Pibor county.
"Communities should be able to produce their own food to avoid hunger. This is what I learnt after taking part in one of the training sessions run by Plan International," concludes Nayndit.
Emergencies, Child protection in emergencies, Food crisis