13 JUNE 2018
Jemma* tells the story of her journey from the conflict in South Sudan to the world's largest refugee camp, Bidi Bidi in northern Uganda.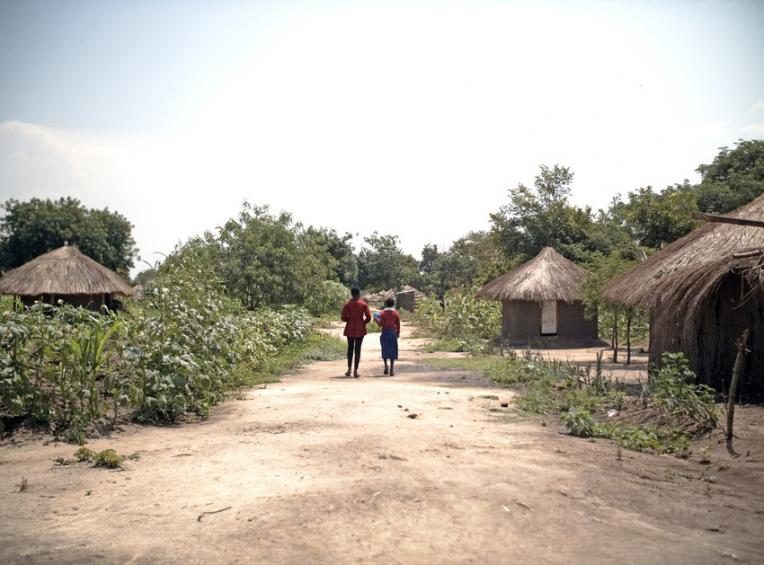 "The war got me when I was at school. Rebels attacked. Some students were kidnapped, while others were raped. The headmaster was also killed in front of us. Thankfully we escaped. We were safe."
Jemma*, 16, from South Sudan's Yei state, is one of more than 280,000 refugees living in northern Uganda in Bidi Bidi, which in 2016 became the world's largest refugee camp.
80% of the people living there are women and children. Most go there to escape the brutal conflict which has gripped South Sudan since 2013.
Conflict shatters families
"On my way back home I went looking for my younger sister because I knew I left her at home," says Jemma.
"Suddenly I saw a neighbour and he was telling me 'no, please run, run to save your life. Rebels have attacked our village'. So I grabbed my school bag and I ran."
"We were attacked on the way by rebel, some women were raped."
Girls are worst affected
Girls and women fleeing conflict face extreme risk of death and sexual violence as routes out of the country remain unsafe. A recent UN survey carried out in camps in Juba, South Sudan's capital, found around 70% of women had been raped since the conflict began.
"We were left few in number," says Jemma, recalling the aftermath of the attack by armed men. "We spent one night where we were attacked by wild animals. I was bitten by a snake."
For the past year, Jemma has lived with a foster family in Bidi Bidi. Life isn't easy.
"Currently I don't know where my parents are. We left my father in Juba but for now, we don't know where he is. Or my mother, we left her in Kampala [Uganda's capital] doing her business."
Hard to manage menstruation
Jemma particularly struggles to cope when she has her period because essentials such as sanitary pads are hard to come by.
"Whenever you're on your period and you have no pads, you don't feel comfortable," she says. "You don't feel like going to school."
Plan International has been running activities in Bidi Bidi camp to give young people like Jemma a chance to forget their troubles. We are distributing necessities such as clothes, sanitary pads and soap to thousands of female refugees.
"My living situation is getting better because I've been supported by Plan International which has made me think less about the bad things that happened," says Jemma.
Giving refugee girls hope
"Plan has provided us with space where we carry out activities like netball, football and volleyball. We also do drama, music and dance. Whenever I play sport, I feel relaxed. I don't think of bad things. I feel happy."
"I was lonely but I've made friends through Plan International. I'm not like how I was before. I feel changed. Mentally, I'm now okay."
Jemma goes to school in the camp and like thousands of other refugees, hopes that one day she'll be able to return to her country.
"My hopes for South Sudan are that everything will change from bad to good," she says. "Here we are studying so that in future we can be the new leaders of South Sudan, making it a good country again."
*Name has been changed to protect identity
Emergencies, Child protection in emergencies