5 JULY 2021
Safeguarding children and young people is a vital part of crisis response. Child protection helpdesks at food distribution points can help keep children in Pibor safe, blogs Shreeram KC.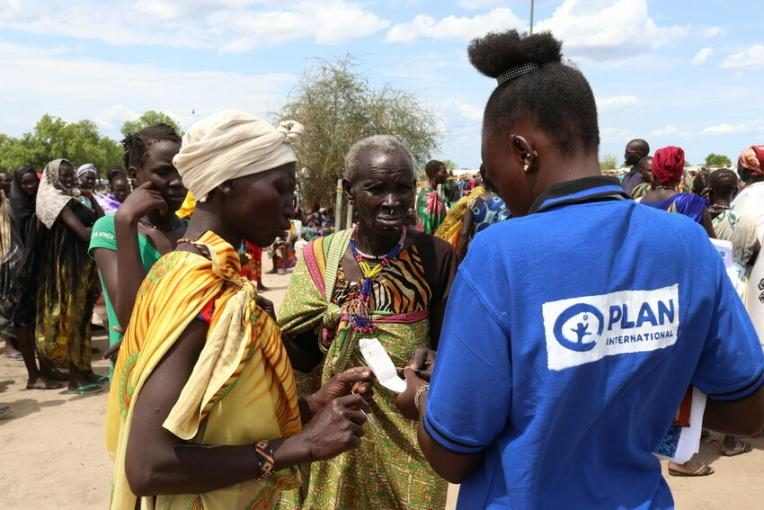 I am standing in one of the food distribution points set up by Plan International in Pibor, one of the areas with severe food shortages in South Sudan.
Food is being distributed at the side of an airstrip. I see hundreds of women and young mothers waiting patiently for their food parcels. The weather is sunny, following rains. The mud is still wet. The group of girls and women who are sitting are exhausted.
Our team must manage the distribution fairly. Usually, there are two teams. One team issues cash vouchers and another releases the food. The teams start distribution around 8 in the morning and work until 4pm, no matter how scorching hot the sun or how windy it is.
Around three to four thousand people receive food items that include maize, peas, oil, salt, and nutrient-rich food for children and pregnant mothers provided by UN World Food Programme. With 60% of South Sudan facing food insecurity, food distribution is a key priority, not only here in Pibor, but across the entire country.
Priority for young mothers and pregnant women
Our food distribution field monitor, Merichuma Thobok Kalua, tells me "This is not an easy task, to release the food. It takes a lot of preparation and coordination to make it fairer, as everyone has the same need." He adds, "The priority is to give food to young mothers, lactating and pregnant women and people with disabilities." While all in Pibor are in need, they have been the hardest hit.
The gathering of people ready to collect their food rations is the largest in Pibor. Kuju Peter Jowang, one of our field supervisors is busy sorting the food items. He says, "This is the biggest gathering here. I have not seen such a large gathering other than during food distribution."
Within Pibor, 5 distribution points have been set up which run almost every month for a week. At the moment, humanitarian food assistance is the foremost way people access food, followed by fishing and hunting.
Saving children's lives
In the face of the food crisis, we meet many people during food distributions. They all have stories to tell. Most of the people we meet are women. These women, including pregnant women and breastfeeding mothers, walk hours to arrive here. In some areas, like Gumuruk and Lekungole, women walk for a few days. The distance is considerable. It becomes tougher when the rain starts and areas are flooded.
No matter how difficult it is for them, these women know that the walk is important to keep their children and families alive. Following violence and unstable weather, living conditions have deteriorated. They say that this year is the worst in living memory.
Twenty nine year old Kaku, a mother of 4, walked around 5 hours to collect the food rations. She says "My children will be happier, this food will last two months," Kaku adds, "If we don't come here, we [will not] survive, walking is more bearable than hunger."
Reporting of safeguarding concerns
In any emergency, girls and women are the hardest hit. Food insecurity in South Sudan has put girls, adolescents and young mothers at heightened risk of abuse, exploitation, neglect or early and forced marriage. Evidence shows an increase in early marriage, child labour and gender-based violence since food security worsened. We set up a helpdesk to encourage girls and women in the community to report protection issues they face.
At the helpdesk, staff listen to the issues faced by adolescents and women and offer help to address their concerns. The team check if there are any unaccompanied children in the waiting line. If there are, the team will meet with them separately to find out more about their situation. Based on the cases, information is shared, tips and counselling are provided on the spot.
Just a few days ago, three missing children were found at a distribution point and later handed over to their parents. Last year, 25 unaccompanied children were found, given food and referred to our team for case management. Gender and protection officer, Rashu Elizabeth told me, "Without the helpdesk at our food distribution point, identifying the cases would not have been possible."
Our teams will continue to distribute food and offer protection services through the rainy season, the most difficult time for all in Pibor. While food is essential for survival, safeguarding children and young people is a vital part of crisis response. Having child protection expertise at food distribution points is an effective way for agencies to ensure the safety of girls and boys in Pibor.
Moreover, local communities should be encouraged and empowered to report safeguarding issues so that risks are mitigated.