Removing the shame, discrimination and fear from menstruation
For many, menstruation can cause disruption to education and daily life. Two girls tell their experience of starting menstruation and the impact made by access to menstruation kits and safe toilets.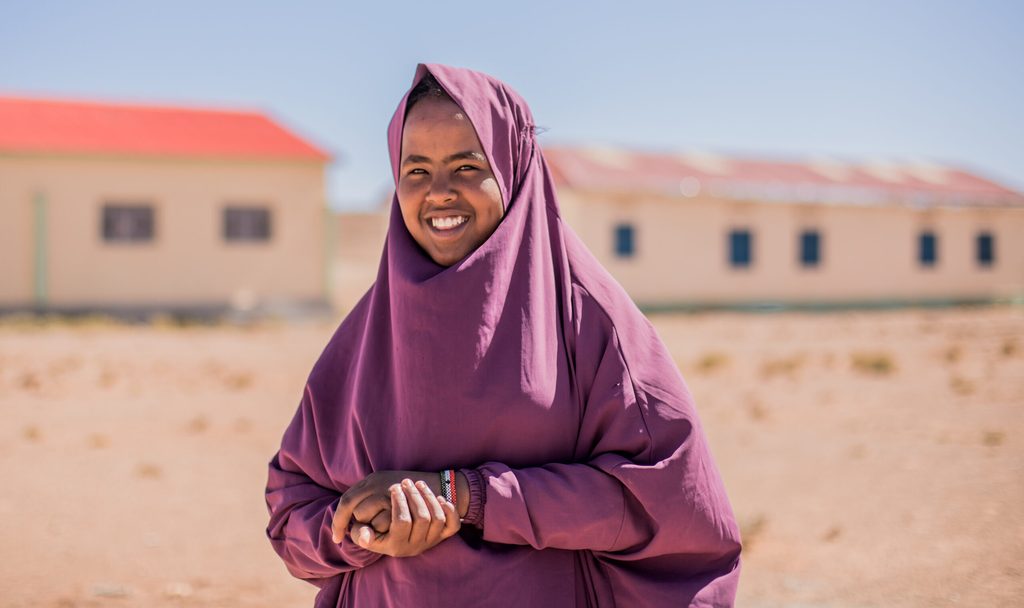 Many girls in Somalia skip school when they have their periods. Girls and women across the country suffer from period poverty; they lack access to basic and essential hygiene products such as sanitary pads forcing them to use unhygienic materials, such as leaves, old clothing and newspaper.
Poor toilet facilities and lack of water at schools also leads to higher rates of school absenteeism and affects girls' academic performance, as they tend to stay at home during their periods when they have nowhere safe at school to manage their personal hygiene. Consequently, many girls drop out of school following puberty.
The experience of starting menstruation
Fifteen-year-old Hamda had her first period when she was 12, and says it was a shocking experience. "I had no clue what it was and didn't expect it. I asked my sister and she explained to me that it is normal and only girls get it. I was also told that now I am a grown-up woman and ready to be married."
Thankfully Hamda was not immediately forced into marriage and was allowed to continue her education, although without any access to sanitary pads, she had to use old clothes to mop up the blood, which sometimes leaked through her dress.
"Before, I used to miss school for 7 days. I didn't have anything to use and clean myself with, it was so embarrassing. I missed many classes because of that. This affected my education. When I missed class, I got behind," shares Hamda, who adds that the toilets at her school had no doors, making it very difficult for girls to have any privacy.
Marwa, 15, was also 12 when she had her first period. Just like Hamda, she had no idea what was happening. "I was in grade 3 when I got my period. I didn't know anything about it. I just saw it and felt a lot of pain. I got so afraid. Nobody had talked to me about this. I was shocked and couldn't understand what was happening."
When she spoke to her mother, she was told not to worry but that she shouldn't tell anyone about it. "She said it was normal, that every girl gets it. She also told me that it was just between her and me. She didn't tell me why. I used old clothes and didn't go to school because I was afraid."
Menstrual hygiene kits and safe toilets
Although menstruation is a natural element in the lives of women and girls, in many parts of Somalia, periods are seen as a taboo issue and something that should not be discussed or spoken about, which leads to stigma, fear and discrimination.
To tackle this issue, Plan International raises awareness of health and hygiene issues amongst girls and young women. During training sessions, we distribute reusable sanitary pads and teach girls how to use them. Water tanks have been constructed in villages which are regularly filled with clean water.
"Now I use a sanitary kit that I got from school and I'm so happy about it. It really helps me when I have my period. I learnt how to use the pads and take care of myself. We didn't have access to clean water before, we used to have to go far away to fetch water. But now we have water, and it has made such a big difference," says Marwa.
Hamda is equally delighted with her menstrual hygiene kit. "I was using old clothes before so I am so happy that I got a sanitary kit that I can use now instead of clothing. It contains sanitary pads, soap, and other things for my personal hygiene."
Plan International has also built safe toilets at the girls' school with doors that can be locked. "Before the toilets at school had no doors and were not safe. Now we have separate toilets for girls, that are not close to the boys and are safe and secure. We can now use the toilets in school freely, without any fear. I'm so happy for this," says Hamda, adding: "Now I go to school when I have my period and I don't miss any classes."
Sexual and reproductive health and rights, Menstruation