Art to influence change
Fatoumata uses art to express her views on girl's lives and the challenges they face, with a view to influencing change and inspiring other girls to take action.
Fatoumata, 19, is a budding artist and girls' rights activist in Dakar, Senegal. She uses painting to depict scenes of girl's lives, highlighting key issues such as: including rape, domestic violence, menstruation, teenage pregnancy and other political issues. Her aim is for her art to influence change and give girls the confidence and inspiration to take action.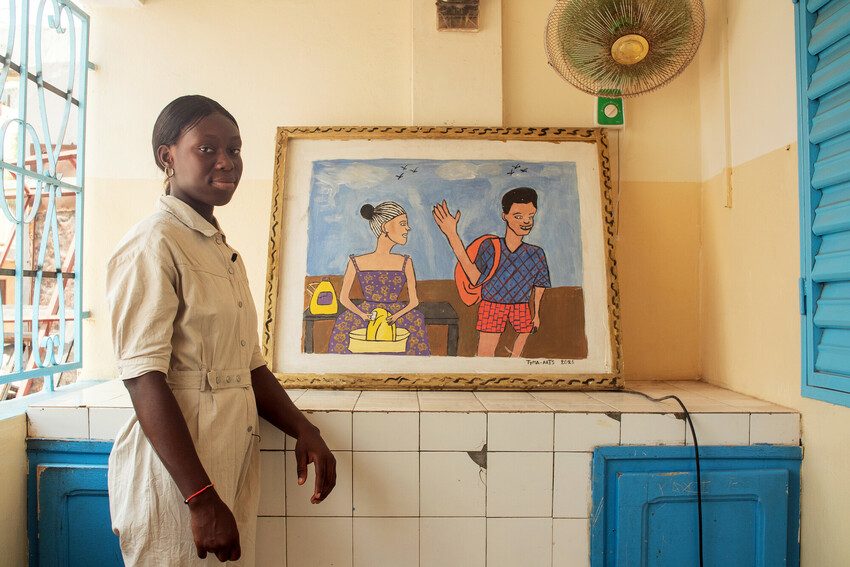 Telling girls' stories
Fatoumata explains the scene in the painting in the image above: "You can see that a girl is doing chores before leaving for school, while the boy wakes up early in the morning, grabs his bag, and leaves. The girl, before leaving for school, must do the housework!"
"In school, this girl can lose her concentration because she hasn't opened her notebooks. She hasn't eaten her breakfast before coming to school, and sometimes even comes in with dirty clothes. Sometimes she even smells from the bowls that she washed, from the sauce that was in the pot."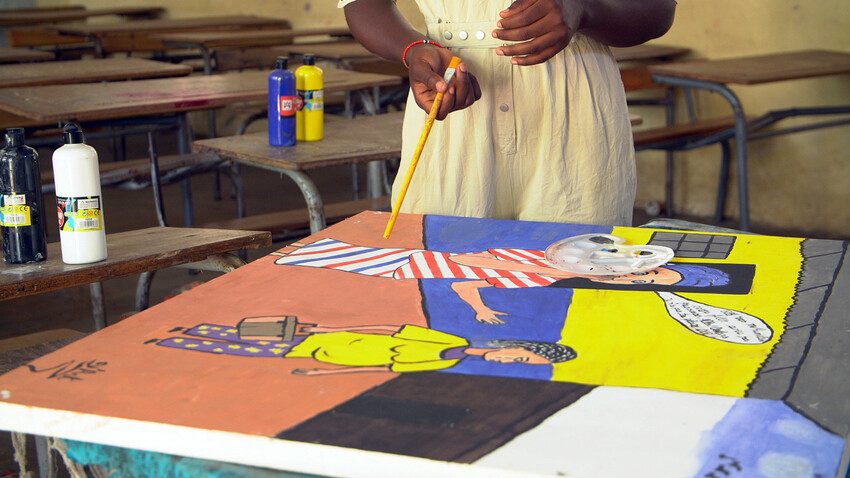 Fatoumata is part of Plan International's Sisters Create programme in urban Dakar. Sisters Create gives girls from poor neighbourhoods the opportunity to make art and music to influence change in their communities. Painting sessions take place on Wednesday and Saturday evenings in a classroom, explains Fatoumata. "This is where we create the paintings and bring out our ideas."
Fatoumata was selected to join the Sisters Create programme for her idea of promoting girls' leadership and empowerment through her art work, especially focusing on the rights of girls and children.
"This violence that girls suffer at home is not normal," says Fatoumata, "because education is not only for boys, and girls must be given a trouble-free education."
"What inspires me is what the girls go through. This is what inspires me the most, so I can bring to light what girls go through in my paintings, because we don't see many female painters. That's why I chose painting to express myself and to speak on their behalf."
"I would like girls to be taken seriously in a lot of things," she adds, "for people to stop underestimating them, and talking about jobs that girls can or can't do."
Challenges for girls and women in Senegal
Fatoumata says there are many challenges facing women and girls in Senegal. "The main problems that women face are gender-based violence and in some cases discrimination in specific jobs. For example, they say there are jobs that women can't do, such as being a mechanic. Now we see women who are mechanics, women who are carpenters."
"I think girls need to have a voice in the political space because girls also have ideas that can help in politics. I mean that people should listen to the girls and let them express their ideas."
"I would especially like to ask everyone: to help girls and to provide them with training so they can strengthen their leadership and empower themselves."
Youth empowerment, Activism, girls' leadership