Plan International donates 800 desks to schools in Borno and Yobe
Plan International Nigeria has donated desks and improved the sanitation facilities at schools in Borno and Yobe as part of the organisation's work to get out-of-school children back to education.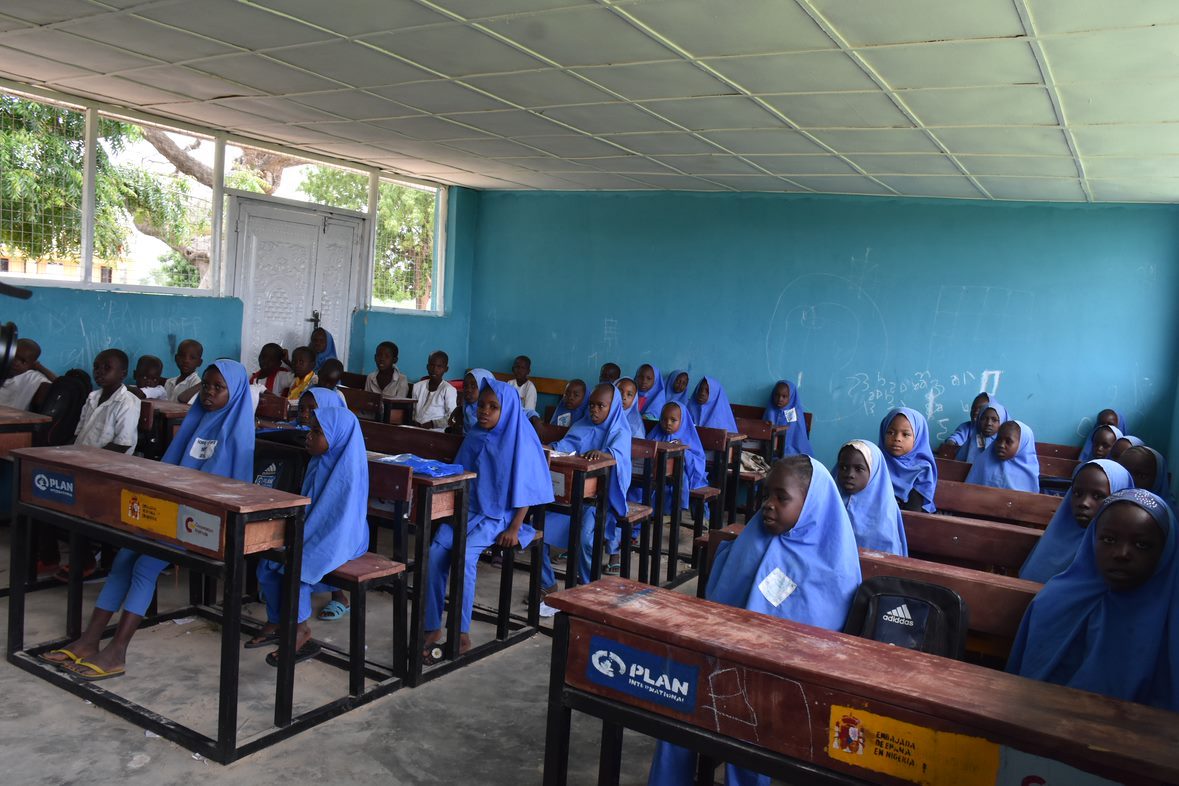 Pupils at one of the temporary learning centers constructed by Plan International in Maiduguri.
Hundreds of thousands of children have been out of school due to displacement in north east Nigeria. Plan International is working to return out-of-school children to education in Borno and Yobe.
To support their return to education and to support a postive learning environment for school starters, Plan International has donated 800 desks to schools.
An estimated 2,400 students spread across 20 public schools in Borno and Yobe states will now enjoy decent seating while taking lessons in their classrooms following the donation of desks to their schools by Plan International. This gesture was geared towards addressing the gaps in critical education infrastructure in the states. 
Officials at Plan International presented the sets of desks to officials of the Borno state government at a brief, but a well-attended handover ceremony held in one of the benefitting schools in Maiduguri.
Improved school facilities
Plan International's Deputy Emergency Response Manager, Avindigh Titus, said the intervention was carried out in 13 schools in Borno state, where water boreholes were also drilled and handed over to school management. 
Plan International's Project Manager, Hanoch Hebron, explained to The Humanitarian Times that the organisation has also conducted similar interventions in 7 other schools in Yobe state.
"We provided 40 units of 3-seater desks to 13 schools in Borno and 7 schools in Yobe, which brings the total to 20 schools," Mr. Hebron said. He explained that the seats are designed with attached backrests. 
Taking delivery of the seats, the Executive Secretary of the Borno State Universal Basic Education Board, Professor Bulama Kagu, commended Plan International for providing, "Such desks made from quality wood and metal." 
Water and sanitation boost learning
Plan International has also carried out water and sanitaiton projects in each of the schools. "We constructed boreholes and gender-segregated latrines. We also renovated classrooms and carried out many other school interventions," Mr Hebron added.
"The latrines are not just gender segregated but disability inclusive," the Project Manager said.  
Education, Emergencies, Education in emergencies, Out-of-school children