Abuja hosts Global Girls' Summit 2022
Plan Interntional Nigeria hosted the fifth Global Girls' Summit in Abuja to bring youth activists together to call for equal political power for girls.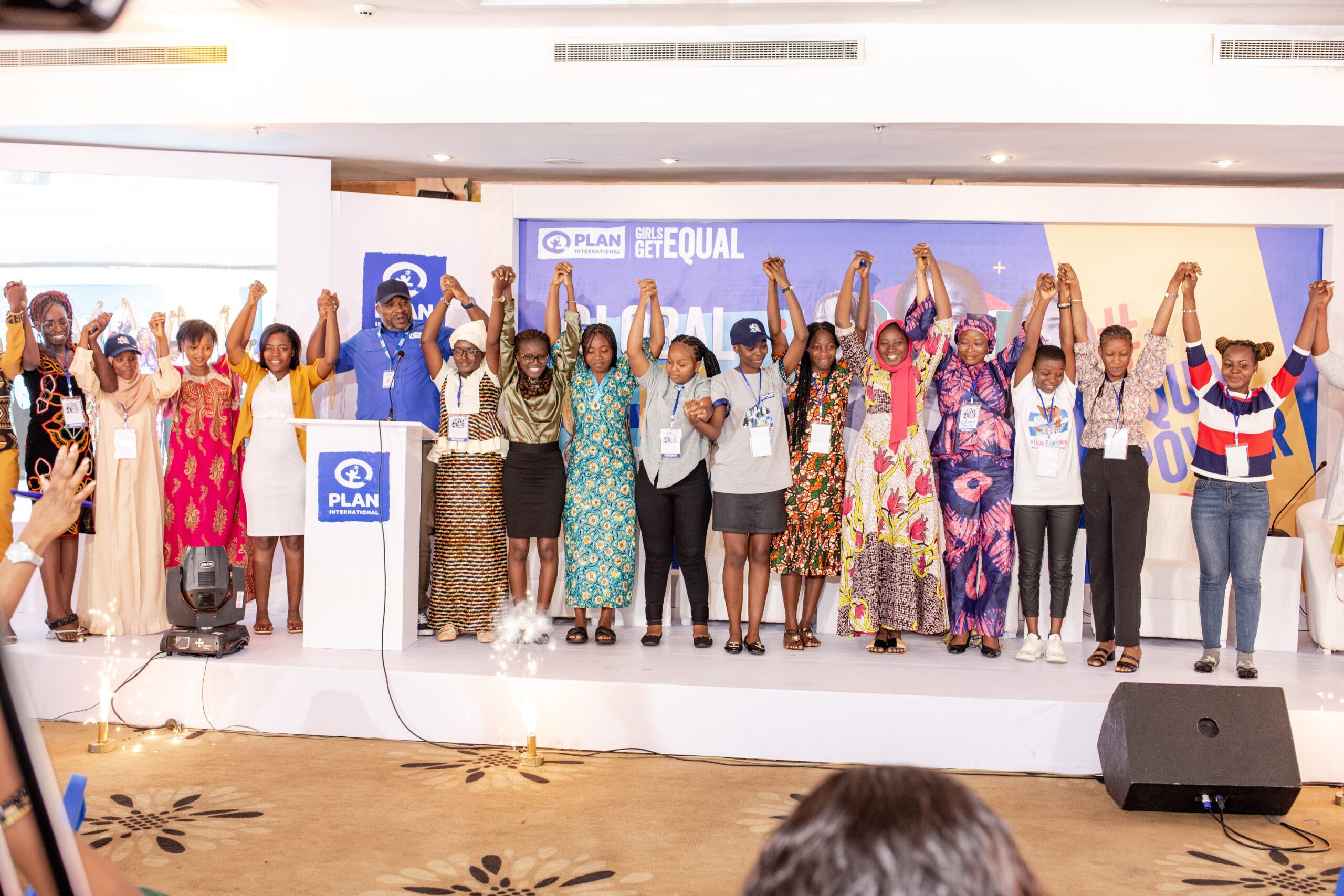 Summit participants with Plan International Nigeria's Country Director during the summit.
The fifth annual Global Girls' Summit was held in Abuja, Nigeria on 12 and 13 October 2022 to celebrate International Day of the Girl and call for equal political power for girls and women.
Equal power now
The summit, convened by Plan International Nigeria, was led largely by young campaigners from around the world who had physical and virtual discussions on how to increase girls' participation in society, particularly politics.
Farida, a youth activist from Burkina Faso participated in the summit. She said, "The political space is difficult for girls to get involved in." Farida also highlighted the food crisis as a key factor holding girls back. She said, "Food security is getting worse. We can see that people are displaced, leaving their regions to come into the capital. Girls dropped out of school because schools are closed."
Plan International's CEO Stephen Omollo, Board Chair Gunvor Kronman, Regional Executive Director Rotimy Djossaya and Country Directors of Plan International Nigeria and Benin, Charles Usie and Karl Fredrick-Paul, peer organisations and members of civil society organisations were all in attendance.
Call for more female leaders
Plan International's Board Chair Gunvor Kronman in her remarks noted that the world needed more women leaders. "The number of women leaders is increasing slightly. Generally, only 21% of ministers in the world are females and only 10 parliaments have an equal distribution of power. Girls, you should believe in yourself, you have the power. Support each other and use the knowledge you receive from platforms like this," she said.
Rotimy Djossaya, Plan International's Executive Director for West and Central Africa, said, "We want young people to be active drivers of change. We need to ensure young people have the innovativeness they need to drive their initiatives. We need to amplify this by investing more in young people."
Youth recommendations
At the summit, youth activists created the following set of recommendations for party leaders, policy makers and other stakeholders:
Provide training and a mentoring system for girls so they know how to participate in politics.
Raise awareness of the importance of girls' political participation among parents, traditional leaders and community members.
Develop and implement laws to ensure women are equally represented in elected and appointed positions.
Provide funding to support girls' political participation irrespective of political associations and background.
Develop a girls' political network so girls can connect and support each other.
Strengthen existing youth parliaments to lobby for increased political representation for girls.
"Plan International is committed to implementing everything highlighted in this summit. There is an accountability framework we are putting in place to provide investment plans for all actions we highlighted," CEO of Plan International, Stephen Omollo said during the summit.
"We shall increase investment to deliver and establish an investment plan for girls to mobilise resources that we can direct."
Girls Get Equal, Youth empowerment, Civic engagement, girls' leadership