Sapa has set up a successful business thanks to a solar platform installed in her village in central Niger. Once a vulnerable farmer, she now supports her family and is looking to the future.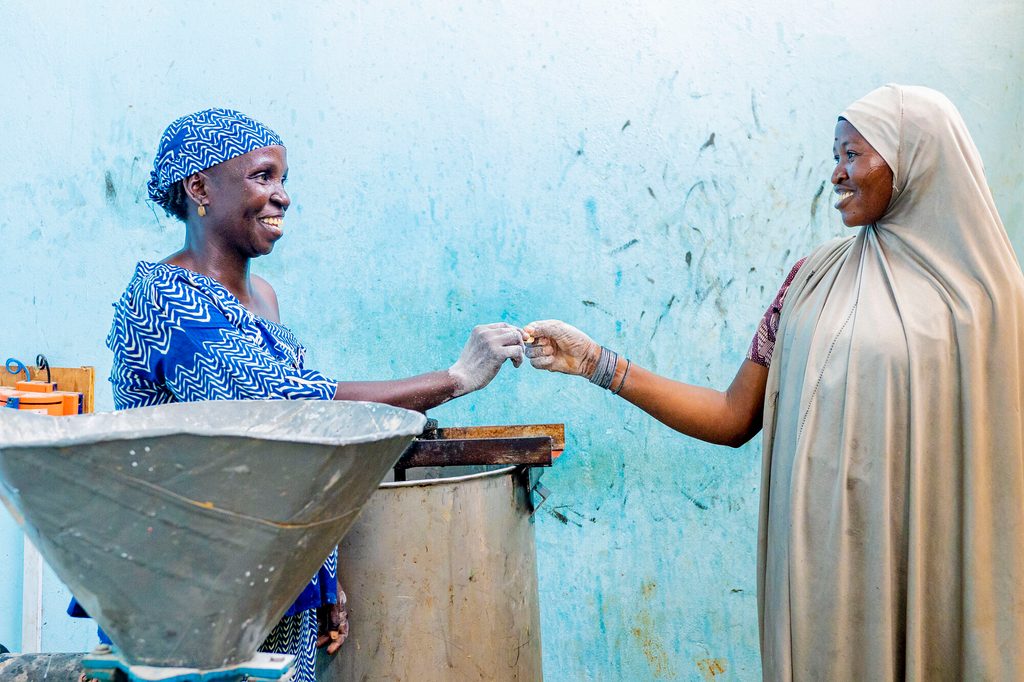 Sapa, 44, and her husband support their family through farming, but the little they are able to grow only lasts them for a few months. "Last year we planted beans and millet. The income generated by the sale of these crops ran out a few months after the harvest. We eat only twice a day: porridge for lunch and rice for dinner," she explains.
Worsening food insecurity in Niger
Life in Maradi region is becoming increasingly hard. Climate change poses a major threat to communities in Niger, where around 70% of the population rely on agriculture to make a living, according to the World Bank. But as temperatures in the Sahel rise, livelihoods are disappearing as harvests reduce and pastureland is lost.
To support women struggling to provide for their families, Plan International launched a renewable energy programme which aims to improve the living conditions of farming communities affected by climate change. In Sapa's village in Mayahi department, a 10-kW multifunctional solar platform has been installed, opening up new opportunities for the women who live there.
Clean-energy technology can power appliances for work, leisure, and healthcare in places where grid power is unreliable or unavailable. "We can now buy refrigerators, seed mills, and oil presses that run on solar energy to produce flour, oil and drinks," explains Sapa who has 3 children.
As part of the project, Sapa and the other women in the village received training on how to process the crops they grow into products they can sell at an increased profit. The women also learnt how to create business plans, marketing skills and how to manage and maintain the solar platform.
Sapa was appointed president of the women's solar power cooperative and says that everybody in the village now has access to electricity and machinery which they can use to generate an income.
"The village women no longer have to walk miles to grind their millet and groundnuts. All they have to do is go to the production unit and pay for the service. Before, they used to walk up to 100km. Thanks to these machines, we now have a monopoly on flour and oil production in the village," she explains.
Sapa tells us that she has set up a small business producing drinks that she sells to wholesalers and people in her villager. "I earn 5,000 FCFA a day just from selling drinks. I also have a solar-powered device for charging cell phones. Each customer pays me 50 FCFA to charge their phones. Finally, I sell soap and salt from my mobile store, which I set up every day in the solar power room."
Renewable energy is an affordable path to electrification and its benefits for women are huge. The provision of clean energy empowers women in rural communities, has the potential to improve lives, and reduces the climate impact on the planet.
"We never thought we could have these machines here and be independent. Today, thanks to the solar platform, I can provide for my family and help the other women in the village. The men of the village are also happy and encourage us with our initiative," shares Sapa.
Sapa now hopes that this year's harvest will generate her family a greater profit. She and the other women in the village intend to produce more peanut flour and oil using the machines they now have available to them which were bought by taking out loans from the savings group set up in the village by Plan International.
"We expect to be able to repay our loan in 2 years," says Sapa, explaining that the women's cooperative want to expand their operations. "We would like to have more machines to increase our production and make more income."
About the project
Since 2019, Plan International has been implementing the 'Socio-economic development of women in rural communities in the Maradi and Tahoua regions through renewable energies' project with funding from AECID. The project supports 1,183 women from 37 communities in Maradi and Tahoua regions.